The best restaurants on Flinders Lane
Don't let the city slickers hog these tasty finds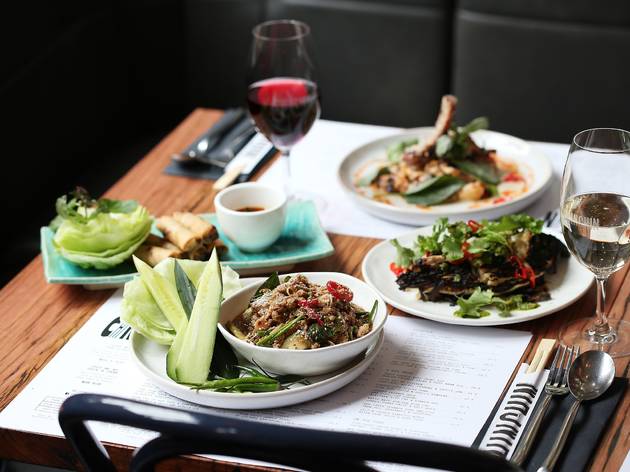 Flinders Lane: arguably Melbourne's tastiest street. Here are 15 favourites, whether you want ceviche and sours, Andrew McConnell's culinary wizardry, Pan-Asian fusion with a side of hip hop, understated Japanese, tacos and tequila, or modern Mediterranean. We hope you're hungry. If you're further north, you might like to try our guides to Lygon Street or Smith Street instead. Happy eating!
Where to eat on Flinders Lane
1
Kappo is all restraint and ritual, precision and humility – with no varnished pine in sight. It's an omakase restaurant. That either translates here as "no menu – but you get to flag likes and dislikes" or "slow". Choose from five, seven or nine courses, but set aside at least two hours.
Read more
3
A pair of glowing neon cherries marks the entrance to Andrew McConnell's Japanese-y diner: a concrete bunker focused on a kitchen bar, behind which staff shuck oysters and stuff steamed buns at warp speed. You'll find a few Golden Fields refugees here, including those lobster rolls.
Read more
4
The beauty of Andrew McConnell's Cumulus Inc is in its restraint - the décor is minimal, letting the natural light and the food on the plate do the work. Oysters are served with a cheek of lemon; a bites menu lists bowls of olives and a straight-up tin of Ortez anchovies. Simple. Perfect.
Read more
5
Evolution (rather than revolution) is the guiding principle at Coda and Tonka's sister restaurant, Ôter. The food is predictably excellent, with head chef Florent Gerardin eschewing clichés of French cuisine for something more modern and sophisticated; while Tom Hunter's wine list has its heart in France and its head in Australia.
Read more
6
Should Flinders Lane be renamed McConnell's Lane? You'll find his excellent bar, Cumulus Up, just above Cumulus Inc. The eats range in seriousness from pickled veg and olives to an 800g rib eye steak on the bone. And praise be, it's open until 1am.
Read more
7
Bright lights, hologram menus, house beats and dishes that deliver jarring jolts from sugar, salt and chilli like a series of special effects explosions – Lucy Liu is no shrinking violet. Don't miss the whole pork hock – braised in master stock, and deep-fried into a crisp-shelled hunk.
Read more
9
Has there ever not been a queue for Chin Chin? Don't be put off though: it's worth standing in line for these Pan-Asian snacks – kingfish sashimi, pork roll ups and so on. From the bigger dishes, play the field with at least one salad, a curry, and something from the barbecue section.
Read more
11
Expect modish Peruvian food from San Telmo's sister restaurant, which has a ceviche bar, a soft spot for Pisco Sours and zesty lime-bright styling. Try snapper ceviche served in 'tiger's milk' (lime juice, coriander and chilli), pork belly cubes with daikon, roasted alpaca, and a Sour or three.
Read more
12
David Youl and Tim McDonald have given Richmond and Windsor a taste of Fonda Mexican, and now they've brought their cracking Mexican fare to Flinders Lane. Melbourne can't get enough of Fonda's kangaroo burritos, fresh juices, cinnamon-y horchata and punchy salsas.
Read more
13
Balls don't always go with wine – stop sniggering at the back, we're making a sporting reference – but they do at Meatball and Wine Bar. Choose your balls (pork, beef, fish or veggie), add your sauce (white, red or green) and order a carafe of wine. That's ballin'.
Read more
15
Calling all pork-lovers: Yak's pork belly, walnut and honey (yes, really) pizza ranks among Melbourne's finest bready treats. Yak also has a respectable range of pastas, plus a decent wine list. On Friday nights, expect to share the space with the suited and booted afterwork-drinks crew.
Read more
More of Melbourne's best meals
Too many restaurants, not enough time. Cut the fat with our guide to the best places to eat in Melbourne right now.
Read more