Thrill-seeking activities for kids in Melbourne
If your offspring get the urge to fling themselves off high surfaces, do it under controlled conditions…
In the midst of the Dandenongs lie the Glen Harrow Gardens... a beauty spot ringing with terrified screams, thanks to the Trees Adventure Park plonked within. After a scramble down the steep, muddy hill into the midst of a forest you'll find a tree top playground. In summer this is a glorious place to hang, mid-air. In winter the wooded canopy keeps the worst of the rain off your slicker. Meanwhile the excess water just adds an element of danger to the super slippery ropes. The course increases in difficulty. For the under 13s there's the green course. It might look pretty daunting through grown-up eyes until a fearless seven-year-old taps their foot impatiently behind you as you try to balance on the skateboard. Which is on a rope. Which is not on the ground. Pride should kick in around here and keep you moving.
Ultimate thrill: The final 130m flying fox hurtling you into the web of a cargo net
Ages: 5 plus
Adults can have a go? Yes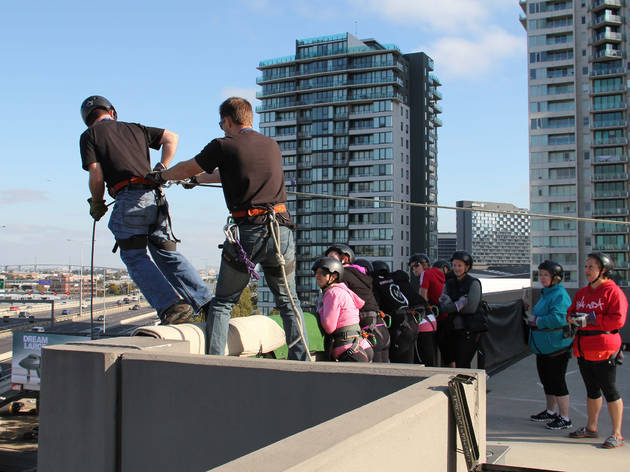 Photograph: Rap Jumping
Defy gravity on a rap jump
This is just like abseiling, but worse – much worse – because you're face first with the ground, far, far below you. Rap jumpers, like lemmings, are let to the top of a hotel in Melbourne's CBD. The starting posture is standing on the side of the building, horizontal to the ground – or, if you're watching your child take part – curled in the foetal position. Luckily children don't have the same fears (or knowledge of basic physics) and most leg it, giggling, down the hotel wall. Definitely not one to recreate at home.
Ultimate thrill: Eyeballing the ground from the top
Ages: 7 plus
Adults can have a go? Mwah hah hah. Yes
Book through a deal website like adrenalin.com.au. $79.
If running down buildings sounds too exciting, then how about climbing upwards instead? The cavernous joint at Cliffhanger houses the tallest indoor wall this side of the equator. Bring your child, strap yourself to them and watch them scamper up the walls. You'll be given instruction on the rope art of belaying, which means if your precious child has a 'look, no hands' moment, your ropes and body weight will keep them from plummeting to the ground. There's also a bouldering wall (low with crash pads) if you don't fancy the responsibility of the ropes.
Ultimate thrill: When you reach the top do look down. It's a serious tummy churner
Ages: 4 plus
Adults can have a go? Yes