Josh Pyke vs Bob Evans
How well do these musical stalwarts really know one another? Ahead of their co-headline tour, we interviewed them to find out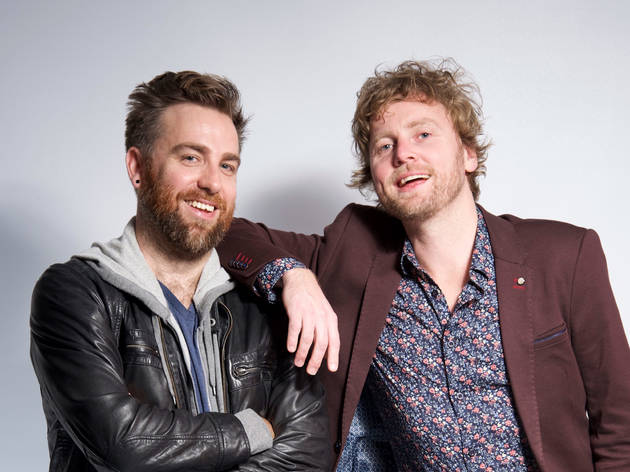 Josh Pyke and Bob Evans are great friends. Their relationship shows classic signs of brotherly love: they make jokes at each other's expense, but they're the first to step in when the other is in the firing line. Beyond that, they're creative partners, drinking buddies and touring companions.
Each is a successful musician in his own right. Bob Evans is the folk-infused solo project of Keith Mitchell, frontman and rhythm guitarist of Perth alternative rock outfit Jebediah. Josh Pyke is one of Australia's most adored singer-songwriters, admired for his wistful lyrics, sparky melodies and infectious harmonies. Each has won a string of ARIAs.
Ten years have passed since Pyke and Evans toured together for An Evening with Josh Pyke and Bob Evans. Naturally, the time had come to get the band back together for Another Evening with Josh Pyke and Bob Evans. They'll take to the stage of Melbourne's Corner Hotel as a double act, performing each other's songs in a two and a half hour "spectacular".
Guys, what does the other find most irritating about you?
Josh Pyke: I reckon it's my number crunching. Years ago when we first started gigging and I was trying to figure out whether the tour would work, Bob said to me "less thinking, more drinking". I know he finds it annoying when I act professional. Bob's very anti-professional.
Bob Evans: To be honest, I don't really have any faults. I guess being a bit away with the fairies and probably my inability to answer questions in a straightforward manner. It takes me a bit longer to learn harmonies (if that doesn't bother him yet, it will once we've started touring). Less thinking, more drinking? Now I'm a raging alcoholic!
On the flip side, what does the other respect most about you?
JP: One time we were making a record in Perth and I was mucking around on another guy's skateboard. I did a really good kickflip. I know that's one thing Bob really respects about me.
BE: I've come to learn that Josh really respects my musical history with Jebediah.
What does the other value most about your friendship?
JP: Bob likes it that we can often go for months without seeing each other then pick up exactly where we left off.
BE: I think Josh likes our ability to speak candidly about our lives, home and work. Josh uses our friendship to air his dirty laundry. He definitely enjoys my sympathetic ear.
What do you think the other will bring to your songs?
BE: Josh will bring what he brings to everything he does. A level of professionalism and aptitude.
JP: Bob has mentioned that in the process of learning my songs, he's found some really relatable parts. Maybe he'll bring his own emotional resonance to my songs. But I think he also wants to honour me. To celebrate me.
Another Evening with Josh Pyke and Bob Evans lands at The Corner Hotel, 57 Swan St, Richmond on Wednesday, December 14. Tickets are $44 each and are available online.
Hungry for more live music in Melbourne?
Melbourne is the musician's dream city: there's a vibrant independent music scene, and our live venues have become launching pads for bands and solo artists alike. We've rounded up a list of places to see excellent live music any night of the week.
Or, stay out late and go dancing
"Where can we go to have after work drinks where we can also dance?" It's the cry that echoes around most of Melbourne every Friday afternoon, but the response is often a stony silence. Melbourne isn't shy of excellent bars. This we know. There are solid clubs too. We've rounded up places where you can sit back, chat and relax in the afternoon and get a little jiggy later on.