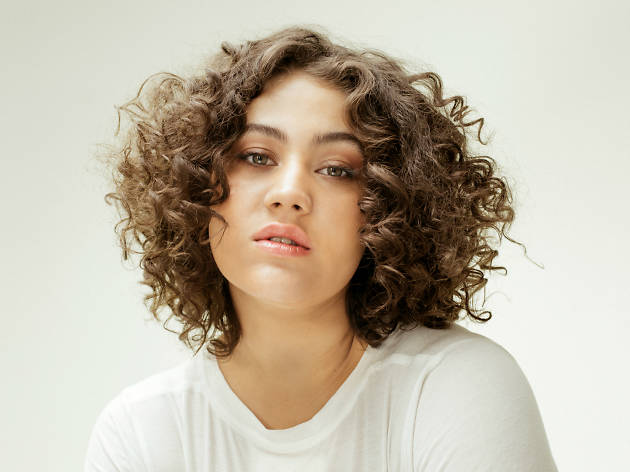 Odette is very surprised (and thrilled!) that you are going to see her
The young singer is still baffled every time someone buys tickets to her shows
Speaking with Odette – full name Georgia Odette Sallybanks – is like having a chat with your bestie. "I just went and got some groceries from Coles, and now I'm going to do some cool interviews," she chirpily starts the conversation (note to self: shop at Coles more).
The Sydney musician's bubbly attitude is hardly surprising – after steamrolling into the music industry last year, the 21-year-old has released her soulful, unapologetic debut album, To a Stranger, broken into the top 20 ARIA album charts, been featured on Triple J and is set to play at Lost Picnic festival in Melbourne this October as part of a massive Australia-wide tour.
Her growing fame, however, hasn't gone to her head, and she's still amazed every time someone buys tickets to her shows. "It baffles me," she laughs. "I think it's because I do have almost zero expectations. That when things go so well (and they have been going so well) I'm just over the moon."


"I think it's because I do have almost zero expectations"
Odette's powerful voice resonates through your bones when you hear her sing – the piano-based songs thrum with raw emotion. "I don't think I've ever felt the need to be private," she says. "I find it very empowering to talk about my experiences, especially when a lot of them can be so silencing."
But unlike the meticulous style of her musical hero Joanna Newsom (Odette says she loves Newsom so much she'd definitely join a Joanna Newsom cult), Odette's songwriting process is wonderfully slapdash. "Everything I do is an accident or a mistake," she says. Rather than carefully planning her songs, Odette is all about sitting down at the piano, banging out a tune and letting the meaning emerge organically.
Her staccato spoken-word songs like 'Watch Me Read You' and 'Lotus Eaters' are the exception to her ad-lib style, with each work combining many different experiences and taking some time to compose. In fact, the first line of 'Lotus Eaters' came to her while walking home in year 10. "I saw these weeds growing out of the ground. This was my street, so I'd pass this stuff all the time but that day I just had a lot to say. 'The plants grew along the road like an unquenchable wildfire' – that was the first line, and it just came to my head."
While she considers herself "a bit of an inner westie", Odette hasn't always called Sydney's western suburbs home. Born in England, she moved back and forth between the two countries while growing up. "It 100 per cent affected the way I focus on people, because that's the constant thing throughout all these places I've been – emotions and people."


"I can't believe people have bought tickets to my shows there"
Odette is on tour now until December – which is perfect considering how much the singer-songwriter loves hitting the road. "I'm dying to go on tour," she says. "I've never been to Fremantle or Perth. I can't believe people have bought tickets to my shows there." During this year's Lost Picnic festival (and its Melbourne debut) she'll be playing alongside major Australian musicians like Meg Mac, whom Odette describes as "whoa, whoa, whoa, whoa", and Tash Sultana, whom she loves but is yet to see live. "If I get to meet her," Odette says, "I'll probably freak out a little bit."
See Odette perform live at Lost Picnic on Sunday, October 7.
Find out why Baker Boy loves Melbourne (yes, it's partly the food).