It's here, it's huge, and it's not holding back when it comes to exploring some of the most pressing issues that impact us today. The hugely ambitious NGV Triennial (running from now until April 15, 2018) showcases the work of 100 artists and designers from 32 countries, and many of the pieces delve into questions surrounding identity, technology, politics and globalisation.
The first thing to accept is that you'll need at least a few visits to take it all in (thankfully, the entire exhibition is free). The second thing to remember is that it spans all four floors of the NGV, so you're going to get lost. While some works leap out as soon as you pass through the water wall into the atrium, others are tucked away in the labyrinthine rooms of the permanent collection. Some – like Melbourne-based Kamilaroi artist Reko Rennie's 'Home Sweet Home', located in the elevator – require deeper investigation of the gallery. Others occupy unexpected spaces, like Hassan Hajjaj's Moroccan tea house, which has taken over the ground floor café.
Taken as a whole, it can seem overwhelming – which is where we come in. Start with these ten highlights, then see where your curiosity takes you.
1. Guo Pei, 'Legend collection' (2017)
The NGV has over-delivered on blockbuster fashion exhibitions in past years (think Dior and Jean Paul Gaultier) – and fans of haute couture won't be disappointed by the entire room dedicated to Chinese designer Guo Pei. Her ornate, often playful Marie Antoinette-inspired gowns from her 2017 Legends collection sparkle with thousands of crystals.
2. Yayoi Kusama, 'Flower Obsession' (2016-17)
Does Japanese artist Yayoi Kusama need an introduction? No doubt you've seen her polka dot worlds known as 'infinity rooms' (which are actually references to the hallucinations that she has experienced throughout her life). Continuing her exploration of obliteration, the participatory 'Flower Obsession' exists in an entire apartment on the ground floor of the gallery. Visitors are asked to place a flower sticker anywhere in the apartment, so that by the end of the exhibition, the room will be obliterated with flowers.
3. Ron Mueck, 'Mass' (2016-17)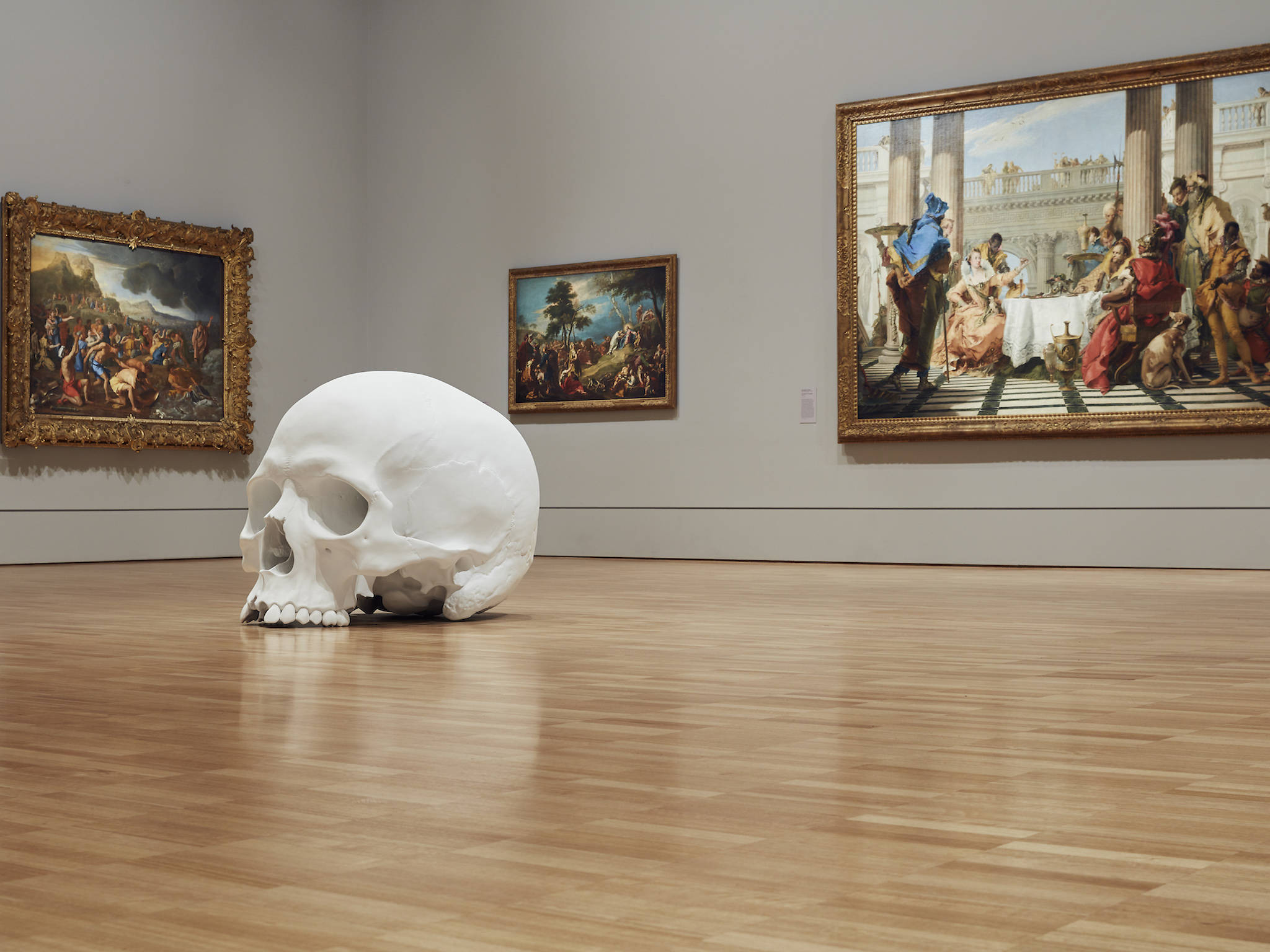 Nothing prepares you for the full impact of this immense work by one of Australia's leading sculptors. Turn a corner in the austere European collections rooms and you'll find 100 hand-cast skulls, each measuring 1.5 metres. Most are stacked high, and one sits alone. At once chilling and awe-inspiring, 'Mass' recalls the catacombs of Paris and serves as a reminder of our own mortality.
4. Richard Mosse, 'Incoming' (2015-16)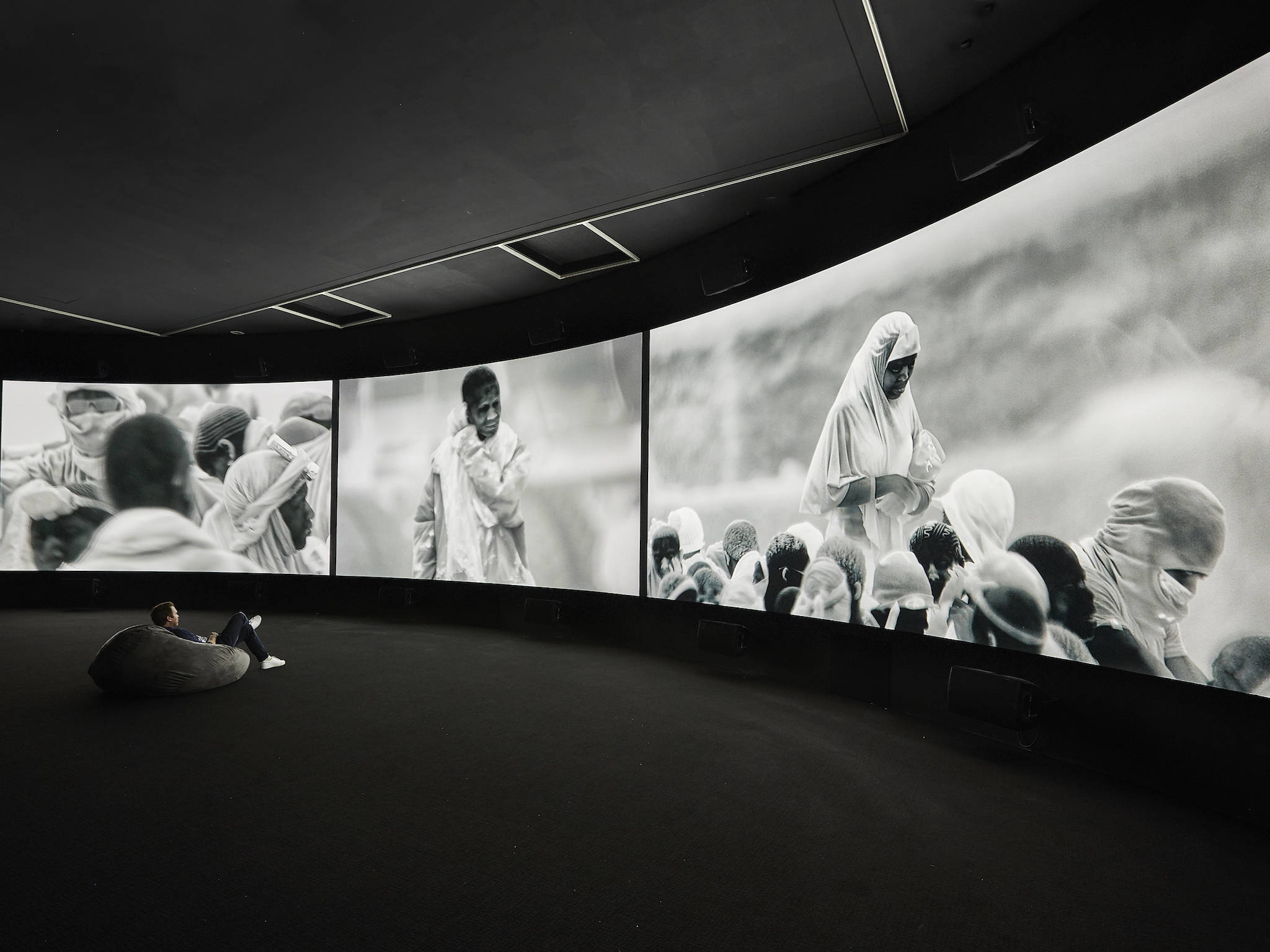 Don't feel guilty if you can't sit through the entirety of Richard Mosse's work, 'Incoming'. It's not easy to sit in a dark room for nearly an hour, watching footage of the Syrian Civil War play out across three large screens. That said, 'Incoming' is one of the strongest in the Triennial, and not simply because it engages unflinchingly with war zones, hospitals and the subsequent journeys of refugees. Mosse captured this footage using a long-range thermal imaging camera which can record subjects up to 50km away in total darkness. It was developed by the military, and reads skin radiation. Through the lens of Mosse's camera, eyes glow ghostly white, light emanates from chests, and the bodies of the deceased are dark and cold.
5. Nendo, 'Manga chairs' (2015)
Chairs inspired by Manga comics? You bet. Acclaimed Japanese designer Oki Sato is the founder and chief designer of forward-thinking design studio Nendo. The NGV Triennial has acquired 50 of Sato's 'Manga chairs' and 50 'Trade sconce lights', which will become part of the NGV's ever-growing contemporary design collection. Located in the room adjacent to Kusama's 'Flower Obsession', the chairs are re-imagined using elements of Manga; think speech bubbles, symbols and effect lines.
6. Pae White, 'Untitled' (2017)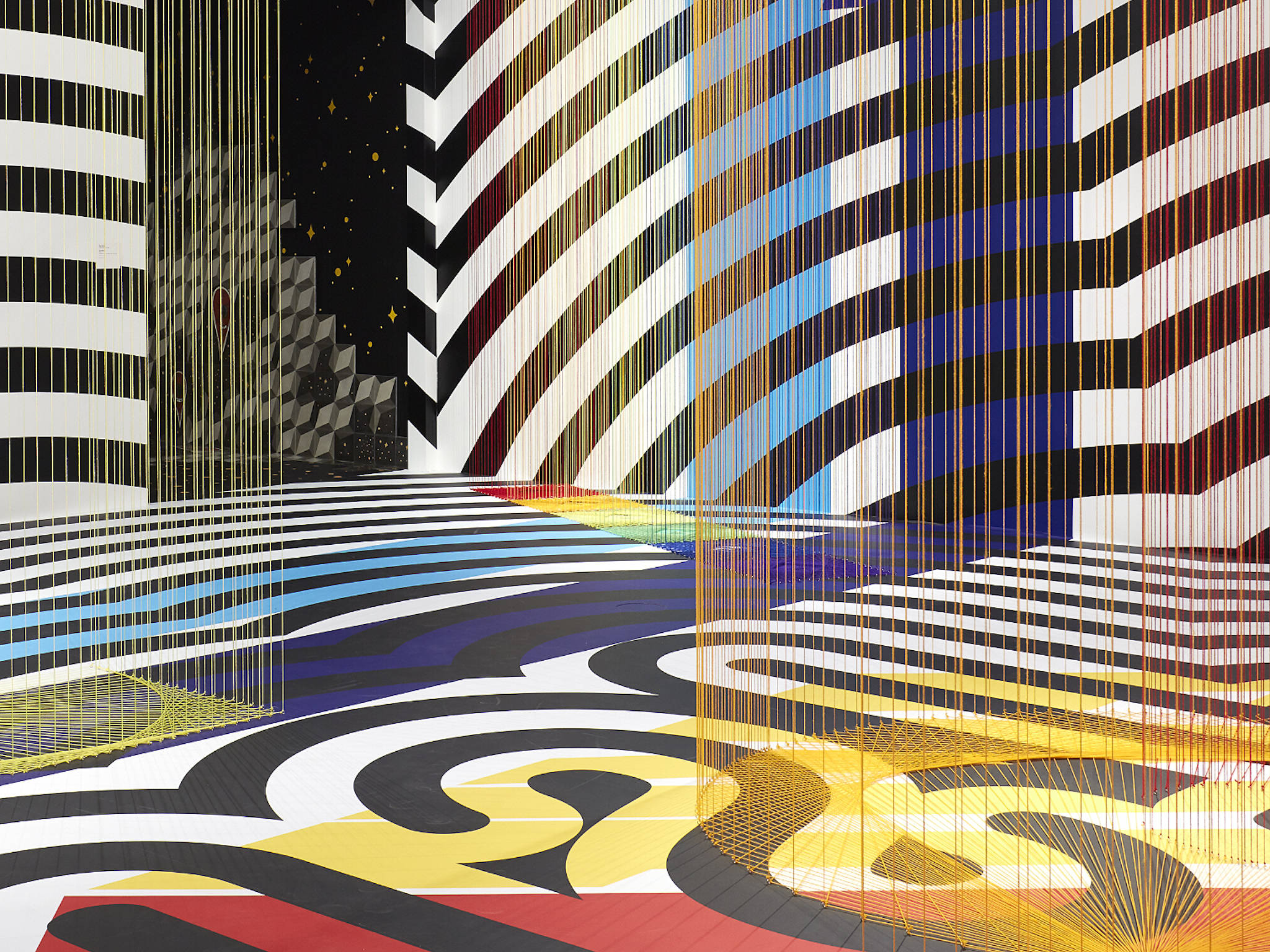 The NGV is well aware of the draw of Insta-friendly installations, and at the Triennial, there's no shame in making it your mission to get the best photo possible. We recommend starting at American artist Pae White's new installation 'Untitled'. Move slowly through this space; the colourful graphic forms you're walking on are extended to three-dimensional form through a network of colourful yarn, and it's easy to get disorientated.
7. Adel Abidin, 'Cover-up!' (2014)
When's the last time an artwork made you laugh out loud? It's easy to bypass this diminutive video work by Iraq-born, Helsinki and Amman-based artist Adel Abidin. Make sure you don't. The piece recreates Marilyn Monroe's iconic dress-lifting image, but replaces Monroe with an Arab man and her dress with a kandora (the traditional garment worn by Arab men). Beyond the work's playfulness, there's a fascinating interplay between East and Western icons and cultural stereotypes.
8. TeamLab, 'Moving Creates Vortices and Vortices Create Movement' (2017)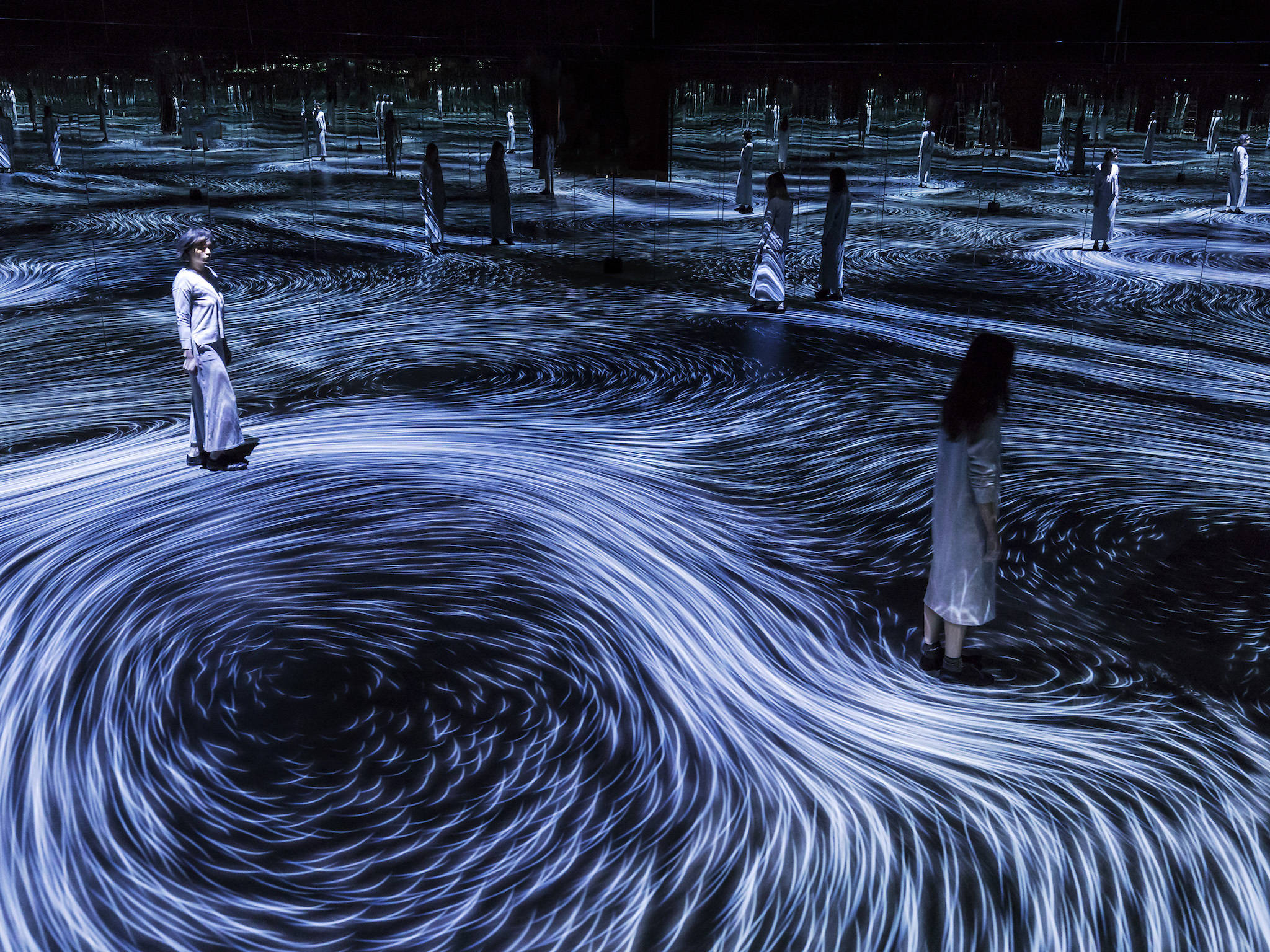 We hope you're ready to lose sense of reality. Tokyo-based art collective (which has over 300 members) call themselves 'ultratechnologists'. What does that mean, exactly? Basically, they create cutting-edge immersive digital works designed to interact with the natural environment. This time around, they've transformed a large space into a vortex-like environment that acts in the way that water responds to human presence. Only a few people at a time are allowed in this dark, swirling universe at a time – we recommend going when the queues are small so you can stay for longer.
9. Einat Amir, 'Coming soon near you' (2011-17)
This participatory work by Tel Aviv-based artist Einat Amir may seem like a simple recreation of a share house living room, but in a gallery, it becomes a public examination of human behaviour in domestic settings (in fact, Amir calls her studio a 'lab of emotional research'). The work requires visitors to book a session online, then bring along something to watch on the television (when we visited, some teenagers were watching 2006 bro comedy The Benchwarmers). Otherwise, just sit back and watch other people watch TV; it's surprisingly engrossing.
10. Neri Oxman, 'Vespers, Series 1-3, masks 1-5' (2016)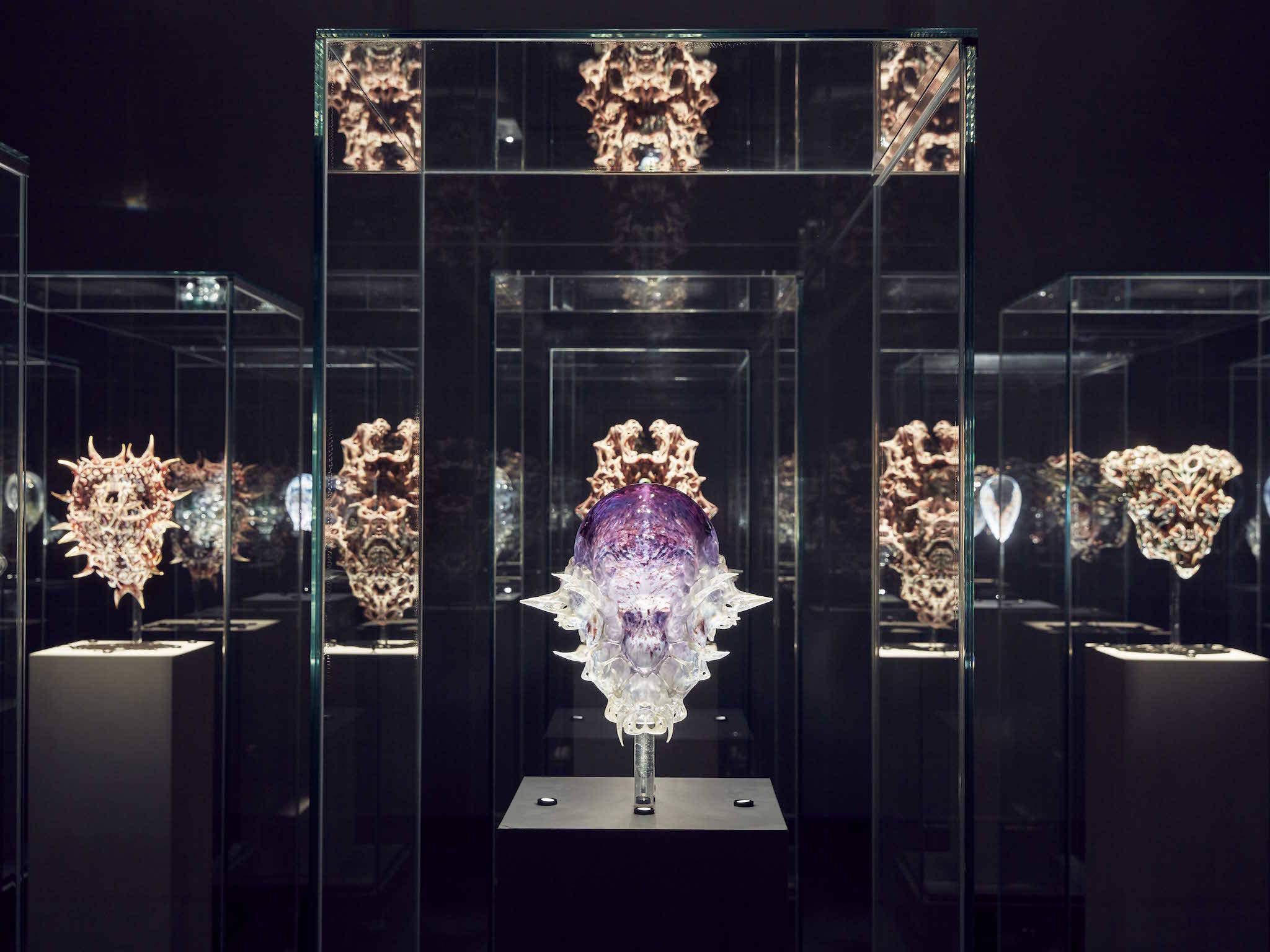 Here's one use for 3D printing you may not have considered: translucent alien death masks. Israeli artist Neri Oxman's 'The Vespers Series' was designed in collaboration with MIT, and comprises 15 death masks of eerie alien forms. Take your time peering into the swirling, textured colours of each one; they were created using the latest in fluid dynamics modelling software.