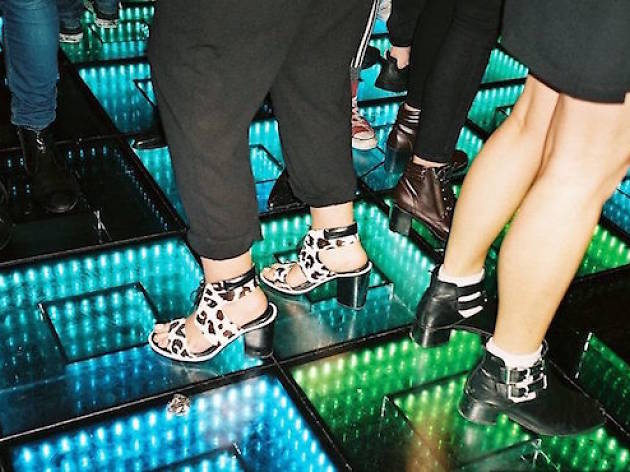 Time Out says
While our sister cities get sent to bed after midnight, the party rages until dawn at Hawthorn's new 24-hour club
If you were at uni in the last five years or so, you've probably been to Hawthorn club Cheers at some point. The club responsible for many a drunken pash and seedy morning lecture has grown up and undergone a renovation into Untz Untz. The two-level venue with a 24-hour liquor license (a license that already existed with Cheers), has been given a new look which includes an LED dancefloor that lights up under clubgoers' feet. The 24-hour bashes won't be a weekly event, but punters can party until 6am on regular weekends and director Nick Foley plans on hosting a 24-hour bash every long weekend.
"We're planning on doing a 24-hour party called Sensory every long weekend," Foley says. "We plan on broadcasting the club experience onto a YouTube channel by setting up ten GoPro cameras around the club and strapping on six GoPros to chosen social media opinion leaders, so you can follow their nights."
Foley, a club veteran also responsible for Seven in South Melbourne, teamed up with interior designer and fellow club veteran Michael Delaney on a downstairs pub dubbed Holy Moley. Delaney, known for designing some of Melbourne's legendary clubs, is a no-brainer for this ambitious club project; he started the now-defunct club Honkytonks, Sorry Grandma, and The Bottom End. Foley is also collaborating with Henry Chan, the mastermind behind Lucky Coq and Bimbo Deluxe, on a bar called Boozie Suzie which will offer Chan's signature cheap pizzas offering to fuel clubgoers. Both complimentary venues is slated to open later in 2016.
Fans of the Cheers Tuesday nights won't be disappointed, as the nights are back in full swing at the club's new digs. If you like your crowds a little older, entry to the Adultery nights on every Saturday at Untz Untz is only open to clubbers aged 21 and above.
Details