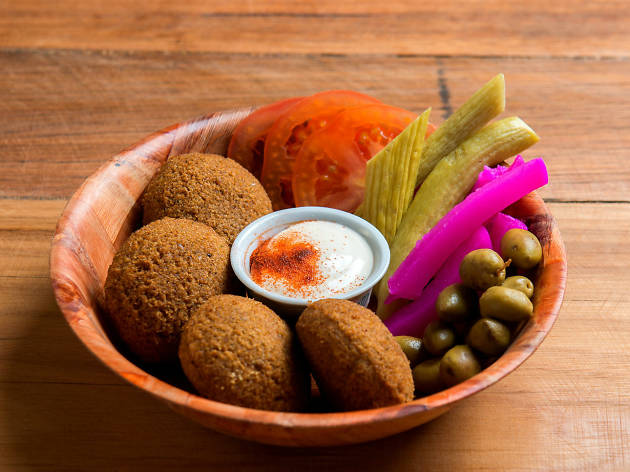 Amex Eats: Top Melbourne falafel dishes
The Middle Eastern specialty takes a surprising variety of forms across town
Plant eater or not, the thrill of landing a plate of crunchy, just-fried falafel is the stuff of every food nerd's dreams. These deep-fried balls of goodness can look and taste slightly different depending on which country they come from. Syrian and Lebanese falafel tend to have a chickpea centre, while Egyptian ones are usually made of ground fava. Use our cheat sheet to track down your favourite version in Melbourne, and pay in confidence with American Express.
When Abla Amad, the grande dame of Lebanese home cooking, opened Abla's in 1979, she had a stall at the Lygon Street Festa that sold only falafel and kofte. Her falafel are so tasty, they're still coveted at the restaurant, 40 years on. Hot balls of chickpea and broad bean enlivened with fresh coriander, mouth-numbing allspice and woody cumin come drizzled with parsley-speckled tahini that soaks into the fluffy interior upon first bite. With four in a serve, they make for a filling, protein-rich snack or an entrée to share.
For brunch with a Middle Eastern accent, you can't go past Seddon's spice-loving café Advieh. Their falafel sticks to tradition – made from chickpeas, beans and herbs, they have a super crunchy outer and a supple inner with a subtle nutty flavour from the sesame seeds. But the real fun part is choosing your sides from the kaleidoscopic array of salads – from a potato salad given some oomph with capers, to lentils with almonds and currants, to a summery coleslaw. A generous dollop of charry baba ghanoush, garlicky tzatziki or smooth hummus rounds off the plate.
If soggy sandwiches and dodgy leftovers are not your idea of a satisfying lunch, grab a filling and cheap meal on the go at this family-owned Lebanese joint in North Melbourne. One of their most popular wraps is jammed with falafel, herby tabouli and pickles, all swathed in tahini. The aromatic parsley and zesty red onion complement the brininess of the pickled turnip and green chillies, while the creamier-than-usual tahini softens the crisp falafel. We're (w)rapt.
Photograph: Supplied
Middle of the East Plate at Alisha's Café Collective, $18
At this community-minded café, your meal comes with a healthy dose of cultural diversity. Travel from the Middle East to South Asia to Europe with their Middle of the East Plate, featuring Mauritian-style falafel – golden and sweet from the yellow split peas and with welcome heat and tang courtesy of chilli and onion – alongside a garden party of goodness. Deep-fried kale and cauliflower rub shoulders with cumin-laced ratatouille, turmeric hummus, squeaky halloumi, peppery rocket and pita triangles. It's rounded off with a tangy, spicy chermoula that's worth coming back for alone.
Inspired by Middle Eastern cuisine, this north Carlton café swaps the bacon for falafel as the protein-rich component to its fancy eggs. Three footy-ball shapes – composed of chickpeas, fava beans and onion spiked with cumin and coriander root lending an intense citrus peel flavour – arrive atop a refreshing tabouli of barley, red cabbage, cucumber and red onion, with a sweet and sour bang from pomegranate molasses. Capped off with a crimson crest of beetroot pickle, tahini bright green from lots of parsley and two poached eggs, it makes for healthy, delicious and Instagram-worthy breakfast.
Albert Park's Middle Eastern and North African-inspired restaurant Kamel does a twist on the traditional falafel by using sweet potato as the base – adding a buttery candy flavour – along with parsley, onion and spices like cumin and coriander. Golden brown thanks to a thick sesame crust, four patties in each serve are ready to be dipped into a gooey tahini and honey sauce. Order them as part of a mezze feast,or they even make a great dessert.
At this socially conscious Melbourne institution, you'll be greeted with a verbal menu of vegetarian delights. Two of the most popular dishes are the chickpea bake and the falafel plate, the latter presenting a bouquet of Moroccan spices and flavours. The stars of the show are falafel balls, which are perfectly browned on the outside with a shimmering green interior. Meanwhile the accompaniments – from currant-studded couscous, silky hummus and fried cauliflower, to chermoula-crumbed eggplant, za'atar-rubbed bread and sweet potato crisps – are not only full of flavour, but super nourishing too.
Middle Eastern flavours permeate the eats at this casual beachside restaurant in Port Melbourne. And no Middle Eastern menu is complete without falafel. Here the oblong-shaped patties have a crisp-fried exterior with a creamy centre of mashed chickpeas and fava beans seasoned with garlic, turmeric, cumin, coriander and pepper. Super flavourful with the chickpeas front and centre and a fiery hit from the cayenne pepper, the slick of garlicky tahini yoghurt complements the dish with velvety, spicy, pungent notes. With three in a serve, they make a good entrée or a light meal on their own.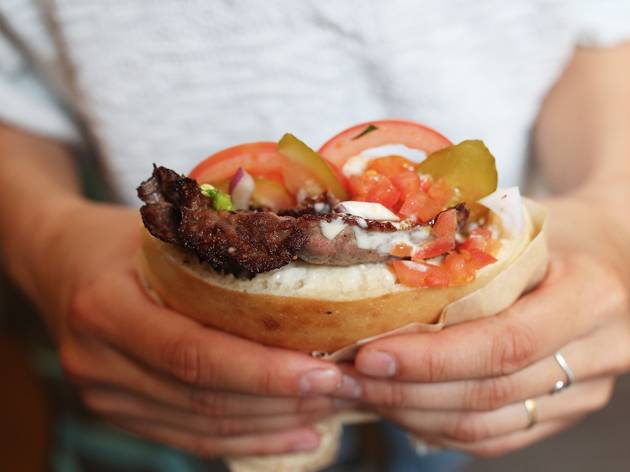 Hip eatery Miznon – where Israeli techno, colourful shots and flamboyant service are all part of the experience – pays homage to Israeli's favourite street food with a dash of poetic licence. A fresh chickpea patty – vibrant green in colour thanks to loads of coriander – is wedged between slabs of steak tomato, flecks of green chilli, red onion, kosher housemade pickles and – here's the clincher – sour cream, adding a creamy, slightly sour bite to the steaming hot crunchy falafel. Snug in a soft pita pocket made to strict instructions at Brunswick's Alysya, this is a cheeky and delicious reimagining of a falafel wrap.
Brothers Antoine and Bechara Taouk serve Lebanese soul food made to their grandmother's recipes at this Brunswick East neighbourhood favourite. They do a take on the traditional falafel by using yellow and green peas, which ensures they're moist on the inside and leave a sweet, fragrant aftertaste thanks to the allspice and cumin. The presentation calls to mind a deconstructed falafel wrap – four patties come in a bowl with neon-pink pickled turnip, olives, tomato slices, pillowy pita and a pretty ramekin à la grandma's house filled with smoky tahini. All that's left to do is smear, stuff, wrap and eat.
Explore the many ways American Express has your back
Best selling Time Out Offers