Head to Bar Lourinhã for one of the CBD's best-value lunches
Get two courses at this Iberian hotspot for less than $30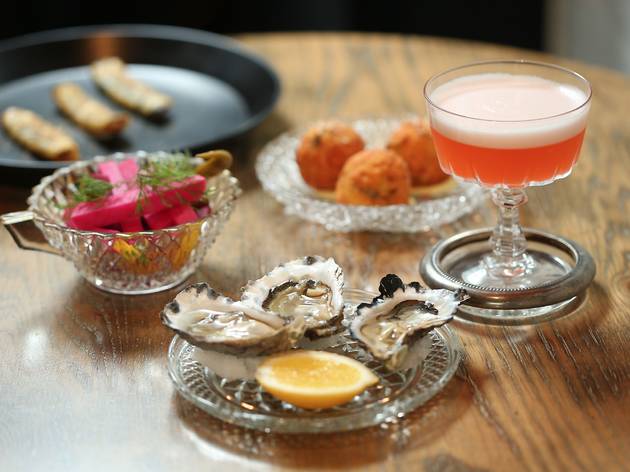 It's been over a decade now since Little Collins Street got its own portal to the Iberian Peninsula. Bar Lourinhã, Matt McConnell's venture into the Mediterranean, is more than just another trendy inner-city watering hole.
The atmosphere at Bar Lourinhã is typical of the approach to food on the Spanish-Portuguese peninsula, where eating and drinking is an all-day affair. The flavours are big, as is the collection of bric-a-brac on the downstairs bar wall. And while there's long, communal tables running the length of the venue, the best seats in the house remain those at the bar – where on Wednesdays you can watch the daily paella special simmering away. But what keeps locals coming back is the 'lunch rapido' special. For $26 guests can choose two courses like whipped baccalà and spiced pork albóndigas (meatballs), which arrive swiftly from the kitchen.
Just like in its contemporaries on the Mediterranean coast, the energetic bar divides dishes into tapas and raciones depending on how hungry you are and what's the occasion. Just getting a drink with a colleague? Grab something from the tapas menu like the jamón croqueta. Bringing a group of friends? Order a few different dishes from the raciones selection to share (try the yellowtail kingfish 'pancetta' – it's remained on the menu so long for good reason). The 'bar' in Bar Lourinhã isn't for naught either, with an extensive list of wines, spirits, liqueurs, aperitivi and cocktails available.
The 'lunch rapido' special at Bar Lourinhã is available Monday to Saturday.
---