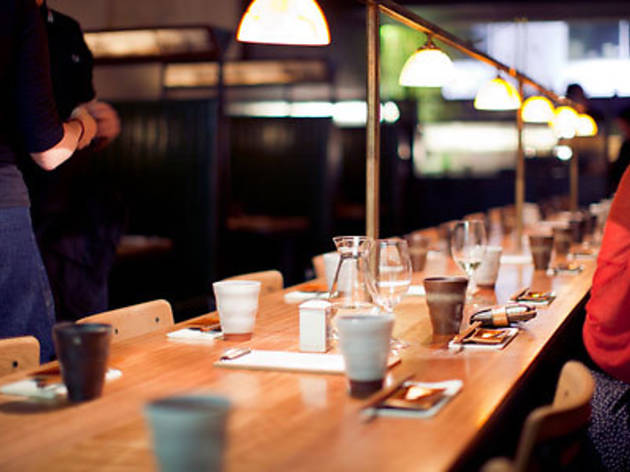 1/9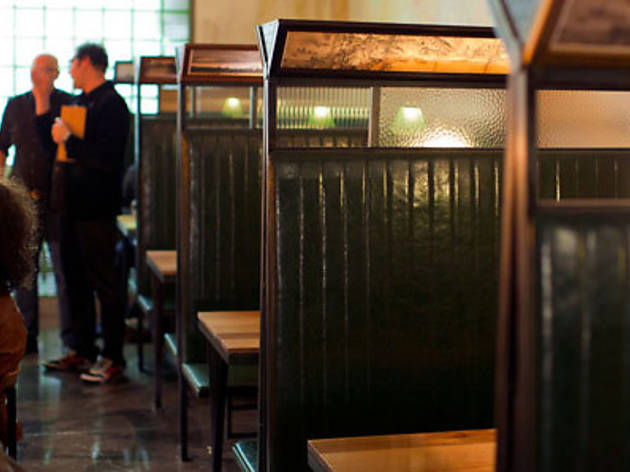 2/9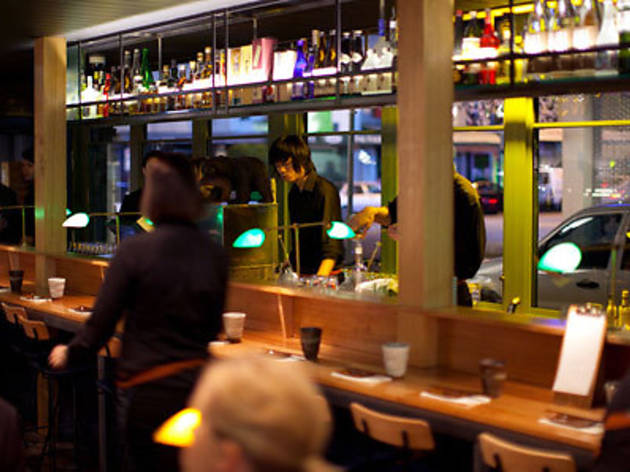 3/9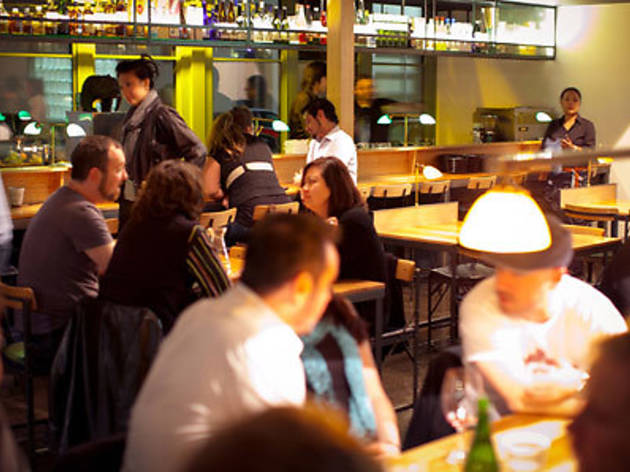 4/9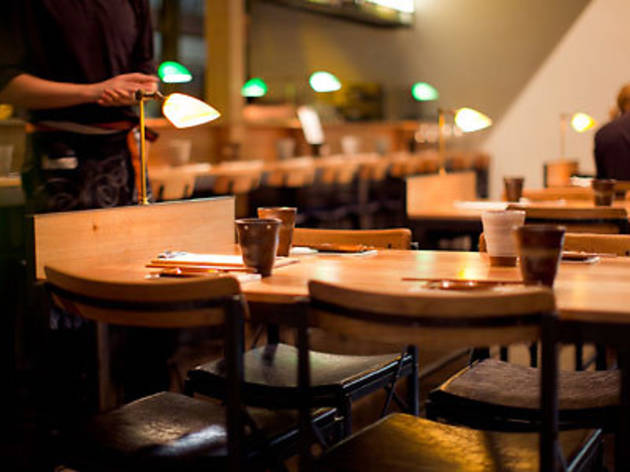 5/9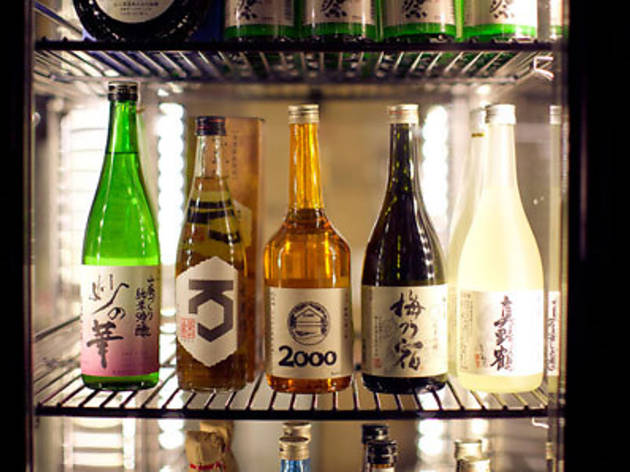 6/9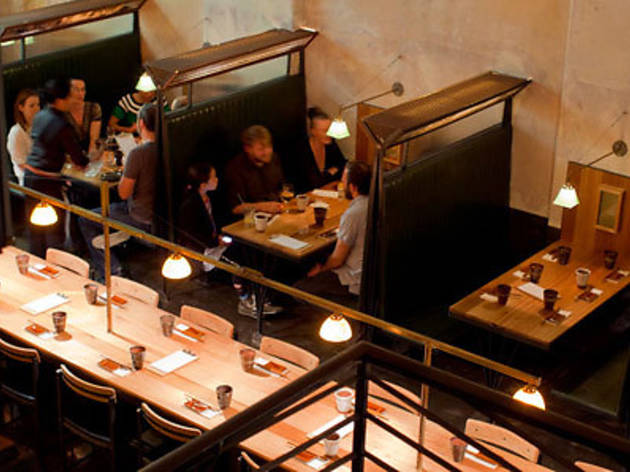 7/9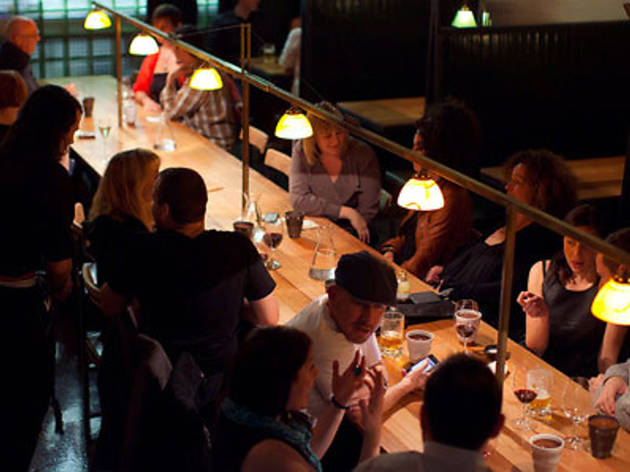 8/9
9/9
80 plus varieties of Sake and Shochu, the perfect venue and two red hot chefs in the kitchen. Kumo is Andre Bishop's cloud nine
Gosh. We're all a bit worried about being seen as pretentious lately aren't we? Well, the restaurateurs about town seem to be anyway. Fearful of being even slightly associated with starch, the newest and hottest joints (Golden Fields, Chin Chin, Dandelion) seem to have gone on the Atkins diet of design, making sure that whilst their food and drinks are continuing to raise the proverbial bar, the actual drinking bar is being relaxed to the point that we could feel comfortable sitting at it wearing a poncho. To be fair, being an izakaya, which by loose definition is a drinking den with snacks, Andre Bishop has an excuse for wanting Kumo to sit on the fun side of formal, but despite his attempts to play it cool, the 80 plus varieties of sake and shochu make it impossible not to take this place at least a little bit seriously.
Heard of Robot Bar? Nihonshu? Izakaya Chuji? All great, and all Bishop. It's no surprise then that his latest addition to Bunswick East has all the hallmarks of being outlandishly successful. Enter through the wooden door of castle proportions and note the veritable Coney Island of seating options. Booths; bar; 8 metre long communal table; private tatami room for vulgar or secretive parties of 10 and upstairs lounging area for perving on the street below. The ex-bank, wrought iron, wood and stone establishment is a date place, party venue, and even a shop thanks to the array of teas and trinkets artfully arranged in the entrance. Too much? Not at all. It works, and lets you approach the mind boggling menus however you please.
We recommend you take a running leap at it after you've warmed up with one of the zesty Hitachino ales and some otsumame (that's beer snacks to us), like a bowl of sweet, crisp walnuts with a pu-er tea infused crust ($10), or rice and parmesan crackers with salty soba miso dip ($12). When the time comes to sake it up, ask questions. Bishop himself is a level 2 sake expert (a title that we hope comes with a hat), and with his knowledge, and the explanatory drinks list co-written by San Fran man and sake master (huge hat) Todd Eng, you will hopefully leave Kumo twice as informed on the complex beverage as you were before. Of course, you will also be three times as overwhelmed, for which we fear the only cure is repeated custom. Unlike a restaurant, an izakaya menu is intended as a more casual 'while you're at it' affair, acknowledging that patrons might die sans sustenance. But, as you would expect from Bishop's crack kitchen team of Eriko Hamabe (Kobe Jones, Royal George) and Akimi Iguchi(Yu-U, Bar Lourinha) it's the smartest casual you can get before you have to admit it's actually fine dining. Dishes are all small share plates intended for two, so order as many as you can afford (five makes a hefty meal). Sashimi, tempura and salads are all offered along with some interesting diversions from traditional fare. Try the Kurobuta pork belly pie ($16) with braised pieces of coveted black Berkshire porker wrapped in a light pastry for a bit of culture jamming, or the delicately sliced and sesame flavoured tuna yukke with onsen (big communal nude bath?) poached quail egg in a crunchy cup ($18).
It's early days, but already the word is out and the throngs are thronging, so get along and enjoy the most educational drinking session you've had since you snuck a hip flask into uni.
Group dinners:
Make like high-balling yakuza and get your own tatami room. They don't havegeishas, but you can request a sake-matched degustation guided by the lovely Andre Bishop. Numbers: 10. $55-$140 pp.
---
Venue name:
Kumo Izakaya
Contact:
Address:
152 Lygon St
Brunswick East
Melbourne
3057

Opening hours:
Mon-Thu 5.30pm-12 midnight; Fri-Sat 5.30pm-12.30am
Transport:
Nearby stations: Jewell; Brunswick