The best Lygon Street restaurants
Lygon Street: more than just Italian heaven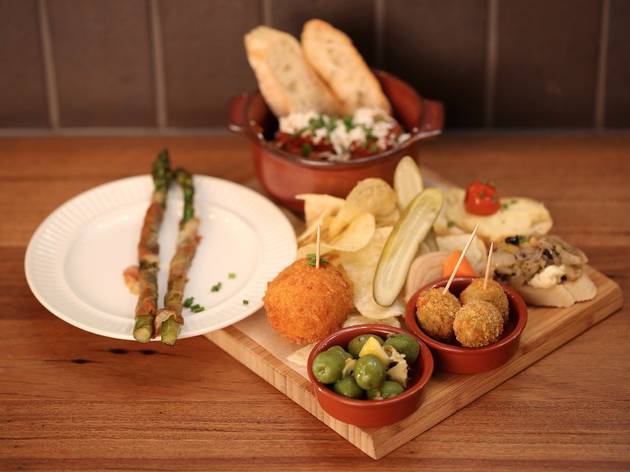 These restaurants run the whole culinary gamut – from classic Italian diners that Nonna would approve of to modern takes on traditional Japanese and Greek cuisines.
For a comprehensive list of the city's best eateries, check out our essential restaurant hit list. Or, if you're keen to find out more about Melbourne's best foodie hotspots, take a look at our guides to Flinders Lane and Smith Street.
Best restaurants in Lygon Street
1
Johnny Di Francesco's neighborhood pizzeria has pizza-making down to a science. Pizzas are cooked at 400 degrees for 90 seconds, rendering the base crisp, lightly charred and pliable. The fast scorch also preserves the integrity of the freshly sliced prosciutto, sweet tomato sugo and buffalo mozzarella they ship in from the homeland.
Read more
2
George Calombaris's modern Greek-Cypriot tavern serves up traditional classics with a twist. With a choice of a la carte and sharing menus, the Lygon St restaurant is home to Calombaris's famous Cypriot grain salad (a version is available at Jimmy Grant's) and lamb moussaka.
Read more
3
Making the Carlton end of Lygon Street just a little bit trendier with its laid-back, communal seating and a simple menu of snack-sized nibbles, Heartattack and Vine injects some modern energy to the spruiker-heavy street. You can order as many of the Venetian tapas dishes as you like: with their three for $10 deal, you won't be breaking the bank.

Read more
4
This famous Lygon Street pasticceria moved to their fancy new digs just a couple of years ago, but their classic pastries, pizze and wine are still a crowd favourite. True, it's just a chain, but this place is a survivor for a reason. Trying some dark hot chocolate with those sweet, sweet cakes is the way to go.
Read more
5
People with lactose intolerance, look away now. This Lygon St fromagerie will give you cheese dreams. Milk the Cow take the classic cheese and wine combo to the next level with fondue, cheese boards, and cheese flights with matched wines, beers, sake and spirits.
Read more
8
Tuck into a fine dining take on yum cha at The Roving Marrow. Formerly known as the Percy's Bar and Bistro, the current dining room puts a spin on modern Australian fare and comes with The Astor Bar, a casual dining front bar that's going to make a cozy hide-out on weekends.
Read more
9
Modern Japanese cuisine doesn't come to mind straight away when you think of Lygon St, but Kumo Izakaya is a must-visit spot for fans of fine sake and sochu. The izakaya food menu is made for sharing and tends toward fresh, protein-heavy Japanese offerings. Just the thing to soak up all that sake.
Read more
10
Teta Mona is everything a neighbourhood restaurant should be. It's loud and it's BYO, with service that's personal if a little bit shambolic during peak times. This is a good place to be while summer burns on. Out the back is a big shady courtyard, and the menu vibrates with freshness andpep.
Read more
Swap pasta for soba at these Japanese restaurants
Say "konnichiwa" to the city's finest places to enjoy sushi, sashimi, saké and so much more. Whether you want to dip into a cosy inn-style café or hobnob with the glitterati, you'll find what you're looking for here.
Read more