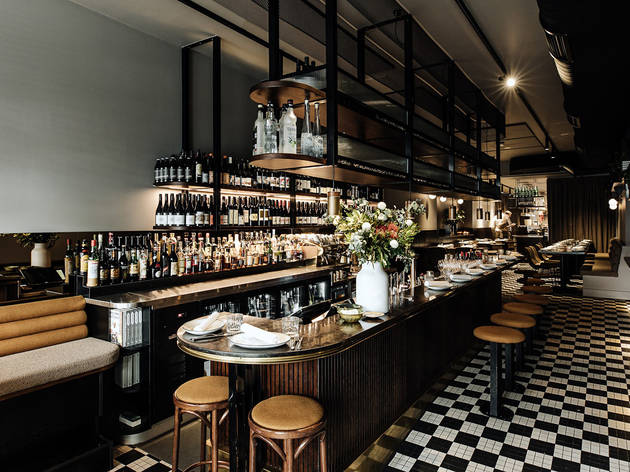 1/5
Photograph: Supplied / Brook James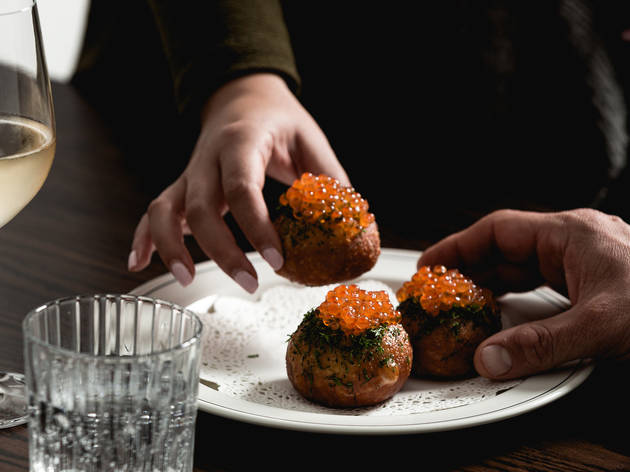 2/5
Photograph: Supplied / Brook James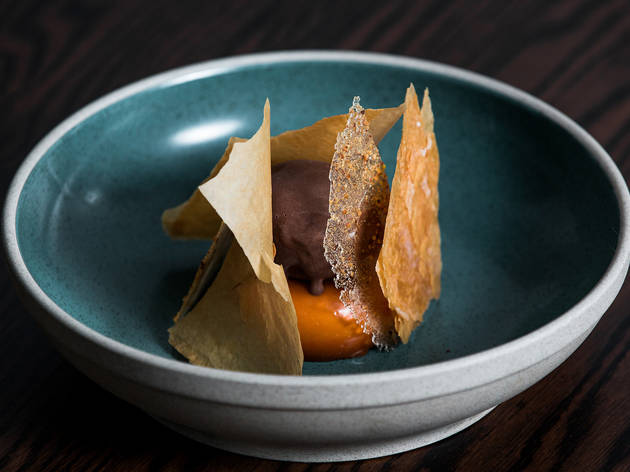 3/5
Photograph: Supplied / Brook James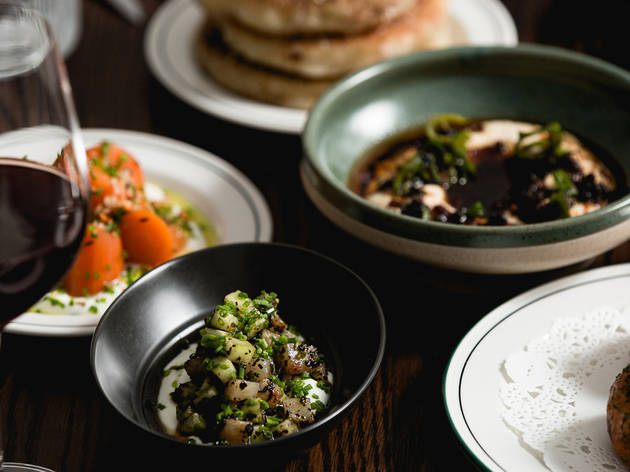 4/5
Photograph: Supplied / Brook James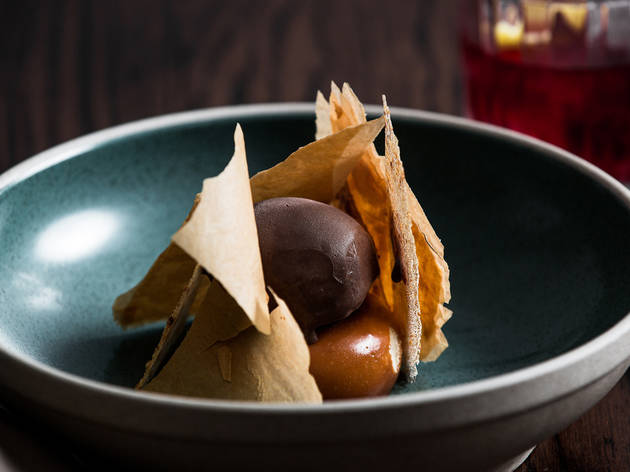 5/5
Photograph: Supplied / Brook James
Time Out says
Come on in, the snacks are fine at Maha East
Bring us the snacks, all the snacks and nothing but the snacks. Snacks are the stars of our dining age, the George and Amal of gastronomy, the mark of any chef trying to raise their flag over a crowded restaurant landscape.
At Shane Delia's Maha East, the racier little sibling to his city den, the snacks are so fine the mains might seem like less of a headline event. Or maybe you simply forget to leave stomach space amid the happy hoovering. Ahem. Apologies for this dereliction of duty. We shall forge on regardless.
Sleek, dimly lit and wearing the studied élan that indicates a no-expense-spared policy, this slip of a place looks like a wine bar and acts like a wine bar with its high-low mix of seating. But does it quack like a wine bar? No. There are some serious food moves here at some serious prices. It's not really a place for a quick bite and a drink before heading home in time for Q&A. You probably won't get a seat on a whim, anyway – it's packing a full house across two sittings – but it's definitely a place for sipping rather than swilling.
The pitch is right for this bit of Chapel Street, better known as the home of conceptual hotdog eateries than serious restaurants. Maybe we can call it a small-R restaurant. You won't find fries loaded with zaatar and kefalograviera cheese at Maha city. Just sayin'.
All along the bar prettily attired people nurse cocktails and pick their way through a procession of tiny plates. Everyone orders a taramasalata-filled fried bun topped with dill and a gleaming crown of fish roe. And ye shall know this as peak snack. It's the must-order item here (cute, tasty and photographable, like the Friday-night clientele), but at $12.50 each, it's essentially a $25 starter for you and your date that would work better in terms of carb/filling ratios at half the size. Anyway, save the extra dough for sopping up the various sauces, including varying shades of red oil in varying shades of heat that turn up across the spectrum of the typically broad Delia menu. There are a dozen or more mezze, four mains and a quiver of veggie dishes (he's also packing a Maha East version of the vegan menu, for which he's become the darling of the culinarily righteous. Praise be).
You're just opposite Windsor train station at the hipper end of Chapel Street but where are you culinarily is a much broader proposition than Maha city's modern Middle Eastern remit. East is also tooling around the Mediterranean, trekking up to Turkey, wandering across to Greece, swimming across to Malta. Albania might get a look-in, too.
White anchovies, their acid sharpness mollified by thick, sour labneh, could have come from any of these places. There are arranged around a puddle of good olive oil, with some fresh herbs thrown into the ring along with the carb vehicle of thin burghul crisps. So simple, so good. Also see: soft poached octopus with cubes of potato and carrot and lupin beans – served at room temperature, it's a sort of haute-picnic dish with fronds of dill gracing the top. And manti, those beef-filled Turkish dumplings that look like tiny ninja stars, are sluiced with burnt butter and sumac and soothed with yoghurt.
Delia plays it both ways, and a nod to modernity arrives with gently spiced filo-wrapped lamb cigars topped with a sweet (maybe too sweet; the table is divided) squiggle of raisin jam and dehydrated black olives. And there's white-cut chicken making a cameo; a hands-across-the-ocean moment of Chinese-Middle Eastern rapprochement successfully marrying the velvet-textured bird to the measured fire of harissa, tahini and oily roasted eggplant. It's a new trick from the old chef dog, and it works.
Just like Maha East itself, really. Sure, we could have soldiered onwards, to roasted lamb shoulder and Turkish delight doughnuts and thrown down a couple of arak shots on the way. But it's not necessary. East is a place to play it your way. Take the ride.
Details
Best selling Time Out Offers