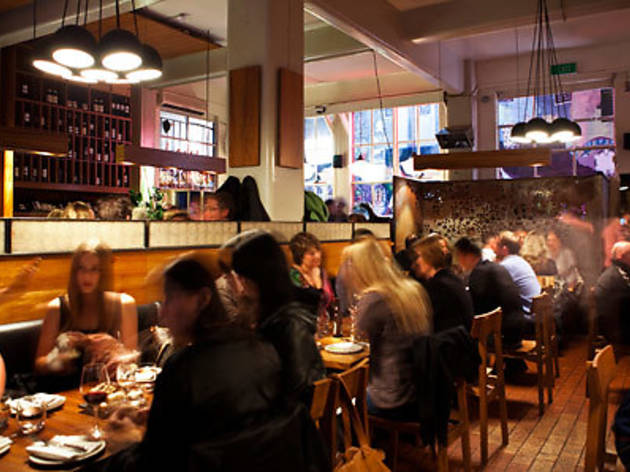 Time Out says
Even after ten years, it's still all smooth sailing and good times at Frank Camorra's flagship tapas house
"Which one?" It's the question we're asked when we call to book a table at MoVida, and it's a fair one. In the ten years since Frank Camorra and business partner Andy McMahon opened their Hosier Lane flagship tapas restaurant, the pair have launched an Armada of Spanish eateries that now includes MoVida Next Door, MoVida Aqui, a taco stand and bakery – not to mention outposts in Sydney, Pulpo at Tullamarine Airport and even the MCG.
But don't let all that rampant breeding put the fear of neglectful parenting into you – MoVida is captained by a trusty crew and still offers one of the best bar dining experiences in Melbourne.
Camorra annually pillages Spain for all things delicious and preserved from rosy haunches of jamon to tasty tinned things, which head chef Dave Roberts converts into seriously ramped up versions of traditional Spanish tapas, all matched head on by some of the best grenache and tempranillo wines the Rioja and Victoria can throw your way.
Perhaps there will be a wafer-thin crouton piggybacking an oil-slicked brown anchovy, tiny capers and a savoury ball of smoked tomato sorbet. It's a hell of a riff on the anchovy-on-tomato-rubbed-bread Catalonian classic.
Crisp shelled croquetas shoot a rich, satin-smooth paste of blood sausage right across the table when you bite into them. Order a few and put your lap on high alert. Or how about a fancy party pie? Empanadilla are two-bite wonders of juicy minced partridge and chestnut caught in super short olive oil pastry, with a dollop of globe artichoke purée.
You could really do a number on your wallet at MoVida, and many do – the likes of candied quince cylinders filled with goat's curd are gone in a blink, and the enthusiastic crew make ordering everything too easy.
Then again, you don't have to go all out. MoVida ably straddles that restaurant-bar divide, so while groups in booths are getting serious with bigger bowls of sticky, sherry-braised pork neck and clams, the warmly lit bar of brick and wood suckers in just as many spontaneous snackers for a bite and Moritz beers.
Half the bar seats (which you don't have to book) are filled with solo diners drawn by the promise of a good chat, churros for one and a glass of something delicious. We're all about the Crasto Superior from the Duoro region in Portugal with rolled slips of poached beef tongue in a punchy capsicum broth.
Dessert-wise, we won't bother telling you to get the churros – golden dough batons served with a thick drinking chocolate – it's a given. Instead we suggest you wield your spoon as a weapon to crack through the crisp shell of a deep-fried cube of custard that eases over a citrusy dice of apple.
Book ahead if you've got a group. Tables are still hot property after all this time, and for good reason. A night bookended by Spanish sherry and filled with sharp service, hands-on food, and sweet jazz means we still want to party here like it's 2003.
Read about cheap alternatives to Melbourne's most expensive restaurants.
---
Details
Best selling Time Out Offers