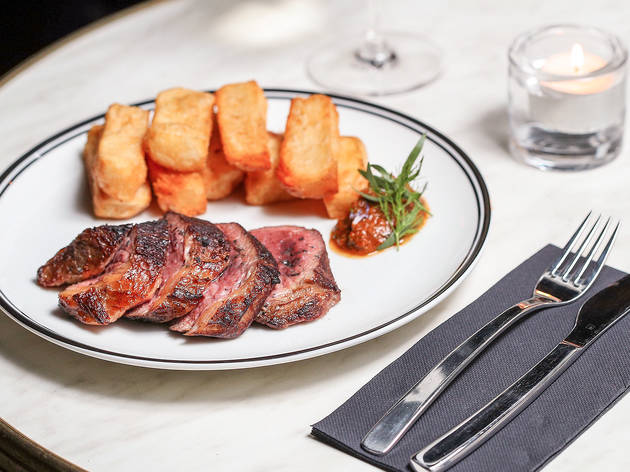 1/9
Photograph: Graham Denholm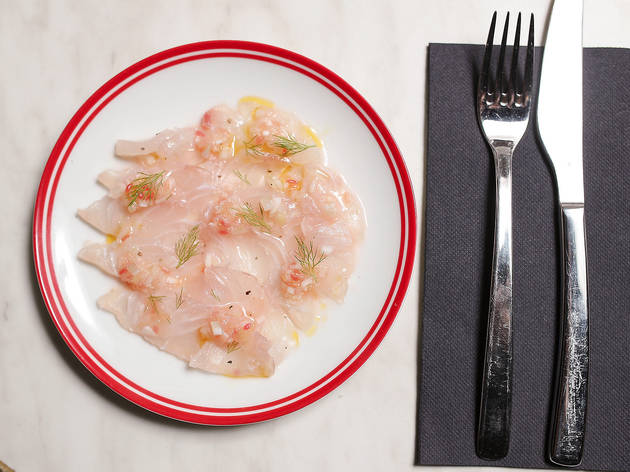 2/9
Photograph: Graham Denholm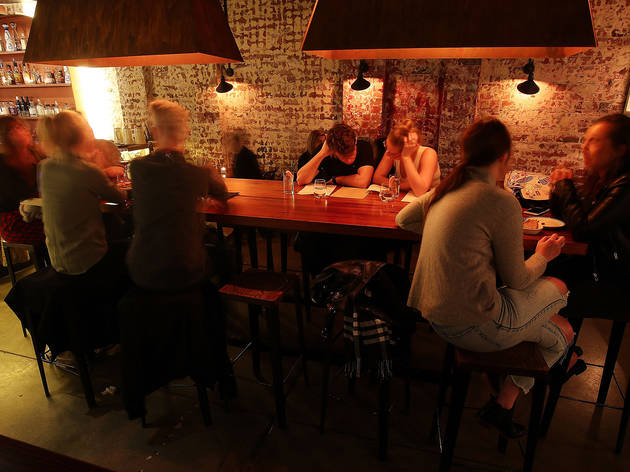 3/9
Photograph: Graham Denholm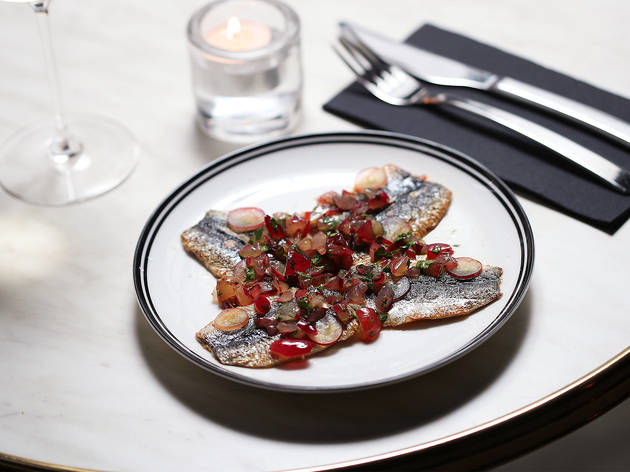 4/9
Photograph: Graham Denholm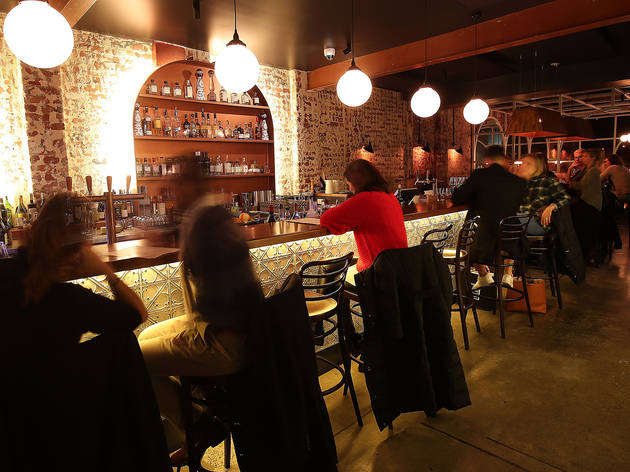 5/9
Photograph: Graham Denholm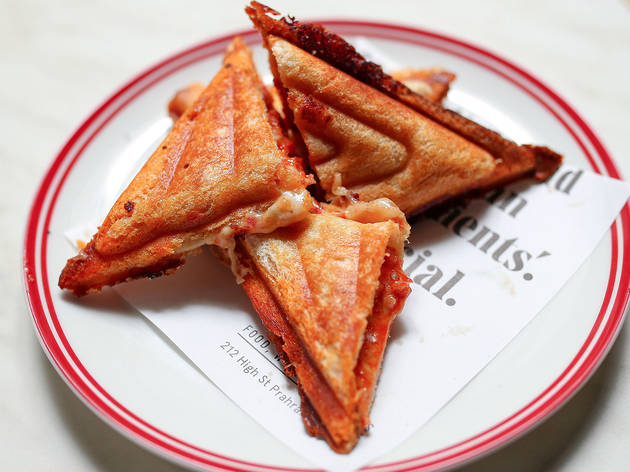 6/9
Photograph: Graham Denholm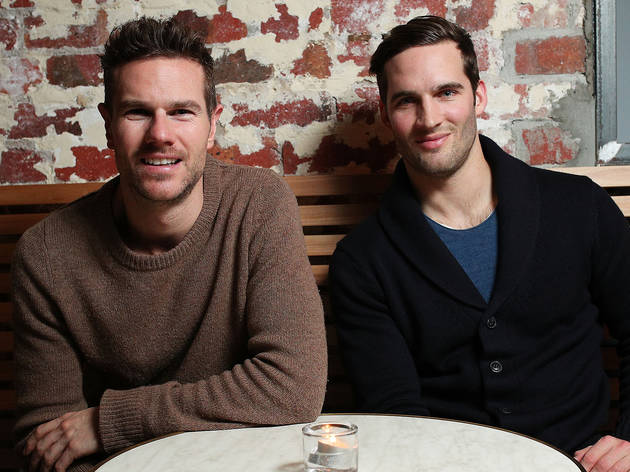 7/9
Photograph: Graham Denholm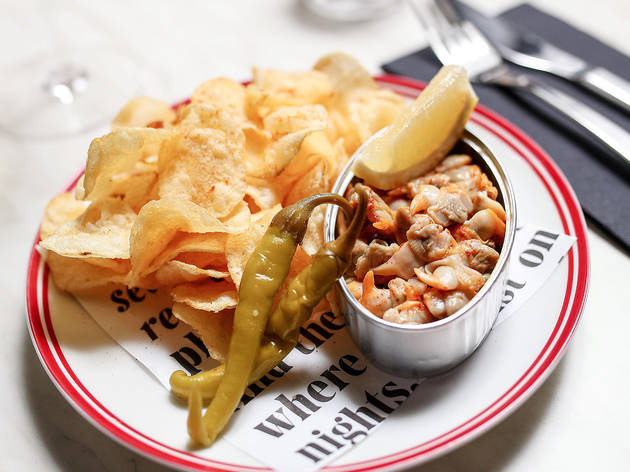 8/9
Photograph: Graham Denholm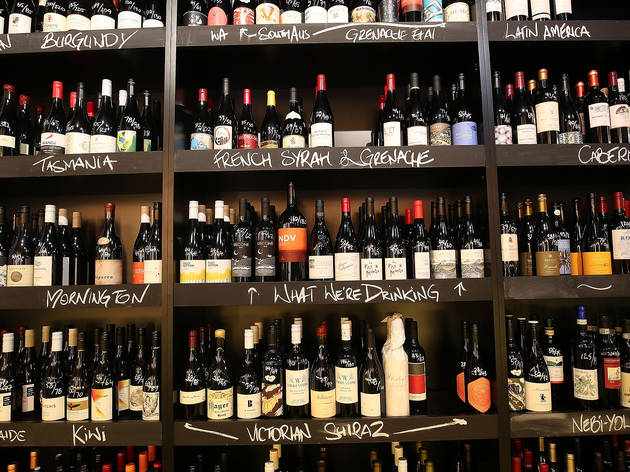 9/9
Photograph: Graham Denholm
Time Out says
A low-fi glamourpuss, Neptune introduces seafood in a can to date night
There's an origin story at Neptune. Dave and Michael Parker of South American-themed San Telmo and Pastuso have cross-pollinated with Nic Coulter and Simon Blacher, the owners of Asian-centric Tokyo Tina, Hanoi Hannah and Saigon Sally. Having forsaken the gods of alliteration and thrown their lot in with the god of the sea, our fearless four have wound up somewhere in the middle of the Pacific.
Just across the road from the newly revved-up Smith, Neptune is bringing its A-game with a whole host of quality seafood in a can – the brilliant way the Spanish have done it since the invention of the can opener – and a menu that sticks to the fishy brief without becoming its slave.
The quartet clearly knows how to tick the Melbourne design boxes and Neptune is no exception. It's got cred with a surfeit of comfort. Sit at the bar, at the communal table, or head to the open fire at the rear, where booths perfect for snuggling correspond to the Danish concept known as hygge. Someone definitely dropped the term "textured" during the conceptual stage, and the lighting is set low, so that everyone is immediately 120 per cent more attractive, hence the extremely high date-to-normal-diner ratio.
We're right on board with the canned seafood, a true slice of Iberian eating life introduced to Melbourne by MoVida and catching on around town with the pace of a glacier. Listen up, folks: there are few things better in life than a glass of Rieslingfreak No. 3 married to an extended family of meaty little cockles tinned in their prime. Load up on a potato chip, add a dash of the herby caper sauce, a squeeze of lemon, and consume. Repeat.
Just as compelling is the tarama-like cod roe, beaten to within an inch of its life with sourdough and topped with a flourish of bottarga, just begging to be scooped up with thin chickpea crispbreads. And the `nduja jaffle, a cheesy, buttery, high-GI white bread beauty in thrall to the chilli thrill of the Calabrian salami paste. Just try not to think of the extra Pilates you'll need to do to work it off.
On the other hand, you'll probably admire the chutzpah of calling the halved red grapes gracing butterflied sardines a gremolata more than the dish itself. Snapper crudo is like a ceviche lost a bet, the integrity of the protein corrupted by a whomping hand on the acid. And in 2017 the use of truffle oil, seen here adding its Lynx effect to a rustic plate of soft polenta and a braised mushroom jumble, is cause for spanking.
Funnily enough, one of the best dishes on chef Daniel Natali's menu is the steak frites – a full-flavoured piece of full-blood Wagyu hanger cooked to the perfect dark livery centre. Steak somehow makes sense after all that seafood. As does a dessert of terrine-like slab of poached quince and Chinotto quince jelly with a calming snowfall of burrata granita.
Neptune knows its booze as well as its bottarga. It doubles as a bottle shop with a now-familiar brief – a bit of Oz and NZ, a bit of French and Italian, around 300 bottles toeing a diplomatic line to keep the low intervention luvvies and the tried and true name-label drinkers equally happy. Cocktails? You're in luck, people, because upstairs there's a mood-lit cocktail saloon where you and your date can raid a personal whiskey locker. And that's Neptune – small-plates dining circa 2017, complete with an aftershow. The concept is so sound we ought to can it.
Details
Address:
212 High St
Prahran
Melbourne
3181

Contact:
Opening hours:
Tue-Thu 5pm-midnight; Fri, Sat noon-midnight; Sun noon-11pm
Average User Rating
3.7 / 5
Rating Breakdown
5 star:

2

4 star:

0

3 star:

0

2 star:

0

1 star:

1
Neptune totally caught me by surprise with its really relaxed feel and stunning cocktail and wine selection.
All the staff are really helpful (when it comes to wines especially, as my knowledge is pretty basic) The food is to-die and the place is always cosy and inviting, full of people and has this home-y, been friends for ages kinda vibes. Ticks all the boxes. If you haven't been yet, get down there ASAP I'll be voting Neptune #1 for People's choice, as should you.
We needed a supper club on this side of town and Neptune delivers just that! Acoustics are perfect with a tasteful selection of soul, hip-hop, funk and jazz-fusion vibes flooding this beautiful venue at just the right decibels to create a beautiful hum and inviting ambience.
There's a warm fire down the back which is a sweet spot for small groups or couples. You'll find each section of the venue serves to either sit-down dinner, be flirty at the bar or venture upstairs for delicious signature cocktails- each section is functional and well intended.
The cocktail bar upstairs is particularly perfect for events, a date night or sharing a bottle of a great drop with friends. Neptune has made wine-drinking fun again! They have an extensive hand-picked selection of superb varieties, encouraging us to try new blends and broaden our palate every time we visit.
Have I mentioned the food yet?? Think SHARE PLATES. Fun sharing yet sophisticated, rather clean for those health conscious and absolutely delicious. Can't go wrong with Mediterranean hinged upon the traditional, packed with flavour.
I like to go for dinner as a couple or have some share plates to pick at with wine and great company. When I think of this place I think - warm, inviting, cosy yet fun, lively and brimming with character and personality. Neptune is the new kid on the block, and she's what we locals needed! :) top marks and a new fave on the list!
I'd try to give this a miss. Great pedigree and super hyped but pretentious, noisy and loads of annoying American-style millennial door attitude to mess with your evening. In short everything Melbourne really shouldn't be. Alternatively, if you do want to try it, get there soon while it's still open.