O'Connell's is giving the humble charcoal chook a fancy pants upgrade
Charcoal chicken has risen to new heights at this seasoned gastropub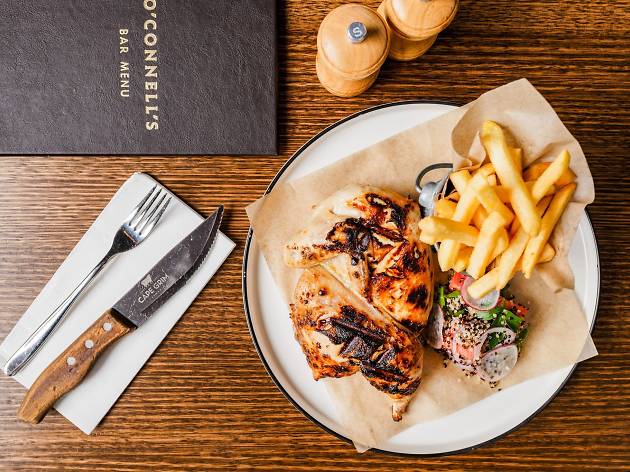 In a city full of kick-arse restaurants and killer pubs, O'Connell's somehow manages to tread the line between both. The South Melbourne venue is one of Melbourne's oldest gastropubs with more than 140 years experience in plating up delicious but unpretentious meals. Now the seasoned gastropub is taking one of Melbourne's favourite comfort food and giving it a schmick upgrade.
O'Connell's has taken the humble suburban takeaway staple – charcoal chicken – and given it a fancy-pants makeover. All day every Thursday, the pub does a charcoal chicken lunch that takes everything you love about the classic comfort food and makes it that much better.
The charcoal chicken meal is available all day and includes half a roasted charcoal chicken, chips, salad and a glass of house wine or tap beer for $20. At O'Connell's the charcoal chicken is made using free-range chook that is brined overnight in citrus, garlic, thyme and cinnamon. It's then lightly poached then finished off in the grill.
The juicy bird is then served with a grain salad – a zingy mix of quinoa, fresh watermelon, feta and radish doused with zesty lime dressing. As is traditional, your charcoal chicken also comes with crunchy, golden chips and a bevvy to enjoy.
The super slick charcoal chicken came about as head chef at O'Connell's, Tony Moss, wanted to give patrons a new bar special they'd love and was a little different to the usual pub fair. Plus, it's about time charcoal chicken got some time in spotlight!
O'Connell's charcoal chicken meal is available all day every Thursday for $20.