Taste your way around Melbourne at this new Southbank eatery
Arts Centre Melbourne's new river edge café and bar Bombini Buzz is right in the thick of it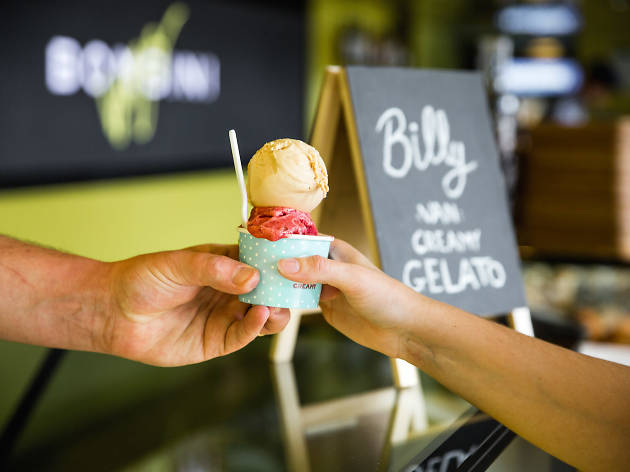 There's something so intrinsically Melbourne about Bombini Buzz, Arts Centre Melbourne's newest eatery. Part café and part bar, you can seamlessly transition from morning to night here without even having to leave its prime river's edge location. The best part? Bombini Buzz put the focus on Melbourne makers – everything from the coffee to the Melbourne inspired tarts sold in store are locally made, so you're supporting local suppliers while you dine.
Keen to have a perfect Melbourne experience featuring goods from Bombini Buzz? Here's a little itinerary we prepared earlier.
9am: Start your day with a micro-roasted coffee from Seven Seeds coffee brewed fresh by Bombini Buzz's talented baristas. Take a sip alongside one of BB's house made pastries – these specially made tarts are inspired by the streets and laneways of Melbourne. Our pick? The Queensberry Street tart, a chocolate cake with raspberry curd and coconut mousse.
10am: Next, take a short walk over to the Royal Botanic Gardens. If there's anywhere you can escape the madness of the city CBD without actually leaving it, this is the place. Home to a cool 8,500 plant species, zen lakes and lush lawns, visitors can take part in workshops, tours, walks and talks that showcase the intricacies of the gardens.
12pm: Time for a gelato! Try some natural gelato and sorbet from Billy van Creamy, served fresh and ice cold at Bombini Buzz. While it's locally produced in Fitzroy North, Bombini Buzz has a range of their most popular flavours on their CBD roster as well as speciality sundaes in development, including Peach Melba soon to hit the freezer. Pair a scoop with Yarra Valley nuts, honeycomb or caramel popcorn.
1pm: Now, it's time for some culture. Head to the mezzanine area at Bombini Buzz for A Little Odyssey, a public exhibition exploring 30 years of Nick Cave and the Bad Seeds, running until July 9. Formed in 1983, Nick Cave and the Bad Seeds recorded 16 studio albums, rich with songs that loom large in the Australian music landscape. This exhibition is a glimpse into just some of the songs seen through enigmatic frontman Nick Cave's notebooks and lyrics.
6pm: As the sun goes down and you're in the mood for a show, the beautiful Hamer Hall is unbeatable. Or if it's a Friday night, kick back with sweet live tunes during Bombini Buzz's Live and Local Fridays, with live music from Jayden Reid. Happy hour drink specials run nightly, so sit back with a brew from Collingwood's Stomping Ground Brewing Co and toast to the day that was.