The best ice cream sandwiches in Melbourne
Ditch the cone and cup this summer and get into the ice cream sanga
Ice cream sandwiches have come a long way since the humble Monaco Bar. These days, the average sambo will cost more than your childhood pocket money; cookies and buns are often baked in-house; and ice creams are stuffed, sprinkled and drizzled with gourmet ingredients you won't find in your corner store. Shake up your cold treat game this summer with some of the best in town. Find them at your local supermarket, roving food trucks and dessert bars.
After some more treats? Scoop your way through our favourita gelato and ice cream or make your way to Melbourne's best chocolate shops.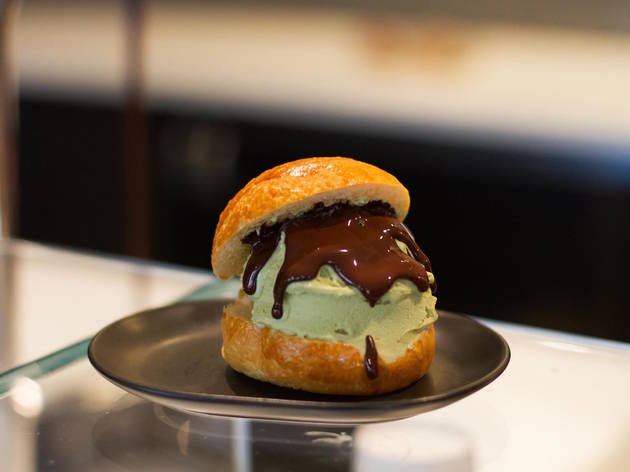 Have your ice cream with a bun instead. This summer, South Melbourne patisserie Bibelot will be offering customers the option of any scoop of their choice in a house-baked brioche bun, then topped with milk-or-dark chocolate sauce. Pictured is the pistachio gelato with dark chocolate sauce.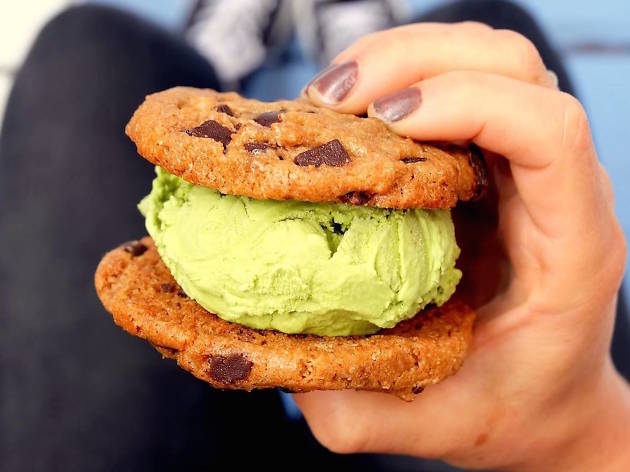 Quite possibly the first food truck to focus exclusively on ice cream sandwiches, the My Two Mums vintage caravan even looks like an ice cream sandwich. Customers can construct their dream dessert sanga with the option to mix-and-match cookies and ice cream flavours. Go classic with the red velvet cookies and vanilla ice cream combo, or take the creative route with the Chunky Cherry ice cream and chocolate cookies.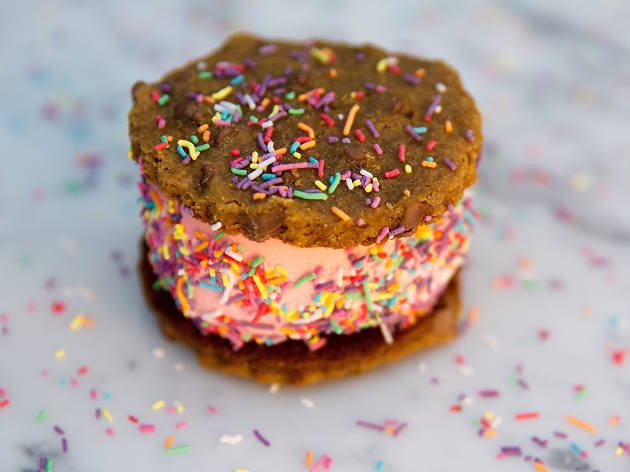 You might think there's not enough room for two ice cream sandwich food trucks on this list, but we're going to respectfully disagree. Biskit Bar's earned their spot with housemade cookies, ice creams and sauces. The Biggie S'Mores is the clear favourite with a chocolate-cherry waffle cookie, a scoop of vanilla and a pink marshmallow sauce. If you see these guys on the street…don't walk, run.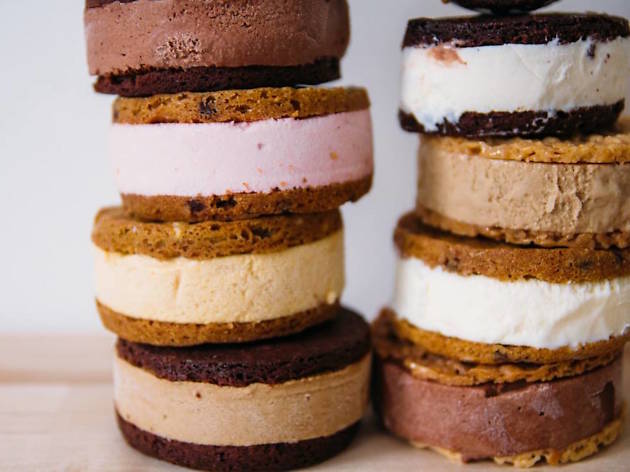 This one's a store-bought number but oh boy are they good. Based in Sydney, Pat and Stick's was started by Minnesotan Pat Monnot and Sydneysider Stick Seach. They make their ice cream sangas by hand in their Tempe kitchen using high quality ingredients (think Belgian chocolate, vanilla beans, proper butter) and they've started selling tubes of four ice cream sandwiches in independent supermarkets including IGA. Flavours include Espresso Lace, Caramel Pecan and Banana Chocolate Fudge.
More ice cream this way...
Nothing beats a scoop (or three) of ice cream or gelato for dessert, but not all frozen desserts are created equal. We've licked and scooped our way across the city in search of Melbourne's best cone artists.
Best selling Time Out Offers