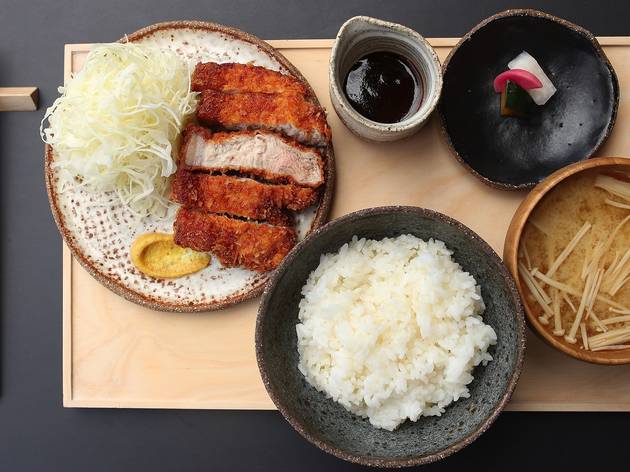 Best Café: Time Out Food Awards 2019
Ethical and Japanese, our winner embodies where the Melbourne café scene is right now
The two overriding principles of the past Melbourne café year intersect beautifully at an unassuming Carlton street corner. At first glance, the sunshiny spot where Elgin runs into Drummond might appear to be merely another cutely designed café where the Proud Mary coffee comes in covetable ceramics and smiley staff make you feel right at home. But Ima Project Café quietly personifies the rise of the Japanese breakfast as well as the ethical and sustainable ethos that has been busily creeping into the mainstream.
It feels only right and proper looking at Ima's menu that the land of the rising sun is our 2019 breakfast inspo. It's here that you'll find not bacon but hibachi-grilled ocean trout, bright with miso and lime glaze, ready to hang its hat as a side dish to Japanese twists on Aussie-Anglo classics, from baked eggs to a fried egg brekkie bun. It's where you'll find Japanese breakfast sets – think of the gratifyingly separate compartments of airline dining, then add flavour – and a pork tonkatsu lunch set, with hot mustard, rice, miso and the cut-through acid of house pickles. Behind the scenes, a deep-rooted ethical, minimal-waste philosophy sees the kitchen opt for "ugly" fruit and vegetables, repurpose as much as they can, including the bonito flakes left over after the dashi-making process which go into the housemade furikake seasoning, and back it all with a hellbent recycling program targeting everything from soft plastics to oil and coffee grounds.
And if that isn't enough, James Spinks, a chef graduate from Supernormal, Quay and Sake, and interior designer Asako Miura have triangulated the perfect Melbourne café story with their Nipponese answer to avo on toast. (Since you asked, they add the Vegemitey note of nori paste, fried kale and furikake with nutritional yeast lobbing in its very own umami bomb and an onsen egg, if lacto-ovoism is your bent.) Just sip your shochu-spiked Bloody Mary and declare the search for the year's best café over.
See all the winners
The Time Out Food Awards lets us celebrate Melbourne's champions of the restaurant scene – and throw a party to remember. Here are all the winners from the hospitality scene's night of nights.
Best selling Time Out Offers