Mastercard presents People's Choice: Best Fast Food
For when you're craving something salty and delicious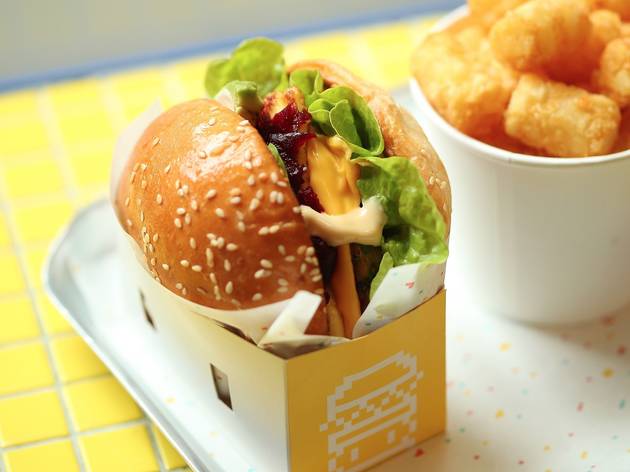 The game of one-upping each other with the weirdest, most loaded burgers in town has gone quiet – if anything, the competition is now about a simple burger that nails every component, like 8bit's signature beef burger. The meat patty is thin, but that's not a bad thing: it caramelises more evenly on the grill this way, before being capped with a melted slice of yellow American cheese. Adding a touch of freshness are the classic condiments – tomato, red onion, pickles and lettuce – so that every bite is equal parts salty, fatty, crisp and soft. Skip the fries and order a side of potato gems, which have more crunch than the beer battered chips.
If spice is your thing, the After Burner improves on the signature burger with extra Sriracha, jalapeños and chipotle mayo. The Golden Axe fried chicken burger uses the same brioche bun; the battered fried chook comes piping hot with a crisp char that's almost too burnt, but not quite. It sits on some white cabbage 'slaw and Sriracha mayo and is hot enough to melt the bright yellow cheese on contact. Some clever engineering went into the paper sleeve your burger is served in, catching the juices before they drip down to your elbow. Also, thumbs up for the spot-on filling-to-bun ratio.
A sole Pacman machine stands near the cashier so punters waiting for their burgers can have a bash, and even the mural by the kitchen window pays tribute to the brick paths in the original Mario game. It's counter seating only, so the crowd moves quickly. Too bad the Swanston Street venue isn't licensed, because a cold pint is the only thing that can improve this burger-eating experience.
Who else was a winner?
The Time Out Food Awards lets us celebrate Melbourne's champions of the restaurant scene – and throw a party to remember. Here is all the winners from the hospitality scene's night of nights.
Want more cheap eats?
With so many cheap eats options in Melbourne it's not hard to eat out without breaking the bank