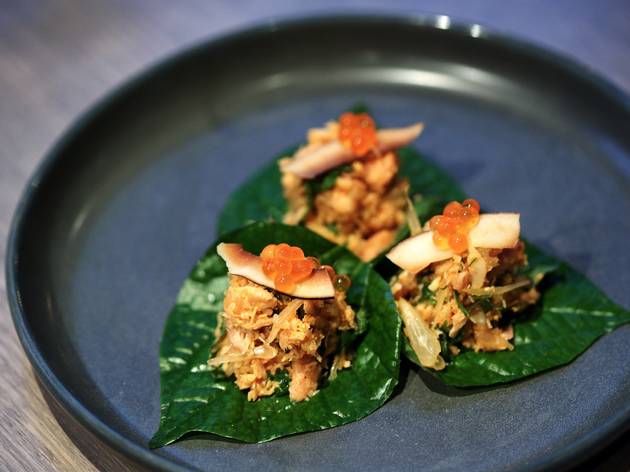 1/8
Photograph: Graham Denholm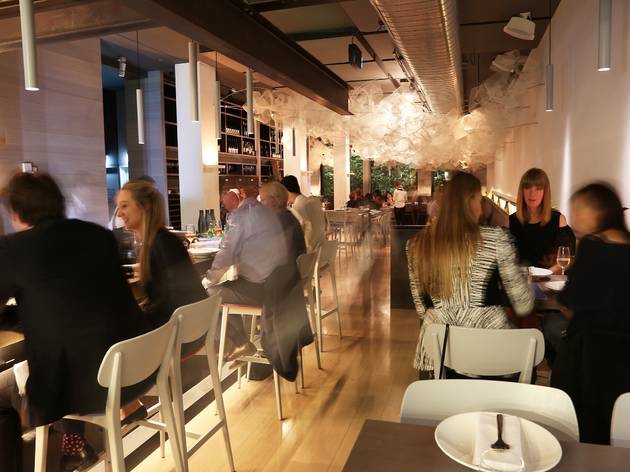 2/8
Photograph: Graham Denholm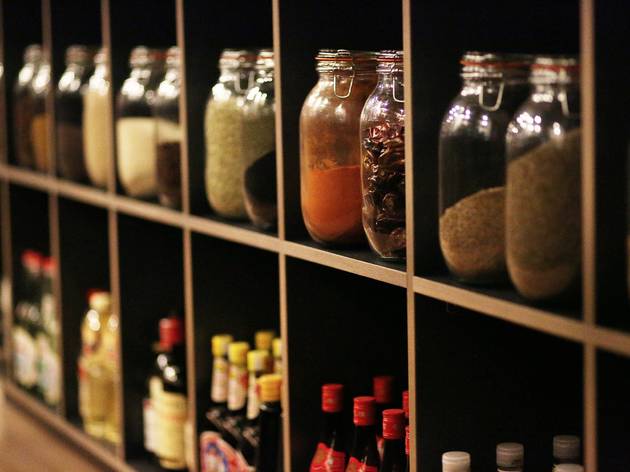 3/8
Photograph: Graham Denholm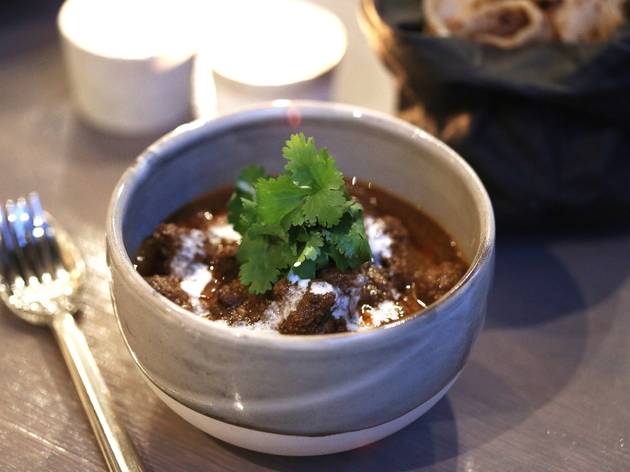 4/8
Photograph: Graham Denholm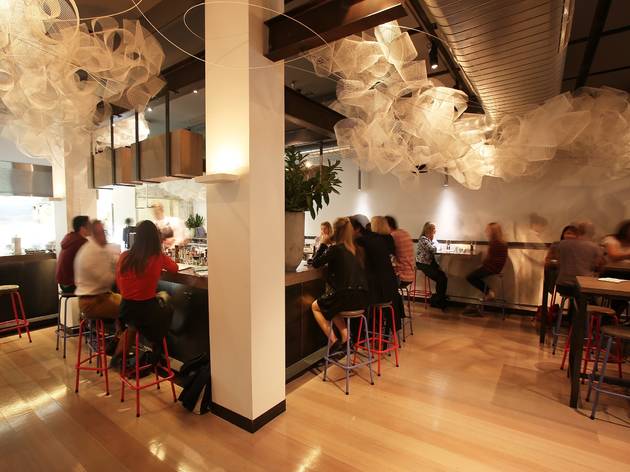 5/8
Photograph: Graham Denholm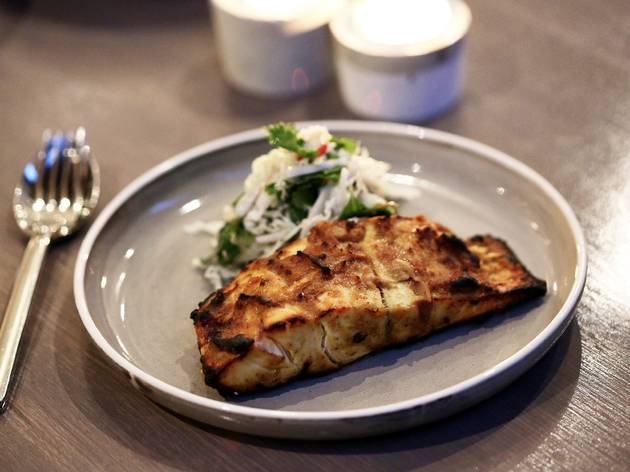 6/8
Photograph: Graham Denholm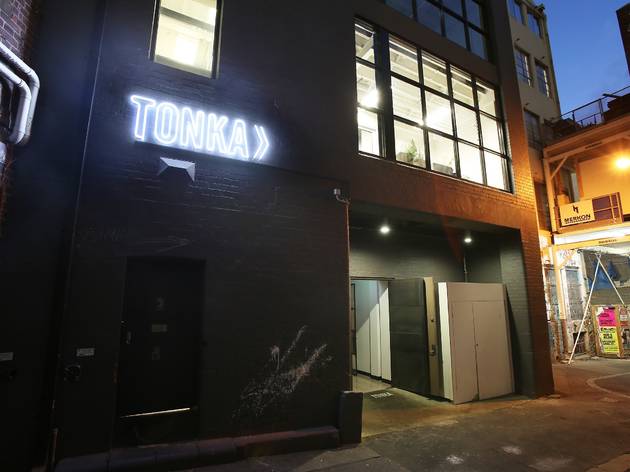 7/8
Photograph: Graham Denholm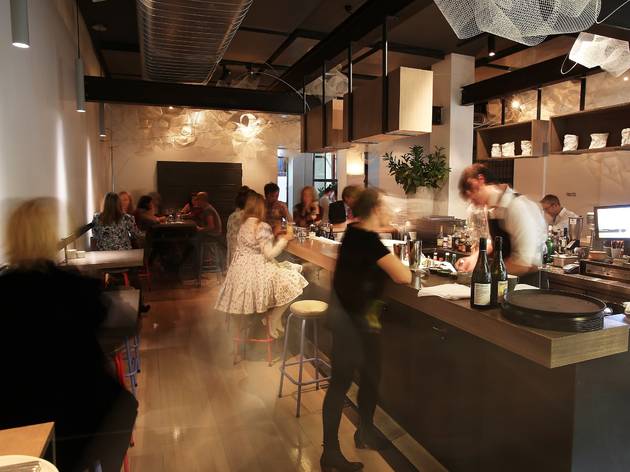 8/8
Photograph: Graham Denholm
The Coda crew have turned a notorious nightclub into a schmick mod-Indian restaurant
This joint was once Michael Delaney's bump-and-grind nightclub Honky Tonks – a venue famed for its porn-slathered toilets with peepholes looking out onto the dance floor. Now, it's a restaurant! But fear not, hygiene fans, the Coda team (Adam D'Sylva, Mykal and Kate Bartholomew) have scrubbed these digs up nice, and are serving a menu of mod-Indian, Malaysian and Sri Lankan dishes tasty enough to make you forget everything that transpired here.
Inside, Tonka is a long, low-lit room of polished blond woods, slung with artist Naomi Troski's crumpled mesh clouds, and dotted with huge urns holding sprays of glossy leaved branches. It looks (and smells) like nothing untoward ever happened here.
As with Coda, the bar is a stand-alone affair out the front, and somewhere we'd happily spend a night making dinner out of booze and bar snacks. Gun sommelier Travis Howe is pouring some freaky Italian and local wines, while ex-Der Raum bartenders Adam Roderick and James Tait have designed a list of boozy tropical cocktails including a lassi worth ruining dinner for. Fresh mango puree gets whizzed up with yoghurt and a good slug of rum and honey. Grab some lamb kebabs – cumin-spiced skinless sausages served san choi bao-style in baby iceberg lettuce cups – and you've got yourself a meal.
D'Sylva writes an adventurous menu. Somewhere between South East Asian betel leaf snacks and charred tandoori chicken is a starter that pairs Italian burrata (that's a mozzarella ball) with coriander relish. It's a little crazy, but ex-Jacques Reymond chef Michael Smith is commanding the kitchen, and for the most part he's navigating the spice trail with ease.
Start with crisp-skinned chicken ribs amped up with a peppery-vinegary dipper, and then go for hunks of tender lamb shoulder in a rich curry sauce perfumed with toasted cardamom, roasted coconut and white poppy seeds. It's fragrant, but don't expect kick-to-the-balls spice. Down tools and pinch it up with charred folds of buttery roti – this may be fancy Ind-Asian, but this is the sort of joint where the soundtrack vacillates between rock and blues, and using your hands is condoned.
Yellow dahl is a little loose. Sadly, the flavours haven't quite fused, but like everything, it's beautiful in its stone bowl, punctuated by a large dried chilli. Side-wise, go a citrusy salad of green mango threads tangled with coconut, fine flecks of spanner crab, puffed rice and chilli. The crab is outmatched but it's otherwise a well-balanced hit of fresh.
At this point, you might as well keep the culinary expedition going and finish with creamy peanut-butter parfait and salty caramel popcorn. Why the hell not?
Broad agendas in restaurants rarely work, but this collective somehow always manages to get the balance of innovation, restraint and fun just right. If you're down for some culture jamming, you're in for a good time.
---
Venue name:
Tonka
Contact:
Address:
20 Duckboard Pl
3000

Opening hours:
Bar Mon-Fri noon-late; Sat 5pm-late; Restaurant Mon-Fri noon-3pm; 6pm-late; Sat 6pm-late