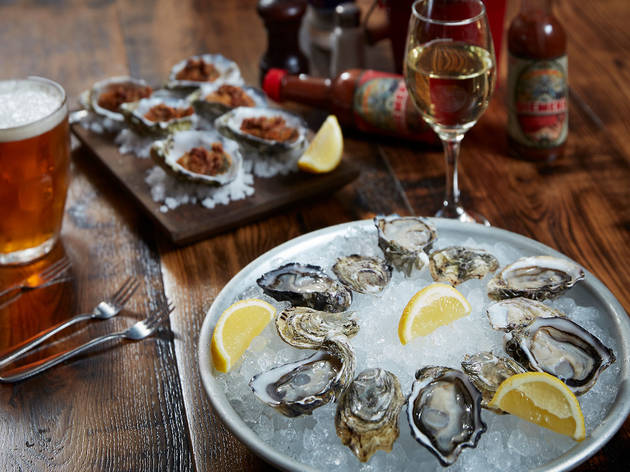 1/8
Photograph: Supplied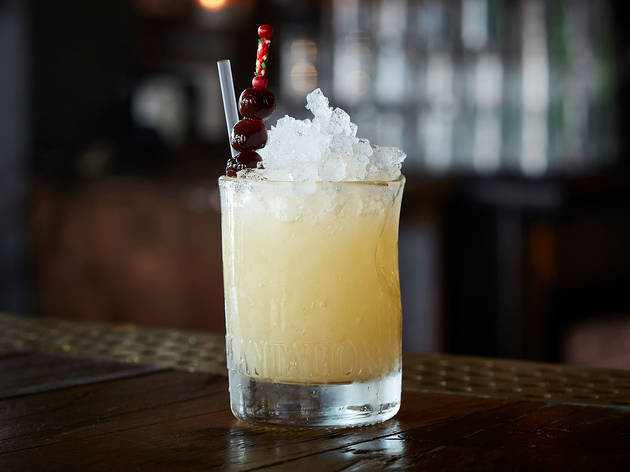 2/8
Photograph: Supplied
3/8
Photograph: Supplied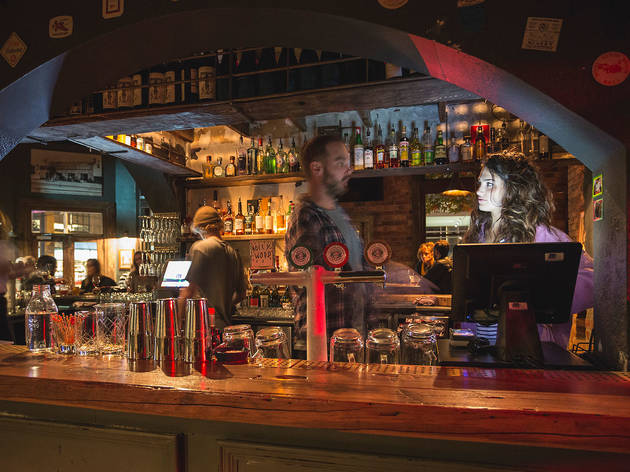 4/8
Photograph: Supplied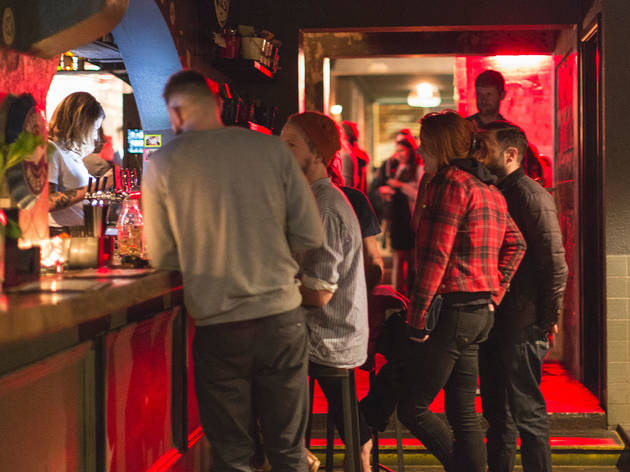 5/8
Photograph: Supplied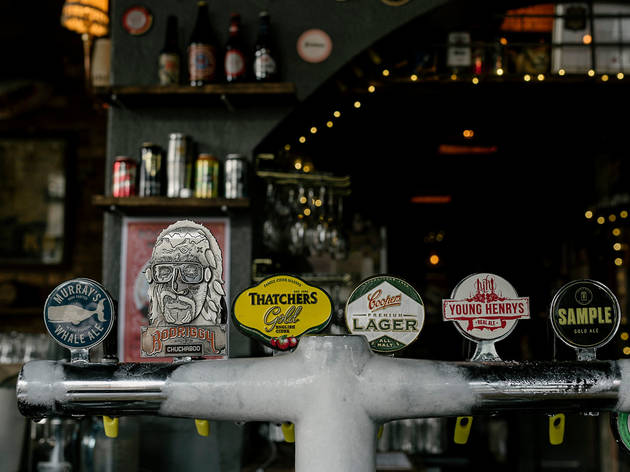 6/8
Photograph: Supplied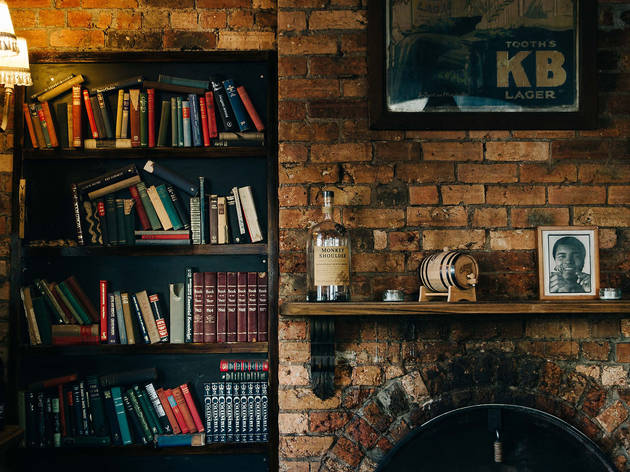 7/8
Photograph: Supplied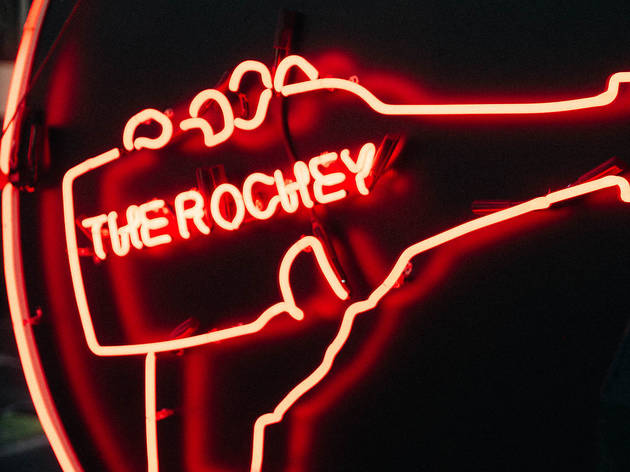 8/8
Photograph: Supplied
Pubs like this are why Fitzroy is at the pinnacle of Melbourne pubdom
In 2015, The Rochester got one of the best pub makeovers in town. New ownership morphed Fitzroy's grungiest boozer into a more mature version of a rock'n'roll pub, complete with good cocktails, late-night dance parties and Ms. Katie's Crab Shack rockin' the kitchen. Two years on, Ms. Katie has taken her crabs elsewhere, but the Rochey is still going strong as part of the new generation of venues maintaining this neighborhood's spot at the pinnacle of Melbourne pubdom.
On any given weeknight you'll see black and white movies projected on the exposed brick walls with Jimmy Hendrix replacing the soundtrack. Pop in for trivia, comedy, karaoke or an excellent pub meal, the menu equal parts pub classic, home cooked nostalgia and Asian inspiration like seared salmon with crunchy Thai-style slaw and aromatic eggplant chutney. The dish gets a little overpowered by the sweetness of chili caramel, but is still fresher, better presented, more creative and straight-up tastier than most pub meals around. Snack wise, $10 gets you three slabs of garlic bread topped with home style Bolognese that'd make Nonna proud. It's the kind of midnight fridge raid nosh that'll keep you grinning from beer to beer. And if you're intolerant to gluten or eating dead animals, there's plenty of gluten-free and veg options, too.
Craft beer is the biggest draw, drinks wise, with a cracking tap list that includes Brooklyn lager, Sample pale ale, Wolf of the Willows JXP and a wheat beer from Red Hill that's all cloudy-sour-sweet like a good farmhouse cider. These guys do a mean mixed drink too, often employing bartenders with serious cocktail backgrounds. Try lesser known classics like the Boulevardier (a Negroni with Bourbon) and an Army & Navy with gin, lemon and almond. Or get stuck into an original Once Upon a Time in Mexico with mezcal, tequila, lime and rosemary salt. There's also enough wine by the glass to keep you happy no matter your flavour.
Despite live music only one night a week (Sundays), this is a pub that still sees rock as a part of its identity, and while you'd be much more likely to see the crowd that frequents the Rochester at Meredith than at a metal gig, the attitude here is still far more Jack White than Jack Johnson. Early on a Saturday evening, a small group of mates warms up with mugs of mulled wine by the brick and bookshelf-framed fireplace, slouching into old leather couches. The soundtrack tonight is chilled out classic rap (Del La Soul, the Roots), and the bartenders exchange knowing glances as a buck's party barrels in, disrupting the relaxed conversations around the room. But they're soon gone, realizing it's not the place to cause havoc.
The party starts after ten and DJs read the crowd perfectly, notching the music up from a lilting remix of Seven Nation Army into Prince, INXS and George Michael a bit later. Out the back, the pool table, booths and living green-walled beer garden are all packed with friendly punters, the conversation easier out here away from the speakers. After 1am as most other venues shut, the front bar fills and becomes a dance floor, the DJ swapping to Nelly club bangers for the last hour of power.
The Rochester is a pub that's matured with the neighborhood – eventually we all get a bit older and prefer a good chat, a craft beer and healthy meal to cheap pots, frozen parmas and a night of blurred memories. But we still know how to party, and until we all move to Preston to breed, the Rochester's where it's at.
Venue name:
The Rochester Hotel
Contact:
Address:
202 Johnston St
Fitzroy
3065

Opening hours:
Mon-Thu 3pm-1am; Fri, Sat noon-3am; Sun noon-11pm
Design and Drink Market

Head down to Fitzroy's Rochester Hotel on Saturday, July 21 for its inaugural Design and Drink Market. This event will be showcasing a stellar line-up of emerging designers who will be selling ceramics, custom tees, jewellery, indoor plants, prints,...

Markets

Saturday July 21 2018

Free