Meet Melbourne's matchmakers
Online dating isn't the only way to find love
These modern-day cupids are doing things the old-fashioned way – face-to-face! We've profiled the best matchmakers in Melbourne to find out how they got started, their biggest success stories and what they think of online dating. Already seeing someone? Check out our ultimate guide to dating in Melbourne or book a table at one of the city's best date-night restaurants.
"A couple flew to Japan within a month of meeting, which was pretty crazy."

Jane Austen's Emma Woodhouse has nothing on Dear Pluto's Emma Daniels. The 28-year-old launched the brand name as a vintage clothing shop in Sydney in 2008, and branched out almost immediately into craft workshops, parties, film screenings and speed dating.
Five years on, Dear Pluto's speed dating nights, pitched primarily at a younger crowd, sell out in Sydney faster than swiping right. Finally, she's brought the concept to Melbourne, and is launching with two sessions in October at 1000 Pound Bend – one for straight singles, and the other for queer men and women in collaboration with Sydney party collective Heaps Gay. "People have come to me saying that Melbourne really needs something like this… we're hoping to run them every couple of months here," she says.
So what's Daniels' winning formula? The casual setting, for a start. "It's really easy to go out for drinks with your friends and not meet anyone new, so to meet that many new people in one night – new single people – is probably why it's so popular."
The format is four minutes per date, with 20 dates on the night. "Four minutes can either be a really short time, or a very, very long time. I've found it to be the happy middle ground between being really intrigued or knowing it's not going to be a thing," she says. Daters indicate that they'd like to see their date again by ticking a box on a card during the night. Emma then emails everyone with their matches and let's you take it from there. "I don't follow up because I think it's a bit creepy, but I do know there's been one marriage and a few mid-to-long-term relationships."
Upcoming events:
Melbourne Dating Party: 1000 Pound Bend. Wed Oct 5.
Melbourne Speed Gays: 1000 Pound Bend. Thu Oct 6.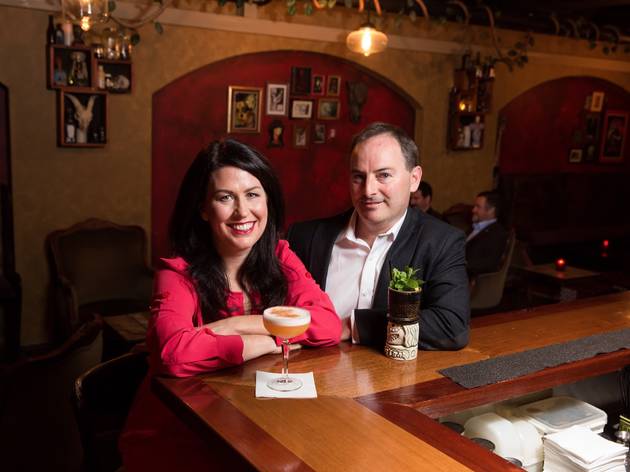 Photograph: Daniel Boud
Brett Couston and Louise O'Connor, Cityswoon
"I think Tinder has been good for dating, but it's more of a hook-up site. You can't tell what people are like from photos."

If matchmaking were a competitive sport, married couple Louise O'Connor and Brett Couston would take home gold every time. They launched their company Cityswoon in the most ambitious way – by breaking the Guinness World Record for the biggest blind date at Sydney Opera House two years ago. "It nearly killed us," jokes O'Connor, who says they wanted to do something special to get the name out there.
These days, Cityswoon employs a network of a dozen hosts around the country. In Melbourne, they run events in places like Nieuw Amsterdam, The Spleen Bar and The Botanical. The pair have found that their 'Adventure Dating' nights do particularly well in Melbourne, which see daters move to new locations to meet new people, like a bar crawl with prearranged pairings. "The laneways are perfect for that because they're so close to each other – they can bar-hop throughout the night."
Another factor that sets Cityswoon apart is its specialised app. Brett explains, "[Daters] turn up, log into the app and select 'here now'. Once everyone has arrived, the host sets off a round and that's when they get photos of who they're meeting." Dates usually last for ten minutes before the app prompts you to move on to the next date. "It's hard to predict who the software will match you with," says Couston. "When you see people hitting it off, it's thrilling." For Cityswoon, they like the use of the app to filter preferences for things like height, age and long-term goals, like whether you want children. "I remember coming out of a long term relationship and not wanting to waste time with the wrong person," says O'Connor.

After each event, daters rate their experiences via the app, which has thrown up interesting patterns for Louise. She leans in and says, "You know how people say men like younger women? They don't. Men may look for younger women online, but they rate their dates with older women much higher on the app."

Upcoming events: Locations, age brackets and prices vary: visit website for details.
"When I was single, all my friends were on Tinder and I found myself despairing that it was the only way to meet someone."

Kaila Perusco's life as a matchmaker began several years ago, when she founded Craft Singles at Sydney's Work-Shop. More recently, she added another matchmaker string to her bow – Conscious Dating – which will launch in Melbourne in October.
"It's quite a young crowd that comes to Craft Singles, so I wanted to cater to people interested in meeting someone in the long term," says the 28-year-old Sydneysider. "When we launched in Sydney, the word spread very quickly. I think the concept of Conscious Dating really resonates with people – especially singles who find the current dating scene disheartening. I quickly had people emailing us seeing when we were coming to Melbourne, and I was more than happy to oblige!"
One of the drawcards of Conscious Dating is its intimate setting paired with fun, relaxed activities. "We start the night with an activity to aims to shake off the nerves: meditation to live music, laughter yoga, creative drawing or making cocktails," she says. "And when people meet each other one-on-one, we also have conversation challenges and cards that we encourage them to use that spark interesting discussion. The last thing we want is for someone to have the same boring small talk with each person they meet. Usually something from our conversation cards leads people down a path that they didn't see coming, like talking about how they both went to the same rollercoaster park in Japan, or something random like that."
Aside from sparking interesting discussion, Perusco's other main goal is to bring strangers together who normally wouldn't cross paths. "Lots of my friends in Melbourne have found themselves dating within the same circles, so I'm hoping Conscious Dating can expand those circles! Many people have a 'checklist' for the person they are looking for- either consciously or unconsciously. The chance of finding someone who will tick every box in that checklist is pretty slim. So we aim to get people to throw their expectations out the door and instead just see who they connect with."
Perusco is looking forward to watching singles connect in Melbourne. "I find that people are a bit more open in Melbourne, and it's not considered as weird to spark up a conversation with a stranger there (as it is in Sydney)." Events are open-aged, and there are also plans to launch gay and lesbian events in Melbourne, which have been popular in Sydney.
Conscious Kaila's top dating tip is "Don't take yourself too seriously. Be open to new people and different things. Sometimes you can get stuck dating a 'type' of person, which is why I love that at Conscious Dating you can't ask certain questions about people."

Upcoming events: Dates have not yet been announced for Conscious Dating in Melbourne. Check the website for updates.
Where to go once you're hooked up
Melbourne, with all its glorious nooks and crannies, was built for cavorting. Here you'll find the city's best date night restaurants, wine bars, picnic spots, romantic hotels and more.