The best date-night restaurants in Melbourne
Our favourite places for frocking up and impressing someone's pants off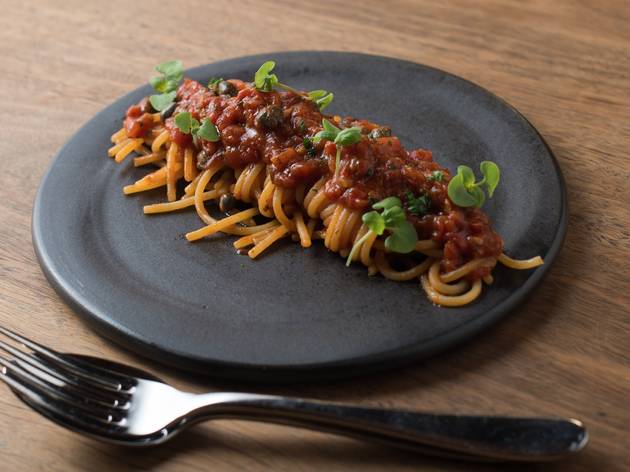 "You choose the place," is a phrase that hardly anyone wants to hear when it comes to arranging the perfect date (the pressure!) – unless you're armed with a fail-proof list of romantic spots. You can't go wrong at any of these restaurants (unless you can't afford the more expensive ones: check the menu first!). Good luck, daters.
Melbourne is a city never short of romantic locales; check out our list of the best places for Tinder dates, or if the mood takes you, the most romantic hotels.
Super fancy
It always pays to book ahead if you're going to impress sky-high. If you can't drop that much cash on dinner, you can also hit up Lui Bar next door for a cocktail at sundown over some very smart snacks.
This is the restaurant anniversaries are made for. You'll be receiving some of the tightest service served alongside an impressive winelist and a modern interpertation of Australian cusine by an internationally celebrated Kiwi chef who we've adopted as our own. It's fine dining without the stiff service.
Hidden gold
Mod-Oz in an Art Deco diner. This is the hottest piece of eating action in Northcote if you like all things molecular.
It may be in an old gentleman's club (you know what we mean), but a lot has changed since those days. The service here is the best in Melbourne and perfect for romancing the one you've been crushing on for years.
Tiny, hidden, intimate; this 13-seater tempura bar in a side street of South Melbourne is our pick for dining without a crowd. Just be confident in your conversation because there will be nowhere to hide.
Wine and snacks
If southside, it's only natural to head to Bar Di Stasio. Sit up at the marble bar and watch the bartenders craft your cocktails over a plate of fritto misto and people watch the who's who of St Kilda.
A wine-lover's haven with food to match. This sophisticated wine bar is off street level and serves until 1am. Share some caviar over grower champagne and move to the balcony for an intimate, moonlit end to your evening.
Fancy a drink after dinner?
Time Out's editors tortured their brains (and destroyed their livers) to bring you this: the definitive guide to drinking in Melbourne.