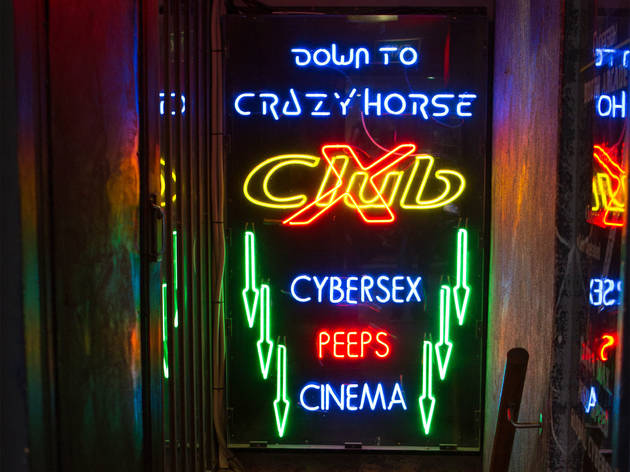 Peep shows in Melbourne
Andrew Tijs ventures into Melbourne's peep shows, where the girls are nude and the guys are burdened by two-dollar coins
A little bit of curiosity can't hurt... but what kind of thrills can be found past the neon signs of the city's peep shows? Read our journalist's account of his X-rated experiences, then decide whether or not to try it yourself. If you want us to keep talking dirty, visit our guides to Melbourne's top sex shops, sex-on-premises venues and lingerie shops.
Melbourne peep shows: a Time Out tour
Slipping past karaoke hub Charlton's, I'm daunted by the 'Nude Girls' neon of the innocent surounding Dendy Cinema. Are we joining a legion of pervs in trenchcoats straddling bins of tissues? A garrulous moustachioed dude sits in the adult shop opposite an archway advertising 'Live Peeps $2'. Here we go.
I'm instantly lasered by the bare vagina of a lithe Asian girl. Attuned to averting my eyes from strangers' cleavages, this directly upsets my synapses. Thankfully, four bucks only gets 80 seconds of personal attention before the shutter clumps down.
Moustache Man says the adult cinema upstairs is air-conditioned, smoke-free and – he eagerly nods to us as a couple – sometimes populated by swingers. A sweet, punky-looking American dancer hints that it can get pretty crazy up there. An adult performer's opinion of crazy in a porn theatre can't be much worse than mine, right?
Services: Internet arcades, video/DVD preview arcades, cinemas, peep shows, live girls one-on-one.
1-3 Coverlid Pl, Melbourne. 03 9663 2993.
Buzz yourself in for 14 cybersex booths (with full access to the saucier side of the web) and four more peep booths. A cinema with only three lounges and a couple of chairs sounds far too close for comfort.
My window reveals an exotic lass in what I've now established is the typical peep show boudoir: low bench, mirrors, water bottle, the odd toy. It's like a sexy break-room! Girls alternate hourly between the peep show and private dances – there's even a framed roster if you need to plan your fortnight.
Services: Internet arcades, video/DVD arcades, cinemas, RAM lounge (communal gay movie watching), peep shows, live girls one-on-one.
216 Swanston St, Melbourne. 03 9663 8094.
With less trepidation I descend into the long-sniggered-at Crazyhorse Cinema alone and grab some change from the gruff, also-moustachioed, clerk. I'm cocky until the window snaps open to a tanned and toned blonde labouring with a big spongy dildo. Her legs are split open like a drawbridge, gaudy silver heels dangling on each foot. The notch has been kicked up, yet I maintain my journalistic impartiality by not whipping it out. I presume the meek middle-aged men I pass in the halls make more of an effort.
Crazyhorse's basement labyrinth also has two small adult cinemas (which periodically feature live dancers) and is open from 9.30am until midnight most days, if you're a morning person. It's an institution.
Services: Peep shows, live girls one-on-one.
34 Elizabeth St, Melbourne 3000. 03 9654 8796.
Shopping for something special?
If you know where to look, visiting sticky-floored, male-centric sex shops is (thankfully) not the only way to find all of your 'adult' needs. These five sex shops stock high-quality toys, tools and outfits in a friendly environment.