Heads up! We're working hard to be accurate – but these are unusual times, so please always check before heading out.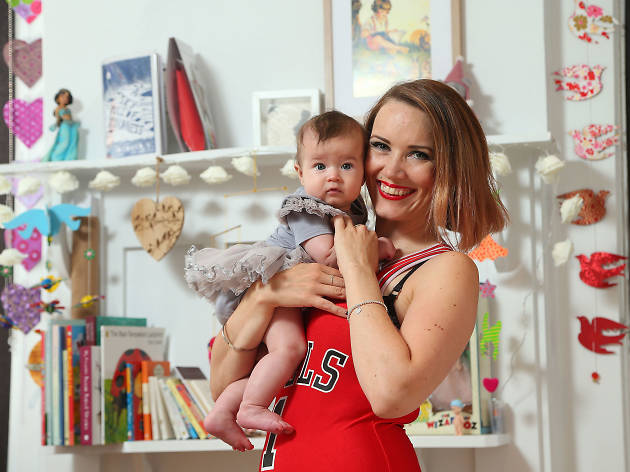 Mother's Day gift guide
Find the perfect prezzie – and get it delivered – with Time Out's guide to maternal pampering in the social-distancing age
Mother's Day is coming up, and even though you can't visit you mum if you don't live with her, you shouldn't let physical distancing get in the way of treating her like the queen she is. In fact, the right gift will have more meaning than ever at a time when a hug might not be possible. From sustainable homewares to superb food and DIY craft, these gift ideas make perfect presents for your mum. Show your brother that you really are the favourite child!
Oh, and remember to order at least seven working days in advance, sometimes more – delivery services are under the pump right now, and you don't want to come up short on Sunday, May 10!
Show mum some love with these great gifts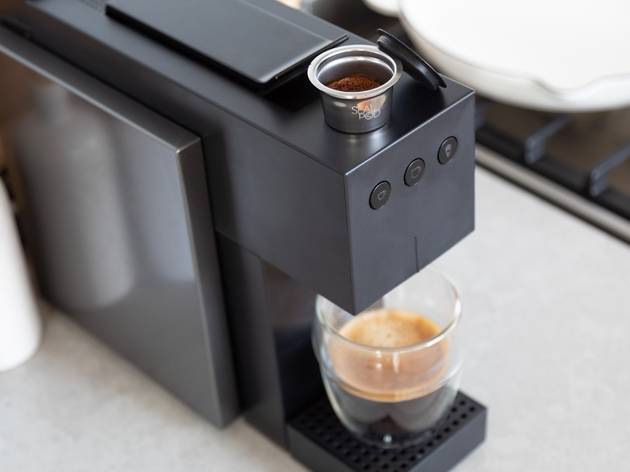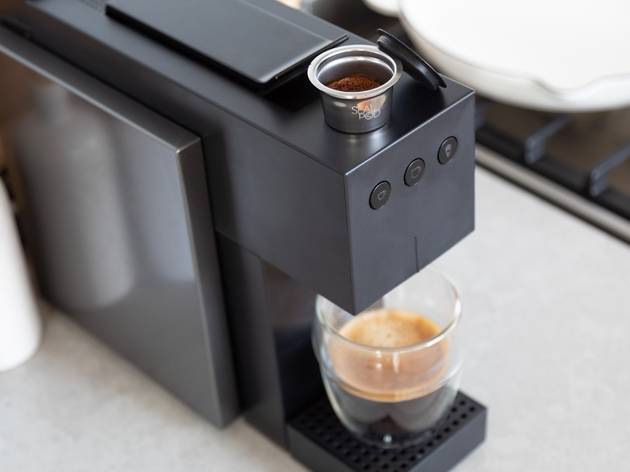 Photograph: Thalia Luntayao
Reusable coffee pods from Crema Joe, from $25
Remember when capsule coffee came in about a decade ago and we all got very excited about its ease, flavour and convenience? Then we all learned that the capsules were generally non-recyclable and buggering up the planet... talk about a buzzkill. But if your mum already has a machine and would like to use it sustainably, Crema Joe is here to help. Crema Joe's refillable range of planet-friendly pods are compatible with Nespresso, K-Fee, Caffitaly and Dolce Gusto machines, and they can be filled with your own favourite ground beans, meaning you can support your local roaster while staying at home during these times of suppression. Crema Joe offer different bundles that include coffee if you prefer, and shipping is free in Australia for orders over $80.
Photograph: Supplied
Zero Waste Gift Bundle from Eco Shop Co, $99
This is another fantastic gift idea for mums who care about reducing plastic waste and leading a sustainable lifestyle. The Zero Waste Gift bundle includes two bamboo toothbrushes (so much nicer than plastic ones), a bamboo toothbrush holder with a cover, a set of eight reusable makeup remover pads, a set of reusable bamboo cutlery, a coffee cup that is collapsible and can fit handily into handbags and small spaces, and a set of six reusable food covers for cutting down on plastic wrap. The set is usually $149, and the reduced $99 price tag includes free shipping via Australia Post. Love it!
Photograph: Supplied
Sensori+ Tranquil Night Deluxe Care Pack, $85
Your mother deserves to enjoy blissful nights free from all the toxins that are plaguing us currently. Melbourne brand Sensori+, which focuses on conjuring up the sensory qualities of natural environments within urban spaces, is offering a Tranquil Night Deluxe Care Pack that makes a perfect Mother's Day gift. The pack includes Wiruna Night Hydra and Detox Hand Sanitiser, a 75 per cent sugarcane distilled alcohol, hydrating formula that kills 99.9 per cent of bacteria on the skin surface and leaves hands clean, soft and fresh. The santiser is teamed with Wiruna Night Carnival Air Detoxifying Aromatic Mist – a special formula that decomposes harmful airborne toxins and neutralises odours, rather than simply masking them. Wiruna Night scent is inspired by Wiruna in NSW, which has the darkest nights in Australia for star gazing – the mist not only cleanses the air but also calms the soul, assisting with better quality sleep. Shipping in Australia is $8-$12, or free for orders over $100.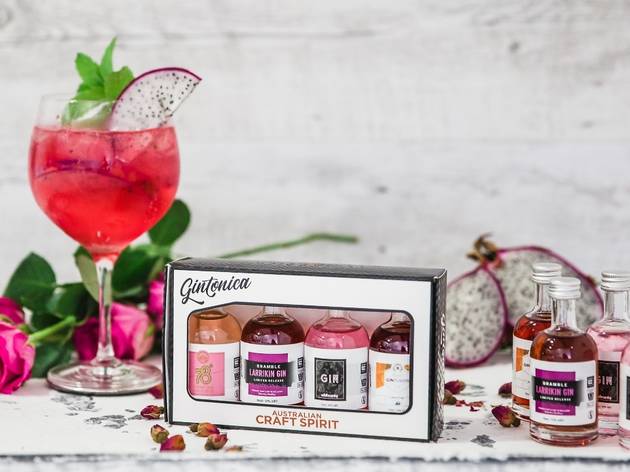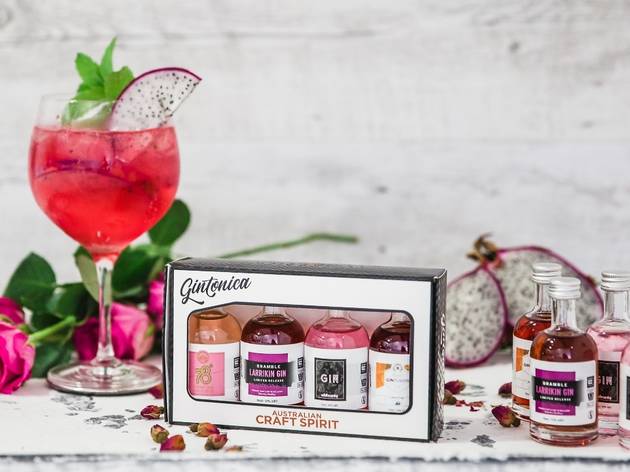 Photograph: Supplied
Gintonica Pink Gin Pack, $42
Did you know there are more than 150 gin distilleries in Australia? The folks at Gintonica are dedicated to promoting the incredible variety of local gin available, with craft gins in 50ml bottles, gift packs and even a notorious Aussie Gin Advent Calendar. For Mother's Day, they're offering two pink gin tasting packs: the Gin Credible Pink Pack (with four 50ml gins from the Adelaide Hills, Barossa and Yarra Valley) and the Berrylicious Pink Pack (with four that highlight the flavours of raspberries, strawberries, cherries, sloes, lilly pilly, rosella and hibiscus). After the hard task of raising you, Mum deserves to relax with a delicious tipple, and this is a way to help support the little guys of our liquor industry too. Shipping is extra and dependent on address and speed of delivery.
Photograph: Supplied
Spa.com.au Gift Card, $50-$200
It's going to be a while before comforting hands-on spa treatments will be back on the agenda, but that doesn't mean you can't give one as a Mother's Day present. Spa.com.au gift cards are valid for three years, accepted in more than 500 spas and salons across the country, and good for anything from a facial or an exfoliation to a haircut, massage or yoga session. Simply buy the card in digital or physical form from the website, have it delivered to Mum, and she can browse online from hundreds of experiences available. It's a great way to show support to businesses that have had to close their doors due to social distancing. Physical card delivery attracts an extra charge.
Photograph: Supplied
Sweet Mickie Mothers Day Cookie Gift Box, from $29.95
Why not say it with cookies? Sweet Mickie make vanilla shortbread and ginger cookies that are handmade, stamped in pink vanilla icing, individually wrapped for freshness, and emblazoned with 'Love You Mum', 'I Got It from My Mama', or 'Happy Mother's Day'. They come in boxes of six ($29.95), 12 ($49.95) or 20 cookies ($79.95), and you can personalise the message to go on top of the box for that special touch. They don't deliver on weekends, but if sending direct to Mum it comes with a label saying 'open me on Mother's Day'. They've thought of everything! Shipping is extra, but they can do same-day delivery in Melbourne if you've left it to the 11th hour.
Photograph: Supplied
Synergie Skin Protection Plus Duo, $54
Frequent handwashing and sanitiser use are now a part of everyone's life, and it can take a toll on the skin. This Mother's Day, you can give your mum a sanitiser spray that is teamed with a replenishing hand lotion. Synergie Skin's Hand and Surface Sanitiser Spray is low-irritant with added hydrators to protect hands and surfaces against Covid-19 and other microbes. This is paired with Synergie Hand ResQ cream to prevent dryness and restore moisture, with a non-greasy after feel and the gentle scent of rose geranium essential oil. Synergie Skin is also donating five per cent of all Sanitiser Spray proceeds to the Queensland-based RBWH Foundation Coronavirus Action Fund who are dedicated to research for Covid-19 treatments and vaccines. Express shipping is free for orders of over $35.
Photograph: Supplied
Case of Peter Lehmann Wines 2013 Sparkling Pinot Noir Chardonnay Cuvée, $156
What better way to live a Champagne lifestyle during lockdown than with some bottles of sparkling wine? Peter Lehmann is a huge name in Australian winemaking, a living legend in fact, having produced the first Peter Lehmann vintage way back in 1979. Sourced from premium Barossa Valley vineyards, the 2013 Sparkling Pinot Noir Chardonnay Cuvée is a graceful expression of refined winemaking skill and expertise. A case of six is $156 and should see Mum through celebrations ranging from Mother's Day to the end of social restrictions. The $10 delivery fee is waived for Time In readers – just enter the discount code FREESHIPPINGTI in the View Cart section when ordering.
Photograph: Supplied
Milk the Cow Cheese, Chocolate and Champagne Hamper, $190
Is there anything better than cheese? Maybe cheese that comes with chocolate and Champagne? Cheesemonger Milk the Cow has all of those needs sorted at once with its special Mother's Day hamper. The hamper includes four cheeses (BellaVitano Espresso, Cypress Grove Midnight Moon, Brillat-Savarin Affiné and Le Secret de Compostelle); a 375ml bottle of Charles Collin NV Champagne; three dark chocolate miniatures; three sachets of fancy hot chocolate (dark, chilli dark and chai latté); quince paste; and fig and cranberry toast. The whole thing comes in a beautiful box with a personalised cards and tasting notes. Mamma mia! If Mum lives close to the CBD delivery is free, otherwise it's $5-$20 depending on how far out your friendly courier has to travel.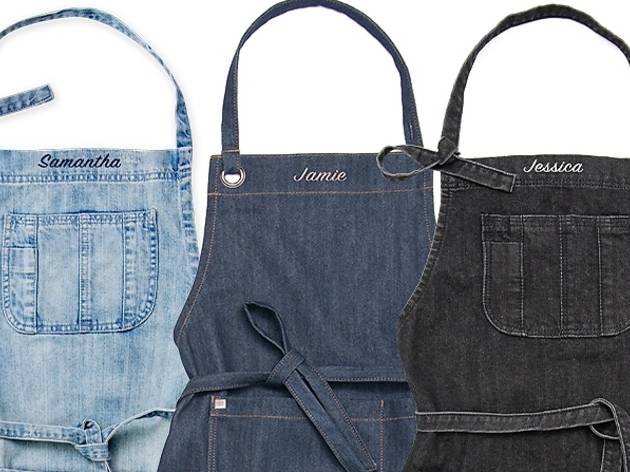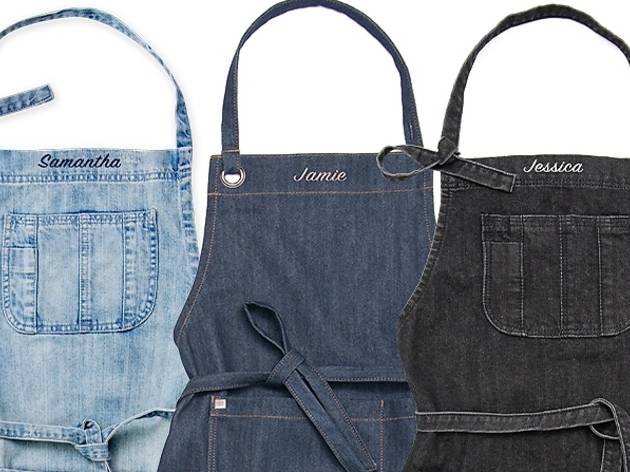 Photograph: Supplied
Personalised apron from Cargo Crew, from $22.95
Even if your mum did not bring you up on ANZAC bikkies and lamingtons, chances are she has been doing some baking lately to pass the time deliciously. Or perhaps she's been spreading her wings as a home cook. Either way, Cargo Crew – purveyors of quality aprons to consumers and the hospitality industry – are offering free personalised embroidery on their chic range of aprons that will bring an extra touch of style to Mum's iso-kitchen endeavours. Just choose a style to suit her, add in her name or other slogan logo of up to ten characters, and they'll ship it to you or direct to your beloved parent for $10.
Or say it with flowers
Need to send an arrangement for a special occasion? Order from one of these Melbourne florists, many of which will get your blooms to where they need to go the very same day.