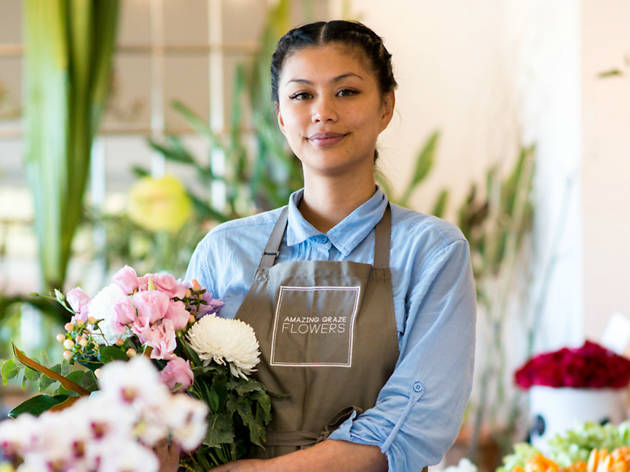 The best flower delivery services in Melbourne
Need flowers or plants delivered in Melbourne? Here's where you can order the best bunches online and get them delivered on the same day
We've all forgotten about an imminent birthday or anniversary – and we're not proud of it. But, luckily, that's why same-day flower delivery services exist.
These online florists (and local flower shops with easy online ordering options) have you covered for same-day deliveries of beautiful flowers. And if you'd rather send something longer-lasting? There are plant delivery services, too.
For more gift ideas, see our guides to the best florists in Melbourne, best chocolate shops in Melbourne and the best plant nurseries… and breathe a sigh of relief.
Same-day flower deliveries in Melbourne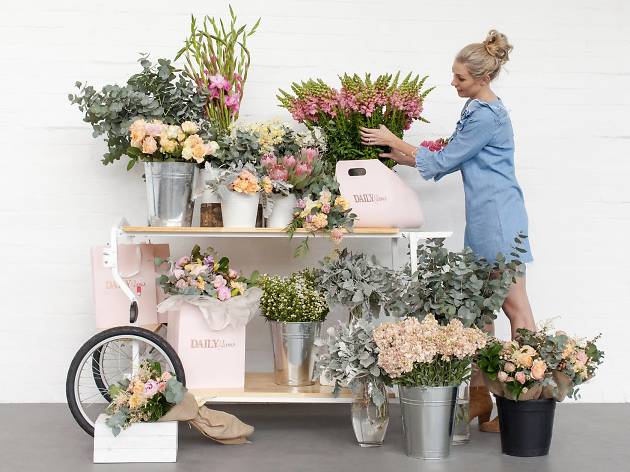 Photograph: Supplied
Daily Blooms founder Courtney Ray wanted to create an online flower delivery service that used the freshest local flowers. Flowers get delivered early every morning, and the team creates a stunning arrangement, which they post online. You can order that arrangement of flowers to be delivered all over Melbourne the same day, Monday to Friday (plus Mother's Day and Valentine's Day) – they are available until about noon or 12.30pm, or until sold out. You can also order in advance, but you won't see your bouquet – just trust the expert florists to create something beautiful. Ray says every bunch is 'a little bit wild', and since there is just the one design, there is very little waste.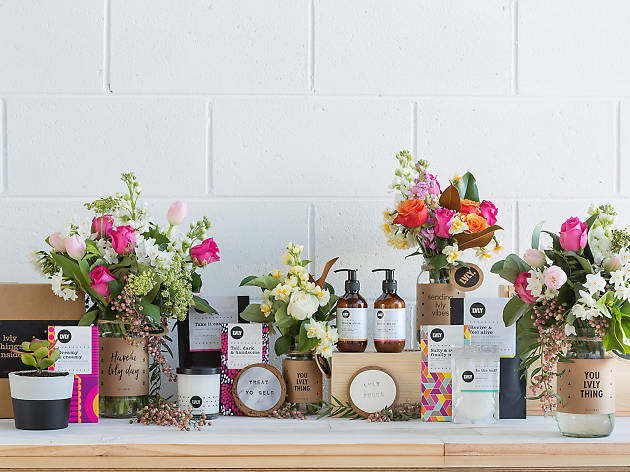 Photograph: Supplied
Friends Hannah and Verity conceived online flower delivery company Lvly out of a shared passion for beautiful design and supporting local producers. Lvly offers same-day delivery all over Melbourne for orders placed online by 1pm Monday to Friday, and they hope to soon offer Saturday delivery. Lvly also offers next-day delivery for addresses nationwide (Lvly will do same-day delivery for Sydney and Brisbane, too). In addition to flowers, the site offers gifts like tea and biscuits, body products, baby hampers, Espresso Martinis, succulents, food hampers and even a voucher for a manicure and pedicure at a place of the recipient's choosing.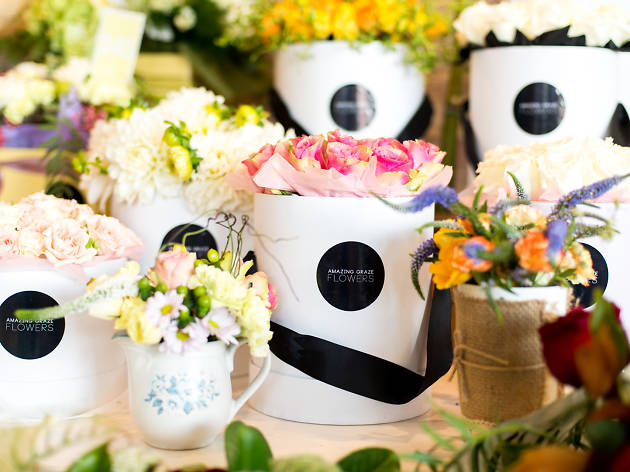 Photograph: Supplied
This boutique florist creates delicate floral arrangements perfect for the discerning flower fan. Amazing Graze has a long list of bouquets available for order including tulip buckets, sunflower-only bouquets, orchids, roses, peonies, natives, cotton bunches, baby's breath, terrariums, corsages and floral wreaths. You can even roll the dice and select the "trust us" option and the expert florists will make you something special. Arrangements start at $35 and same-day delivery is available for orders placed before 1pm.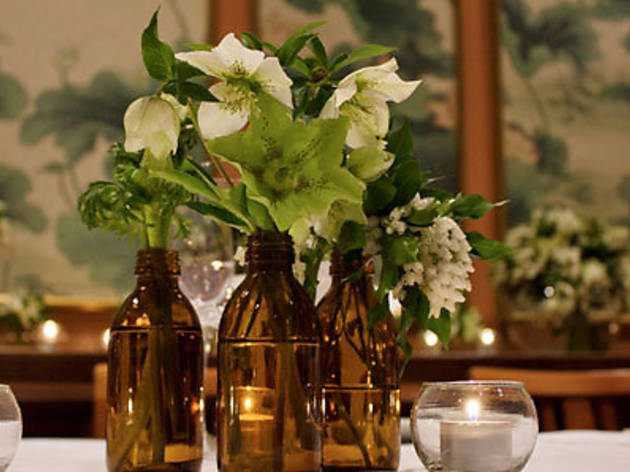 Art Stems has been providing flowers to the people of the northern suburbs since 1988. The team pride themselves on quality arrangements with a variety of flowers that includes natives, tropicals and wildflowers. In an attempt to be eco-friendly, they have done away with traditional boxes and present their bouquets in tins, ceramic vases, and jugs that they encourage their customers to reuse. You can also order a potted orchid to be delivered. Art Stems offers same-day delivery if you order before noon, Monday-Friday. On weekends and public holidays your best bet is to call the shop to ask for same-day delivery.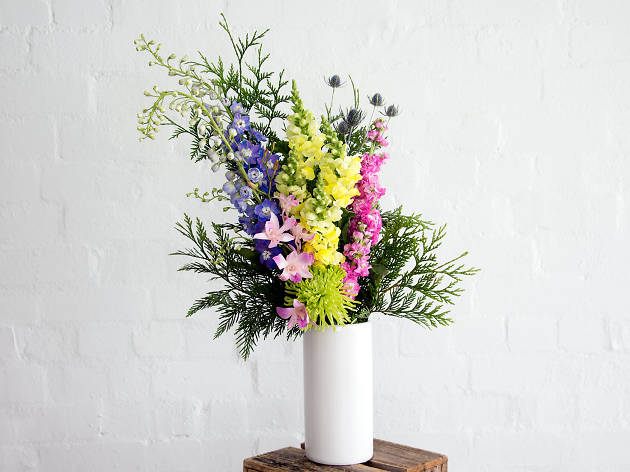 Photograph: Supplied
Kew florist Fig & Bloom delivers to more than 150 suburbs in Melbourne, and if you order before noon your flowers will arrive sometime before 6pm. Owner Kellie Brown studied floral design in New York, and with a background in fashion design her arrangements are contemporary and eye-catching. In addition to beautifully arranged flowers, the company will also deliver chocolate from handmade Melbourne chocolatier Hey Tiger, and it's also getting into the plant delivery business. If you really love Fig & Bloom's flowers, you can subscribe and receive (or send) a delivery of fresh flowers every week, fortnight or month.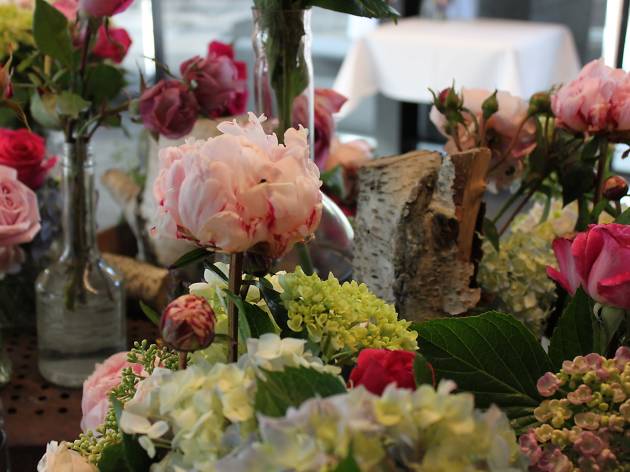 Bud Flowers has changed hands a few times over the years (it's been going since 1986), but the store's premier fresh flower arrangements and giftware have remained as good as ever. Owned by the talented Meridee Fraser, the blooms at Bud Flowers are thoughtfully arranged to maximise colour and proportion. Bud Flowers offers same-day delivery within a 50km radius if you order by 4pm (order earlier if your delivery is going to a business address, as most businesses won't take deliveries after 5pm). The company will also send potted plants (fiddle-leaf figs, orchids and cactuses) for something longer lasting. Bud Flowers is open Tuesday-Saturday.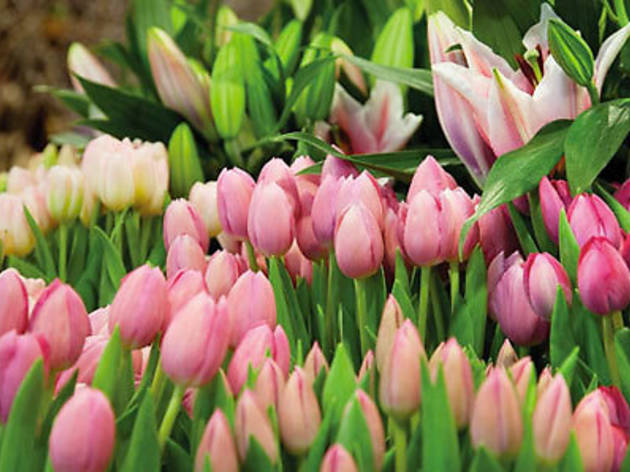 Flower Temple claims to be 'more than just a florist'. In addition to super-fancy bouquets, this luxury flower store also offers gift packages and a gift-wrapping service. Order online before 1.30pm and your flowers will be delivered the same day, Monday through Friday. Saturday deliveries must be ordered before 2pm on the Friday before, and Flower Temple only delivers on Sundays two days (sometimes one) of the year: Valentine's Day and Mother's Day.
Photograph: Supplied
Love bold, colourful bouquets that make a statement and don't cost the Earth? Dope Florals has you covered. This small independent florist creates playful flower arrangements that mash together colour and texture with finesse. Owner Delanie Schulte gets a kick out of making floral arrangements that inspire excitement and joy, which is so much easier when you know her flowers are also eco-friendly. All flowers are Australian grown, plastic free and use 100 per cent sustainable and biodegradable packaging. Same-day delivery is available for orders placed before 10am within 10km of the CBD.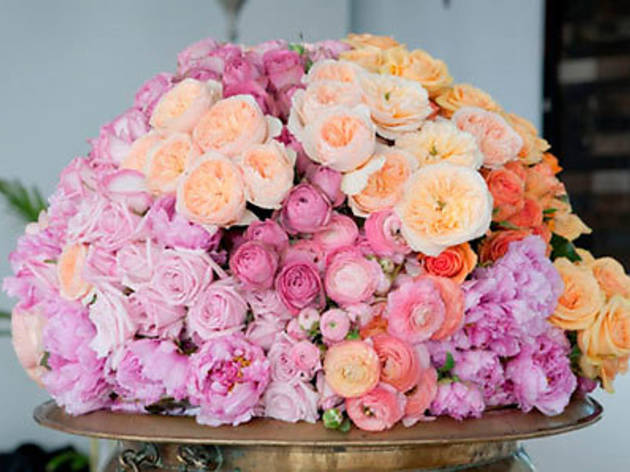 Owned by Cherrie Miriklis, this icon of Brunswick Street has been servicing the Melbourne metropolitan area since 1989. Flowers Vasette offers same-day delivery within 50km Monday-Saturday if you order online by 12pm. The florist also does limited delivery on Sundays, but it's best to call to find out if your bunch can be delivered. Flowers Vasette also offers much more than just flowers; you can also get Champagne, food hampers, baby hampers, stuffed toys and Koko Black chocolate delivered anywhere in Melbourne.
Photograph: Supplied
For a wide range of options, including lillies, orchids and a sunflower in a glass bowl, Flowers Across Melbourne might be worth checking out. If you order by 2pm Monday-Friday or 10am Saturday, Flowers Across Melbourne will deliver your bunch the same day. The team also deliver on Sundays for very special occasions (Mother's Day and Valentine's Day).
Photograph: Supplied
If you want to choose what bouquet you're sending, this one might not be for you. But if you want to leave it up to the talented florists at the Posy Story, it could be just the thing. Every day the Posy Story creates an arrangement and posts it online, and if you order before noon (or before the posies sell out!) a beautiful flower arrangement will be delivered throughout Melbourne on the same day. Deliveries are made to business addresses between 1-5pm and to residential addresses between 1-6.30pm. If you love the Posy Story, you can subscribe and get flowers delivered weekly, fortnightly or monthly. You can also send gifts like tea, coffee, Espresso Martinis, wine, biscuits and body products.
Flox Botanical does things a little differently to your average flower delivery service. For one, this Melbourne-based business is committed to zero waste, so it has committed to next day delivery so your flowers are always fresh. Secondly, it's taken the idea of at home DIY projects to the next level by letting customers put their florist caps (flower crowns?) on and put together their own bunches. Flox Botanical will ship you a flat-packed collection of seasonally fresh flowers sourced from local Melbourne flower growers and hand-deliver them to your doorstep (or the doorstep of someone who deserves a treat!).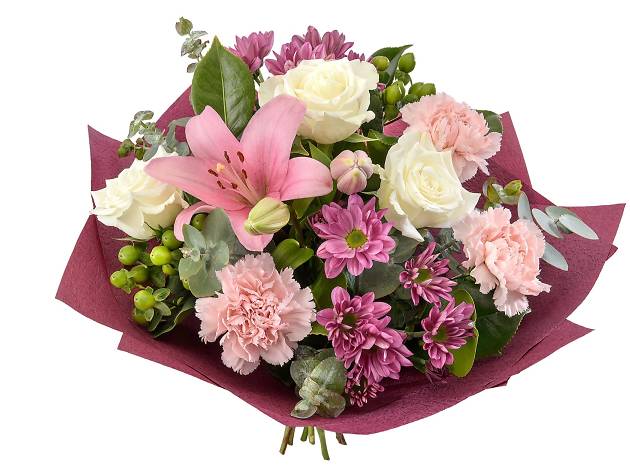 Photograph: Supplied
If you want your flowers delivered on a weekend, it might be time to turn to the big boys. Interflora, which is a global delivery service that works with florists all over the world (including 750 across Australia), will deliver your blooms seven days a week if you order online by 2pm. The floral behemoth delivers worldwide as well as across Australia, so if you forgot a New York mate's birthday or your bae is travelling in Paris, Interflora has you covered there too.
Same-day plant delivery services in Melbourne
Photograph: Supplied
If you're looking for something longer-lasting than flowers, Hello Botanical offers same-day delivery of living plants. Order online by 11am Monday-Saturday, and your plant will be delivered all over Melbourne that same day. Hello Botanical offers between two and four kinds of plant each day – usually two small and two large. All plants come in a custom-made hessian pot holder or pouch and also include a hand-written postcard. You can also order gifts like a plant mister, body products and candles.
Photograph: Supplied
With a wide range of about 40 plants available for same-day delivery, Plants Across Melbourne could be the perfect place to find a last-minute gift for a green-thumbed loved one. Most of Plants Across Melbourne's plants are small, indoor plants perfect for desks or windowsills, but at Christmas time the team also offer live Christmas trees in pots for later replanting in January, and they have in the past offered to deliver lemon trees, which proved very popular. Check the website for what is available on the day, and if you order by 2pm Monday-Friday or 10am Saturday your live gift will be delivered the same day.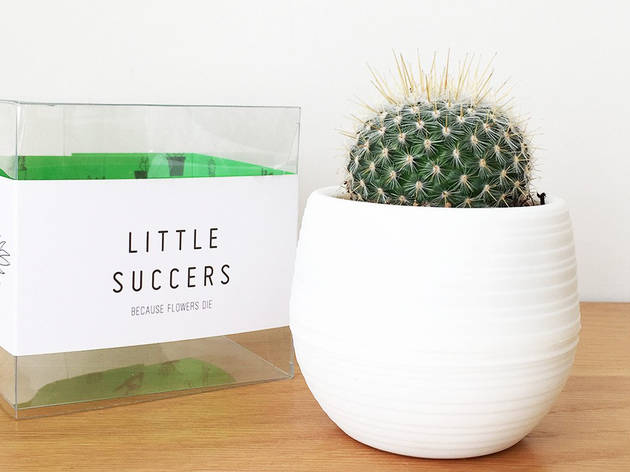 Little Succers is a succulent delivery service for those who like greenery but are too incompetent to look after anything more than a plant designed to survive in the desert. Delivering to the CBD and beyond, this service is sure to save your arse when you forget your significant other's birthday and need a gift, like, yesterday. With their selection of (mostly) self-sustaining floral companions ranging from pint-sized pots to lovingly crafted 'Merry Succing Christmas' wreathes, Little Succers has got your succulent needs covered. And yes, you can order same-day delivery.
Prefer to give something edible?
Chocolate is full of powerful antioxidants and helps the release of serotonin. Basically, it's good for you (or so we wish to believe). If you're going to eat it, you may as well treat yourself to the best – these are our favourites.