The best plant nurseries in Melbourne
Here is the plant lovers' guide to the best places to buy plants in the city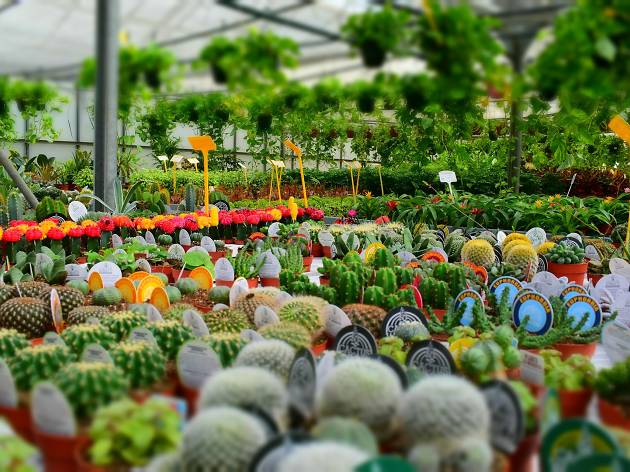 Thinking of starting or adding to your collection of house plants? These plant shops and nurseries have everything you need from on-trend indoor foliage and low-maintenance greenery to nourishing soil and pots that double as decoration. If you've got a case of the black thumb, the knowledgeable staff at these nurseries are your best resource for plant care know-how.
Take in the city's greenery at these places to get your nature fix in Melbourne, or ride on the best bike trails around the city.
Plant lover's guide to Melbourne
You're probably familiar with CERES's community farm, but pay the CERES Permaculture and Bushfood Nursery a visit and you won't regret it. This nursery has everything a good nursery should have, but we're more excited about the vast range of potted fruit trees and bushfoods seedlings. Add some lemon myrtle or some Warrigal greens to your veggie patch – just ask the staff to choose the best bushfoods for your garden. While you're there, stock up on mulch, compost and worms to keep your garden healthy.
You wouldn't think that the small shopfront of this Lygon Street nursery leads into an outdoor oasis home to impressive-looking shrubs, seedlings and edible plants. Lygon Street Nursery's stock of indoor plants are equally gorgeous: get your hands on hanging plants like devil's ivy or Boston ferns. Got plant care questions? Owner Michael Khalil is a professional landscaper who will happily arm you with info on how to care for your indoor and outdoor plants.
The Garden of Eden is a great way to describe this sprawling nursery in Albert Park. The Dahan family has run the nursery for over two decades and they're experts on all sorts of greenery from landscaping foliage to indoor greenery for lazy homeowners. They're also big on environmental gardening practices so quiz them on the best ways to keep your plants alive sustainably. Take a look at the homewares section for gifts or to complete your new green interior with stylish pots, woven baskets, and other hand-crafted pieces.
Wona Bae and Charlie Lawler's green haven in Collingwood is nothing like your run-of-the-mill flower shop. Part-florist and part-nursery, Loose Leaf often feels more like a gallery space for plants, with a tropical jungle's bounty of indoor plants, succulents and air plants hung artfully around an otherwise all-white warehouse space. Trained in both the Korean and Japanese arts of floristry, Bae also runs flower arranging classes, but what really sets Loose Leaf apart is their dedication to the potted section.
Fitzroy Nursery on Brunswick Street is a haven for plant lovers, stocking everything from terrariums to mature trees that are ready to plant in the ground or in pots. Check out the cacti and succulent section and the indoor plant section with lots air-purifying plants (it's a thing) like ferns, devil's ivy and peace lilies. The outdoor nursery, laid out like a garden, is a great spot to browse for your next plant project, whether you're after vegetable seedlings or blooms for the balcony.
Whether you live in an inner-city apartment or a squashy suburban sharehouse, you can grow your own food – you just need to know where to start. The Little Veggie Patch Co is all about spreading knowledge of all things planting, composting and pest control. Don't have a garden? No worries, you can buy your own little veggie patch from the nursery and fill it up with some heirloom vegetable seeds in time for the growing season.
7
Photo: Peter Casamento
That's right, Bunnings isn't just for tradies and home DIY fans. The bigger stores often have really good nurseries that sell vegetable seedlings, fruit trees, outdoor foliage and indoor plants. They'll also have all the hardware you need (think pots and shovels) to plant your new green friends so you can be ready for that springtime bloom. In inner-city Melbourne, your best Bunnings branches for plant shopping include Collingwood, Hawthorn and West Footscray.
This little homewares shop and gallery on Sydney Road is an IRL representation of those dreamy plant-dominated Instagram account. Mr Kitly is the creation of Melburnian Bree Claffey, who even wrote a book titled Indoor Green: Living with Plants. You can find a limited range of fully grown plants here, but we come here for their steel plant stands that hoist your plants off the ground, as well as the inexpensive and colourful plastic self-watering pots that are a saviour for the black-thumbed plant keeper.
The indoor plants you need to get
Indoor plants are making a huge comeback, and they're relatively easy to keep alive as long as you know what to look out for. Florist Natasha Shotton and landscape gardener Kate Le Page, who own and run pop-up Mornington nursery Plantsago, gave us a rundown of their favourite indoor plants to keep in your home and office.
Explore the city on two wheels
Things to do, Games and hobbies
Navigate the city's twists and turns with these scenic bike paths across Melbourne. With its well-ridden tracks, beautiful river paths and sweat-inducing hills, Melbourne's prime for a bicycle take-over so saddle up and clip in.