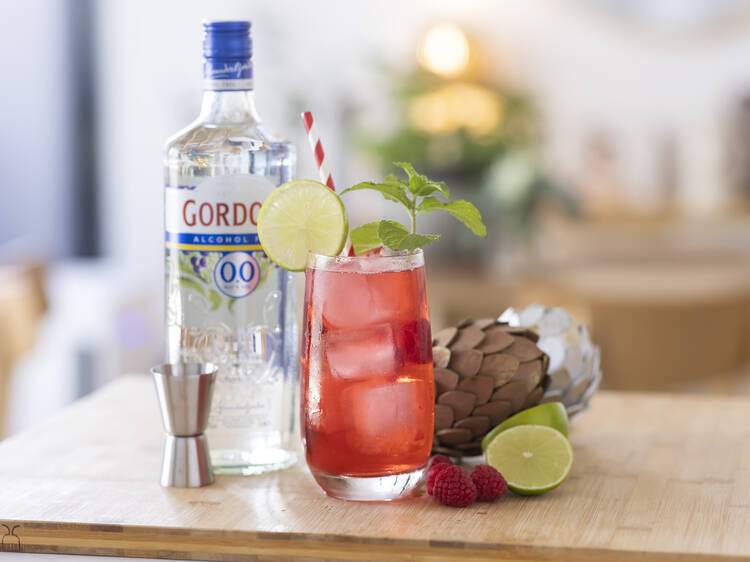 Photograph: Anna Kucera
Make some delicious booze-free drinks
Choosing not to drink at a party doesn't mean you can't sip on something fun. And when you're entertaining it's always a great idea to provide another option for your similarly inclined mates and fam that's not just a soft drink. Gordon's 0.0% is where it's at when you want to titillate your tastebuds with juniper-led botanicals without the alcohol. It's best enjoyed in a frosty tall glass (or get out your fanciest party-ready stemware) with 50ml of Gordon's 0.0% over ice, topped with tonic and finished with a wedge of lime.
For some extra Yuletide flair try subbing out the alcohol with Gordon's 0.0% in a Santa-esque red Ruby Cooler for the whole party. Get some seasonal garnishes like pomegranate, fresh mint and plump raspberries on hand and give this recipe a whirl:
Ingredients
50ml Gordon's 0.0%
100ml cranberry juice
Top up with ginger ale
Ice cubes
Festive garnish (fresh pomegranate, mint, raspberries)
Method
Fill a tall glass with lots of ice, pour over your Gordon's 0.0% and the cranberry juice, then top up with ginger ale. Garnish with pops of pomegranate seeds, fresh raspberries on the rim or sprigs of summery mint.