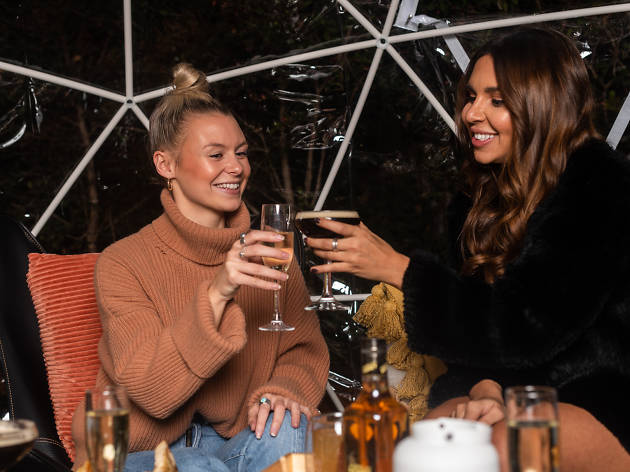 How to make the most of winter in Melbourne
Melbourne doesn't stop because of a little chilly weather – here's how you can have a good time this winter
You can't avoid the cold in winter but you can make the most of it. Melbourne is a city made for embracing the chill, with pubs, bars and hotels leaning into the single-degree temperatures with warm igloos, roasty-toasty brunches and a bevvy of seasonal drinks to warm you from head to toe. Dig out your puffer jacket or parka: here are three ways to make the most of winter in Melbourne.
Snuggle up inside an igloo
The last time it snowed in the Melbourne CBD was in 1849 – but that hasn't stopped the city from constructing igloos. This winter the Wharf Hotel has built its own transparent igloos and filled them with seats, warm blankets and twinkling fairy lights. They've even devised a special menu to go with its igloo bookings. Get around a platter of dumplings, fried calamari, chicken ribs, pork belly, spring rolls plus a thermos of hot mulled cider (or a bottle of wine or a jug of beer).
Spend a night under the stars in your own cosy igloo in Melbourne's leafy east. Hawthorn's Auburn Hotel has also opened an igloo garden for winter and they're just as snuggly-luxe as at the Wharf. Igloo residents get a drink on arrival, a gourmet tasting board and pot of chocolate fondue. Too popular for your own good? Auburn Hotel also has a giant igloo perfect for groups of 12 to 28 people who are after a three-course winter feast.
For an igloo experience with all the frosty winter trimmings head to Federation Square. Winter has hit in earnest on the Fed Square carpark where the Winter Village offers not just cosy igloos but an ice skating rink, frosty mini pine forest, pop-up dessert stations and regular (faux) snowfalls. There's even a mega igloo with a food hall inside plus 21 smaller igloos bookable for groups.
Warm up at a winter rooftop bar
Tourists might think winter in Melbourne is too cold for rooftop drinking but locals know otherwise. Plus, there's no way they'd miss out on the spiked apple cider bar at the Duke of Wellington's rooftop bar. The bar is taking James Squire Orchard Crush cider, warming it gently and then giving guests the option to spike their drinks with a tot of St Remy brandy, Bati spiced rum or Fireball whisky.
For a magical winter afternoon or evening, climb up to the top of the Imperial on Bourke Street to discover a bewitching world. The magical rooftop features six booths modelled after the sort of stores a witch, wizard or gender non-specific magical being might frequent. And while you can't buy anything from these stores, you can buy a magical cocktail, like the True Love Potion. The rooftop even does an enchanting wizard's brunch every Saturday (it comes with unlimited potions too).
Feast on seasonal specials
Fargo is big on brunch year-round but their winter menu spices things up a bit with a festive twist on favourite dishes. Alongside bottomless Mimosas, spritzes, prosecco and moscato, brunchers at Fargo get one item off the menu. With dishes like turkey and cranberry bagels, pavlova waffles and avocado smashed with cinnamon spiced pumpkin, it'll feel a little like you're celebrating Christmas six months early. When you book in advance you can even enter the draw to win a jewellery gift pack.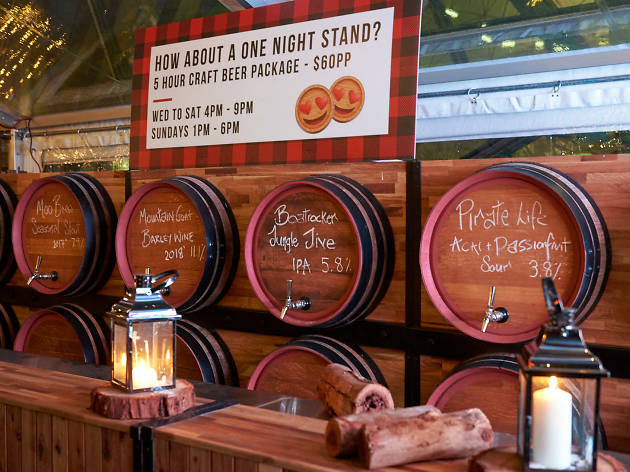 Photograph: Supplied
Beer Deluxe Winter Forest
You might have already seen Beer DeLuxe's woodland makeover but that's not all the bar has planned for winter. A six-tap craft beer barrel bar has been installed in the middle of the woodland beer forest. And thanks to Beer DeLuxe's new subscription service you can really make the most of it. The bar's beer subscription allows you to drink what you like from the barrel bar for a set period of time (you can choose between five-hour, weekly or 28-day subscriptions). Cheers!
Hip Richmond hangout Harlow is taking a couple of tips about staying warm from Scotland this winter. The bar has teamed up Scottish single malt whisky distillery Glenmorangie to create a series of warming whisky cocktails. Try a whisky-spiked mug of mulled cider; a Scottish Negroni; a fruity Shirley Manson (whisky, Chambord, vanilla Galliano, apple juice and raspberries) or the refreshing Sean Connery cocktail (an Amaretto-laced whisky sour).