How to win at this year's Spring Racing Carnival without even placing a bet
Do you know who the real winners at the races are?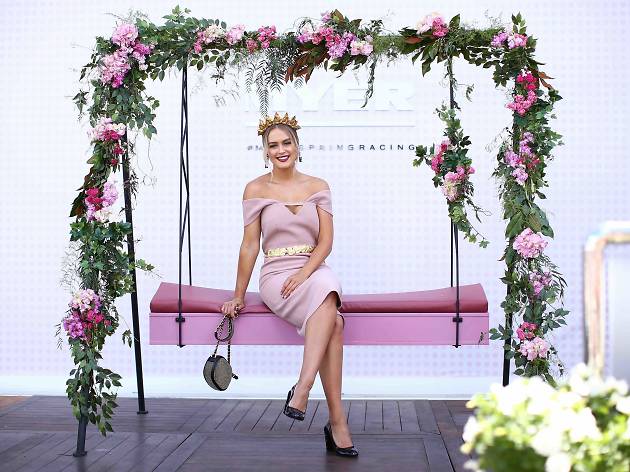 Contrary to what you may think, it's actually not those walking around with bulging wallets and winning tickets. No, no, my friend: the real winners are those ladies who manage to keep their shoes on all day. The blokes without sunburnt foreheads. The clever ones who managed to eat during the day and avoided the dodgy midnight chico roll. The real winners are the line jumpers, the car parkers, the early leavers, the I-remembered-the-Bandaids geniuses who make the rest of us look like bloody rookies.
So, like your race day guardian angel, I am here with five ways you can win at the races without even needing to take a punt. From food to fashion, I spoke to a handful of racing veterans and local know-it-alls who gave me all the sneaky hacks of how to really walk away a winner at this year's Spring Racing Carnival.
Photograph: Supplied
Win 1: Wear comfortable shoes
Leaving the racecourse with your shoes still on your feet - not in your hands - is one of the greatest wins race day can offer. But like, how? Melbourne-based stylist Sophie Barker reckons it all comes down to the type of footwear you choose.
"Don't wear new shoes! They might seem comfortable when you wear them for the 30 minutes you're checking yourself out after completing the perfect outfit - but they will give you blisters," says Sophie.
"If you do get new shoes, wear them a few times beforehand or wear them with slightly damp socks (as long as this won't damage the make - for example, suede is a no go for this trick). Doing this will help soften the fabric or leather, and help to shape the shoe around your foot."
For the blokes, Sophie requests that you say YES to the sock - "...the smell of a naked foot after a day in the sun drinking is not benefiting anyone" - and try for soft materials such as a suede loafer for ultimate comfort.
For the ladies, a block heel and thick platform sole are the key tips to a pain-free race day, with Sophie adding that "...a shoe with support up around the ankle such as lace up detail is always a good option too; the more support, the more comfort." Oh, and keeping them on your feet. Very important.
Photograph: Supplied
Win 2: Skip the drink lines
Flemington Ambassador Georgia Connolly knows what's up when it comes to getting drinks quickly on race days. Her secret? A sneaky little app called Skip.
"Racegoers can take advantage of fast bar service by downloading the Skip app on any smartphone," says Georgia. "Skip will allow racegoers to preorder and pre-pay for beverages at designated bars around Flemington Racecourse, then skip the queue when they pick up their order without having to line up and pay at the counter, creating a true VIP experience."
Um, amazing.
Georgia also reckons that it's worth taking a wander to find other areas of the racecourse that will be serving up food and drinks - the lines aren't as long, and the cocktails on offer will totally trump that warm glass of champagne you've been nursing since 11am.
"The Park is the destination for all things food and beverage, fashion and live entertainment. With an assortment of amazing activations from sponsors that include beer, wine, spirits, cocktails, coffee and much more – it's a great place to wander to off the track and it's open to all racegoers."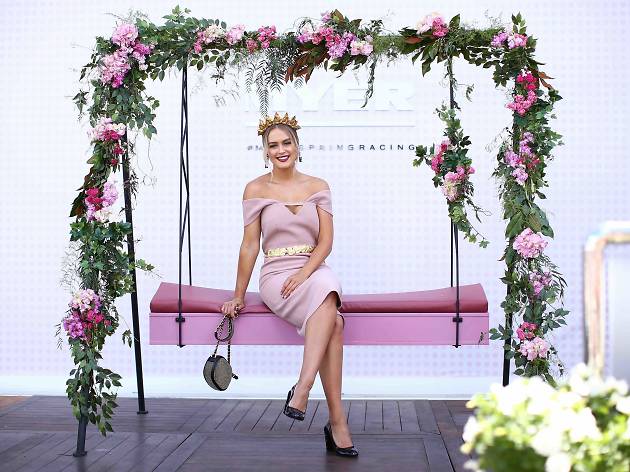 Photograph: Supplied
Win 3: Get that sweet private setup
The famous Nursery car park at Flemington Racecourse offers up private areas you can rent for the day. Simply put, race going folk throw up a marquee, whack in some plastic seats, and reverse their car up for a DIY race day setup. To snag a spot, you need to sign up to the Victorian Racing Club mid-year and register your interest.
Gian Barbieri is a race day veteran who has been organising his own car park marquee for five years running. His biggest tip for would-be organisers is to keep it simple, and keep it clean.
"Hiring all your equipment is a great option, as they will collect it all the following day," says Gian. "A van is a must have onsite - you can pack it up and simply go to a car wash the next day to hose it down before you return it."

He also recommends getting the hard slog of cleaning done on the day using the combined labour of your tipsy pals.
"The key is to clean up before you leave that day," he says. "You have the most hands-on site to help. And people don't usually mind helping – or realise the work they are doing!"
Photograph: Supplied
Win 4: Get out of there - fast
Anyone who has attended the races before knows that trying to get onto a packed train at the end of a long day drinking is like opening the Seven Gates of Hell. But play your cards right, and you'll be cruising out those gates like a stroll in the park.
"For those wishing to drive, there is restricted car parking available for VRC Members and the public, as well as designated Uber and taxi zones close to the Main Gate," says Georgia. "It is super convenient that Metro Trains run special services to and from Flemington on all four days of the Melbourne Cup Carnival, with the station located at the Hill Gate."
Other tips include sussing out the entry and exit areas before your first drink, and if you're in a group, pre-arrange a minibus or private car to collect you. Luxe on a budget.
Photograph: Supplied
Marty Drill has been running his own marquee at the races for almost a decade now, and has one piece of advice: EAT.
"You can never have enough food, the more you have, the more they will eat and you ensure that people are not too drunk," says Marty. "If you can afford to get it catered, then do so - and don't forget the vegetarians!"
Out in general admission? Don't go past a world famous Peter Rowland chicken sandwich on the Flemington front lawns, says Georgia Connolly.
But the real hack here is courtesy of everyone's favourite excuse to not cook, Uber Eats. They will deliver right to your comfortably shod (you were listening earlier, right?) feet anywhere, anytime, and are a great alternative for group catering, too.
"Last year instead of normal catering, we ordered Uber Eats," says Gian of his marquee setup.
"My advice? Pre-plan it with the restaurant if possible, as the lag time is around an hour depending on food quantities. The pick-up was simple, they just called us when they arrived at the taxi pick-up/drop off area."
Sure beats soggy chips.
A day at the races is a badly-needed excuse to frock up, step out, and spend the day getting fancy-tippled with your friends. Follow our race-day hacks above, and you'll be a winner regardless of what place your horse came.
Got your outfit sorted?
Get snazzy for the Spring Racing Carnival with a head-to-toe Melbourne getup.
Get local with an entire racing ensemble designed and made in Melbourne.