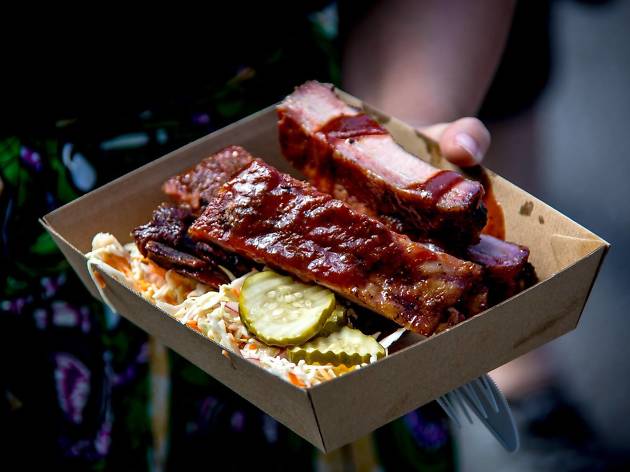 A festival devoted entirely to meat, glorious meat
Are you sick of salad? Maybe you'd like to kill kale? Perhaps you hunger for something with a little more meat on its bones? Well, hunger no more! Meatstock returns to Melbourne on March 17 and 18 to satisfy your carnivorous cravings.
For 2018, Meatstock will be bringing two of the best barbecuers in the biz. Big Moe Carson and Hillbilly Wes will grace the festival to impart their shared decades of barbecue expertise. Big Moe has competed in over 130 barbecue competitions and was once a finalist on the TV show BBQ Pitmasters. He'll be running a barbecue school for all you up and coming pitmasters out there. Texan native Wes is a master of his home state's barbecue and even has his own restaurant in Sydney, Bovine and Swine Barbecue Co.
This weekend of meat mania will also feature the Barbecue Wars, a battle with over 50 teams competing, as well as Butcher Wars, which sees 20 butchers going up against Melbourne's best to see who can slice and dice the best piece of meat. The festival will also host Culley's King of the Que – a competition in which contestants must use a traditional barbecue to cook various meaty delights to perfection.
There'll be plenty of meat to eat, and you can wash it all down with a cold one from Liberty Brewing. Entertainment will come by way of the many local bands playing the main stage and you can enjoy one of the workshops or demonstrations being dished up across this two-day barbecue bonanza.