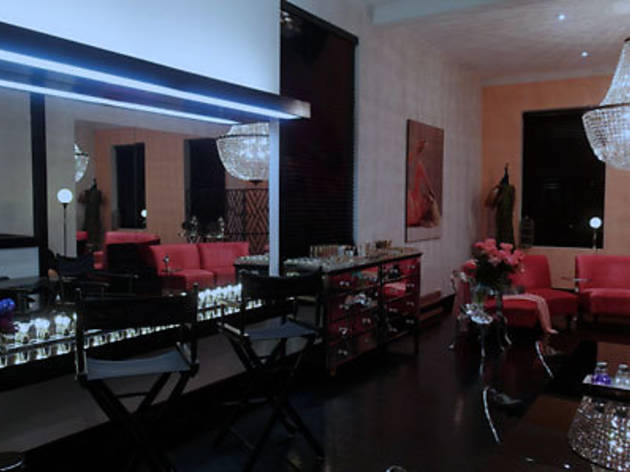 With a collective 30 years of experience in the spa and wellness industry, the Miss Fox team have collaborated with some of the most elite product houses, spa groups and hotel chains around the world. With custom-built nail bars and lounges, Miss Fox are ready to meet your every nail need. So treat yourself in the hands of the lovely ladies at Miss Fox.
What are your customers' most common requests?
'Moon' or 'pin-up' manicures with different coloured or blank moons. Very Dita Von Teese and Lana Del Rey, but still passable in corporate environments. We did rapper M.I.A's nails once with a variation on the moon manicure theme and we get so many requests for that same design. It was gold metallic nails with pastel moons in different colours. She said they were dope.
What do you offer that other salons don't?
We offer a huge selection of fashion-forward nail finishes – from metallic Minx veneers to durable gel polishes. We also take custom nail art requests for anything (anything!) We've done 4th of July nails, tribal themes, rockstar glitter, six-inch black claws for a fashion show, even a hand-painted series based on magazine covers. We only work with natural nails but can paint or veneer them, add amazing hand-painted detail, or dress them up with materials like studs and gems if desired. We have a nail-art 'play box' full of tools and paints and arty goodies to rival most salons in Australia!
What do you, as a nail artist, enjoy doing yourself?
I love anything that catches the light, like glitter and metallics, and anything fluoro is very on trend. We have some pretty cool clients and I love when they give us free reign to do something spectacular.
Victoria Fox, director
Victoria Fox's personal beauty regime
How do the experts look after themselves when they're off the clock?
Victoria: My morning beauty routine is rather simple as I have managed to refine it down to a 'minimum effort maximum results' situation by using the most high-tech, multi-functional products I can get my hands on. The less I have to do to look great in the morning, the more time I have for my beauty sleep…
1. The skincare is use is all from US cosmeceutical (that is, pharmaceutical meets cosmetics) brand Cosmedix, which is amazing stuff. I cleanse in the shower using Benefit Clean, then mix up three to four serums in my hand (my favourite isAffirm) and apply over my face, neck and decolletage. The products have built in exfoliators and hydrators so I don't need to moisturise or scrub. Once a week I use their Pure Enzyme mask and every month or two I have a professional peel to keep skin happy. These products are only available through skin clinics and doctors but well worth hunting down as the results are outstanding.
2. My makeup is from the gorgeous mineral brand Jane Iredale, known as "the skincare makeup" as it is full of antioxidants and other lovely things, with none of the nasty stuff like chemicals and talc. Plus, it has an SPF of 20 to block ageing sun rays all day long. I apply their Absence Primer, PurePressed Foundation, and whichever of their beautiful blushes, illuminators and eye makeup suits my mood. Their Eye Gloss and Mystikols are amazing! I love wearing liquid liner and mascara, and the Jane Iredale stuff is also really great for super-sensitive peepers like mine.
3. I like to use my Cloud 9 iron to straighten my hair or add some bouncy curls. It's gentle on the hair as you can set and control the temperature, and it makes the hair look really shiny too. I love Philip B Russian Amber Dry Shampoo to put some oomph back in to hair or give it texture when creating an updo, and it leaves a beautiful perfume too. I always wash my hair the night before (early morning is no time for heavy-duty exercise like blow drying).
4. My nails are manicured every fortnight in long-wearing gel polish by Artistic Colour Gloss, and brow threading and other grooming is all taken care of by the girls at MISS FOX. All that's left is to floss, make sure I have pants on, and high-tail it to Little Collins St.
Venue name:
Miss Fox
Contact:
Address:
Lvl 1-3
285 Little Collins St
Melbourne
3000

Opening hours:
Tue-Fri 11am-7pm; Sat 10am-5pm
Transport:
Nearby stations: Flinders St; Melbourne Central; Parliament