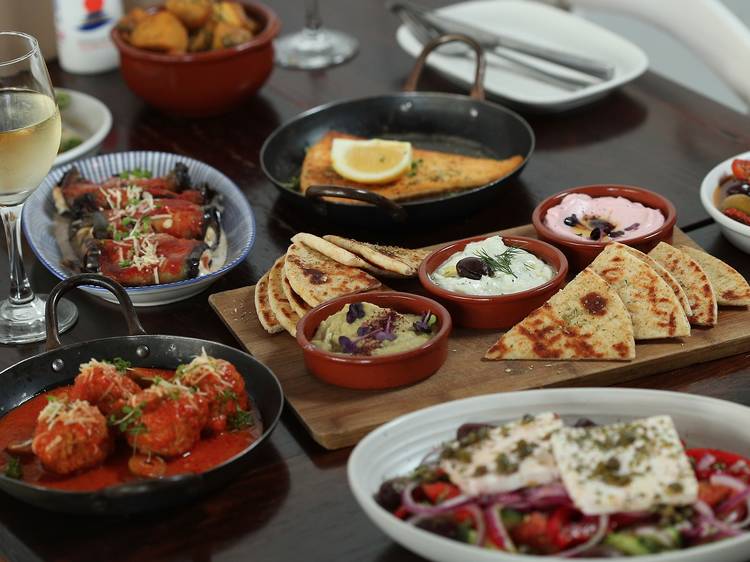 Photograph: Graham Denholm
There are few more iconically Melbourne experiences than jumping off the 109 tram in the dead of winter, and warming yourself up with a steaming bowl of pho. It's like getting a big hug from the inside out. If that sounds like your kind of plan, head along to the experts at I Love Pho (264 Victoria St) and Pho Hung Vuong 2 (108 Victoria St).

Elsewhere on Victoria Street, Pacific Seafood BBQ House (240 Victoria St) serves up a huge variety of Cantonese classics. It's hard to look past the Peking ducks hanging in the window, but this is a restaurant known for its seafood so don't leave without trying the Szechuan calamari.
Lara from the Corner Hotel also recommends Bahari (179 Swan St). This Swan Street gem from MasterChef alum Philip Vakos is all about Greek sharing food: think grilled octopus, stuffed eggplant and lamb skewers. "The amazing halloumi chips have been a treat through lockdown," Lara says.
Feast of Merit (117 Swan St) serves great Middle Eastern-inspired food with a mission: all profits from the café/restaurant go to Y-Generation Against Poverty. This international development organisation supports locally run ventures that "create jobs, build better homes or improve access to education or healthcare services for people living in poverty". It's open for breakfast, lunch and dinner.
Need some Vietnamese south of Victoria Street? Head to Hanoi Hannah New Quarter (79 Swan St). This is an extension of the hugely popular (though significantly smaller) original Hanoi Hannah restaurant in Windsor, but the food is no less impressive.
Hector's Deli (1/94 Buckingham St) is a cult sandwich shop that popped up in Richmond's backstreets in 2017. The owners, who previously worked as chefs at Stokehouse, wanted to create simple sangas done well. And they've definitely succeeded. Make sure you grab an early lunch (or order delivery for the next day). They sell out quickly.
Jinda Thai (1-7 Ferguson St) might technically be in Abbotsford, but this casual and cool Thai restaurant across the road from North Richmond station is too good to miss. Jinda Thai usually packs out every Friday and Saturday night (put your name on the list and grab a drink at The Aviary Hotel while you wait). But the wait is always worth it – especially if you order the crispy deep-fried fish in tamarind sauce.
For a special occasion, there's nowhere better than Minamishima (4 Lord St). Time Out has already made the call: it's "Melbourne's best sushi". This is an accolade that chef Koichi Minamishima has earned after more than 30 years in the game. A night out at his prestigious Japanese fine dining restaurant doesn't come cheap, but it's certainly memorable.