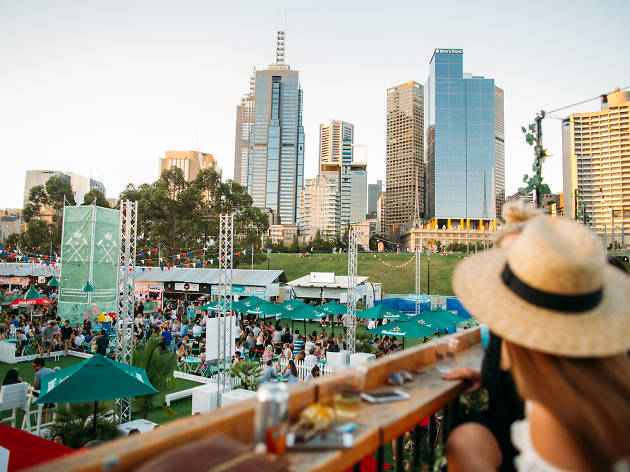 How about a game of croquet and a glass of Pimms on a patch of AstroTurf?
The Royal Croquet Club returns to the banks of Birrarung Marr to kick the summer off to a roaring start.
The event is now in its third year and brings its classic mix of summer vibes, live entertainment, icy beverages and favourites from the local food scene. Expect burgers from 8Bit, smoky barbecue from festival stalwarts Hoy Pinoy, Up In Smoke, POW Kitchen and ice cream in soup tins from Gelato Messina.
This year, we can look forward to an eclectic roster of live music performances, including The Aston Shuffle, Hayden James, Dope Lemon (AKA Angus Stone), Jarryd James, KLP, Touch Sensitive and Electric Fields (they'll all be performing on a boom box-shaped stage).
To make this summer's Royal Croquet Club even better, they've brought along a Pimms Garden that will be set up by the river, as well as new theatre space dubbed The Parlour. The 70-seater pop-up theatre that will welcome acts from the Adelaide Fringe Festival.