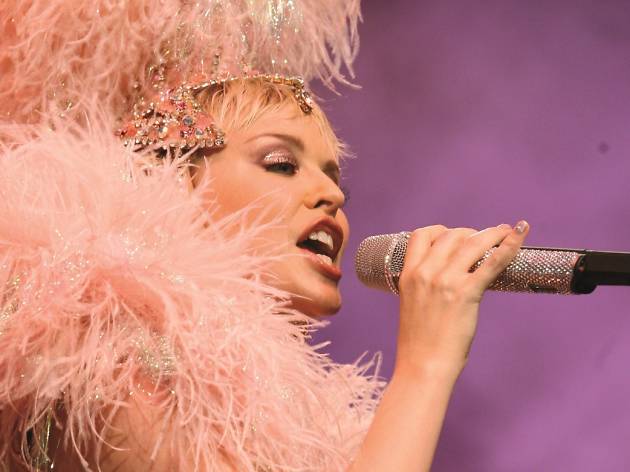 Spinning around: Experience Kylie on Stage and The Barre
Come into Kylie Minogue's world, drink costume inspired cocktails made especially for you at The Barre, and spin around at Friday parties
Arts Centre Melbourne will be engulfed in Kylie-mania as the Kylie on Stage exhibition kicks off on September 21. Kylie Minogue's glitziest stage costumes from the likes of D&G and Jean Paul Gaultier, plus photographs and tour footage will be showcased entirely for free. Oh, and this is happening right next door to The Barre, the Art Centre's buzzing bar and restaurant. Fittingly, they'll be serving glamorous costume inspired cocktails if you need something refreshing to drink before or after you see the exhibition.
Catch a glimpse of that famous pink feathered corset designed by John Galliano for the Showgirl tour, you'll probably need a snack to stop the head-spins, so pop into The Barre for some delicious food and beverages before or after the show, or anytime from 3pm Monday to Saturday. If you can't decide what to order, try a seasonal plate of the day or an umami-rich cheese and wine pairing. Pair your nibbles with the exhibition's speciality cocktail, For the Lovers or The Barre's cocktail for September, the Four Pillars Centre Stage Spritz.
Best of all, during the Kylie on Stage exhibition, The Barre will be hosting a Kylie-themed knock-off session every Friday night, hosted by DJ Argonaut – best known as the musical face and co-producer of the well-known Bar Kylie dance parties. DJ Argonaut will be playing tunes from 7pm to 9.30pm. Which is the only proper cure for a work day you can't get out of your head.
The countdown is on for Kylie on Stage.
Especially for you at The Barre
Sure, The Arts Centre is where you go to experience the peak of Melbourne's world class entertainment. But there's life beyond the show there too. The Barre at Arts Centre is overthrowing expectations of arts precinct dining. It's tailor-made for a pre or post-show dinner or cocktail, but it's somewhere you'd want to visit anyway, just because. Stay awhile and see what happens Melbourne's favourite things come together.
Best selling Time Out Offers