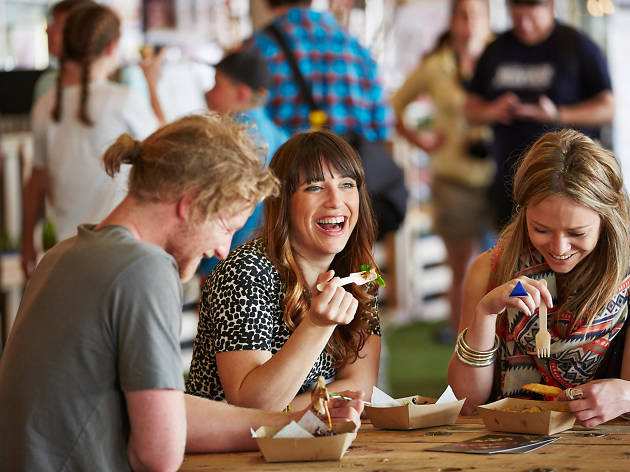 It's baaaaack! Book your tickets now so you don't miss out on the Show action
Some come to the Show for the rides; others come to marvel at award-winning edible sculptures (otherwise known as cakes). Crowds flock to pavilions filled with baby animals and champion dogs. All are united in a mutual love of showbags. This year, around 450,000 visitors are expected at Melbourne Showgrounds before the event closes next Tuesday 27 September.
Due to its popularity, the outdoor animal display has doubled in size this year, offering families more chances to watch and take part in interactive milking and shearing shows and horse demonstrations. Pat-a-Pig and Pat-a-Chook pens will give kids a real down-on-the-farm experience and they can also plant and take home their own seedling.
The Winning Tastes Pavilion celebrates Melbourne's food scene with pop-up restaurants and eateries including Bomba, Mr Claws, Pho Nom, Mr Miyagi, Royale Brothers Burgers and Burn City Smokers serving up their delicious signature dishes – the days of dagwood dogs as your primary food option at the Show are long gone. There's also a Winning Tastes Dessert Bar and Winning Tastes Cocktail Bar.
Look out for the free craft workshops for adults and kids, while the Horses in Action program will have horses and riders competing across over 250 different classes. Find out which woodchoppers can hack it at 50 events over at the Woodchop Pavilion.
If you're on the ball and buy your Show tickets online you can get them at a 10 per cent discount and save up to 30 per cent on rides. That's money that can be spent on a few extra showbags – and there's literally hundreds to choose from after all.