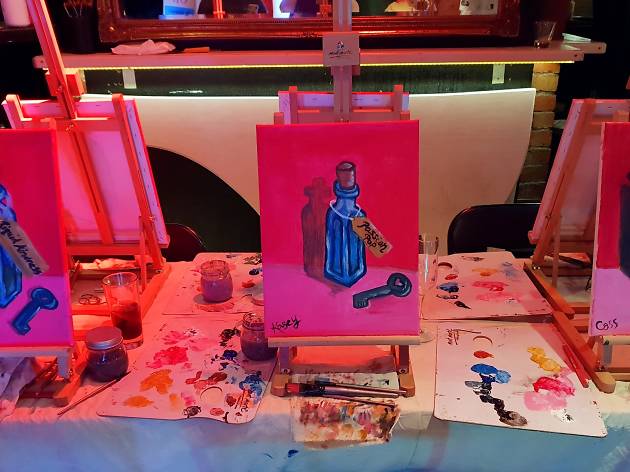 Time Out says
Learn to paint while enjoying a cocktail or three at Melbourne's fairytale-themed bar
If you are someone whose creative juices are stimulated by beverages stronger than, well, actual juice, this could be the perfect event for you.
Fairytale-themed bar StoryVille is hosting weekly art classes – with cocktails. Artist Liam Waldie teaches participants how to recreate a painting based on pop culture themes like Harry Potter, Lord of the Rings, Dr Seuss and Alice in Wonderland. Entry is $63 and includes a cocktail – plus, more cocktails and jaffles are available for purchase at the bar.
Waldie has been teaching art for 12 years, and he starts off with a bit of an art exercise to get those creative juices flowing. We won't spoil the game (the less you know about what you're getting yourself into when you start, the better the results), but every participant ends up with some very weird art. Then it's onto the main event: recreating a piece of pop culture-themed art. Waldie has created the original work, and he talks participants through every step of the process to paint a masterpiece. Even those who have never before held a paintbrush (like yours truly) are able to create a recognisable image. And a final note: even the woman in my class who suddenly declared, "meh, I'm too drunk to follow instructions" came up with something that she could be proud to put on the wall.
Details
Best selling Time Out Offers