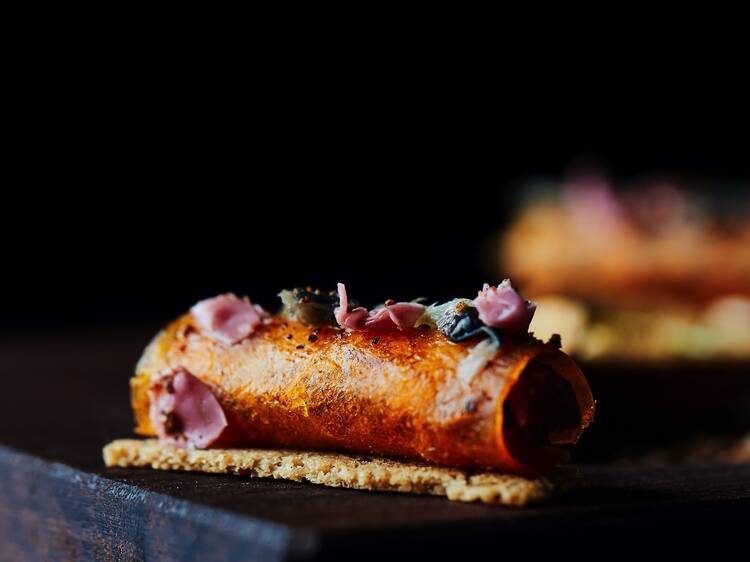 Photograph: Ed Sloane/Supplied
If you're in the mood for Mexican, Village Cantina (30 Ballarat St) offers generous servings and (almost) too much choice – so make sure you come with an appetite. While the quesadillas and burritos are not to be ignored, the real hero is the taco menu – though narrowing down your order from the extensive list of options is tough.
Despite its prominent location next to the Sun, Pizza d'Asporto (2-6 Ballarat St) is surprisingly easy to miss if you aren't seeking it out. "It's just really good, easy, quick family fare," the staff at Sun Bookshop tell us. The service is exceptionally friendly, and as the name suggests, this eatery has a big focus on pizza. They're made with thick, doughy bases and the choice of toppings is extensive. But, if pizza's not your thing, the pasta menu is almost just as varied and exciting.
Love dumplings? Chi Bao (46 Anderson St) is another Sun Bookshop staff favourite. "Everything you order on that menu is amazing". It's true – there is a huge choice of hearty and delicious noodle and rice dishes, but make sure to try some of the dumplings and baos – all of which are made by hand in-house. There are also great vegetarian and vegan options.

Then there's Café Terroni (18 Ballarat St). With homemade pasta, recipes drawn from regional Italy and rustic feels, it's a local favourite for good reason.
Slightly further away from the main food hub is Navi (83B Gamon St). The 25-seat, contemporary Australian fine-dining restaurant has an ever-changing set menu, with eight and five-course options available. Chef and owner Julian Hills is across every part of the restaurant – right down to the plates, which he made by hand himself. One thing to note on the food though: try not to fall in love with a particular dish because chances are you might not see it again.
Even further away, in deeper suburban Yarraville, is Mishra's Kitchen (18 Wembley Ave). The venue does delivery and take-out, but if you feel like dining in, it is well worth the slightly longer journey. Tucked down the end of a quiet street, this cheerful restaurant boasts some of the best Indian food in Melbourne. A local tip: even if you are a seasoned chilli eater who thinks they can handle the hottest of the hot – order the mild option. Seriously.