A guide to the Royal National Park
A little piece of paradise situated less than an hour's drive from the Sydney CBD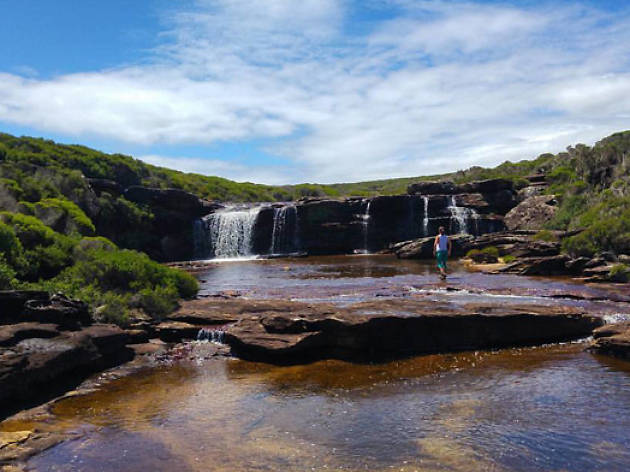 Visiting Sydney any time soon? Take a break from the bustle of the city and discover the pristine 15,091 hectares of bushland the lines the coast south of Sydney. Whether you want to swim, trek, picnic, swim, bike ride, swim or just GTFO of Sydney for the day, the Royal National Park will provide an outdoors, adventure-filled day out.
1. Get the ferry from Cronulla to Bundeena
While driving is the easiest way to access the Park, the ferry from Cronulla is much more picturesque and endearing. A single ferry – which is Australia's oldest commuter ferry, the 'Curranulla' – motors back and forth between Cronulla and Bundeena, departing on the hour, daily. Once you're at Cronulla station walk under a tunnel and towards the marina. You'll see a small pier – it doesn't look like your typical transport hub. Keep your eye out for the wooden yellow and green boat and make sure you have cash with you to buy your ticket. Hop on and you'll be in Bundeena in just over 20 minutes.
2. Venture along the cliffs
The full Royal coastal walk is 26 kilometres and takes two days – but you can explore portions of it to get a taste of each part. Starting at Bundeena and walking to Little Marley Beach is a great option for first time National Park adventurers. It's easy enough for inexperienced bushwalkers, but still offers beautiful vantage points, a mixed bag of terrains and plenty of happy snap ops. The route navigates winds along the coastline, taking you over sandy red soil, through scrubby bushland and along the sandstone cliffs. Make sure you take plenty of water. We'd highly recommend packing your own picnic too.
3. Jump off the rock at Wattamolla
This lagoon is a top spot for picnicking, swimming and a (slightly terrifying) high jump off the rock. This primo spot is popular with day trippers – and unfortunately in recent times it has become a bit of a dumping ground – make sure you follow the 'leave no trace behind' ethos and take all your rubbish with you and respect the beautiful spot. Or, even better, help clean up after less considerate visitors too.
4. Ogle Wedding Cake Rock
This slice of Sydney coastline was one of the most Instagrammed spots of last summer – its angled edge and white colouring makes it one of the most eye catching points of the coastal walk. It may not be around forever though – the nature of the rock's surface a means it's eroding and isn't stable enough to handle constant weight, so tread with caution and follow safety signs.
5. Surf Garie Beach
This beach break rolls out solid left and right waves. The north corner has good banks most of the time but you'll find it pretty crowded on weekends. Instead, stroll ten minutes south across the rocks, where you'll find an ace left point break. If you're lucky you may bump into one of the local friendly seals, who are known to playfully mount surfer's boards while in the line-up.
6. Relax on Marley beach
This secluded beach has rock pools, a fresh water stream (which leads to the Marley Lagoon) and crashing waves. The beach isn't patrolled so be extra careful while swimming.
7. Visit the Figure Eight Rock Pools (with extreme caution)
These beautifully formed rock pools have attracted a frenzy of people this summer – in fact more than 50 people were injured trying to reach them on a particularly bad day. If you are going to go, be smart – check the tides and swells and don't risk it if it's not safe. You can only access them at low tide, when the swell is small.
8. Chase the Curracurrong Falls
Ignore TLC and go chasing waterfalls – the walk from Wattamolla to Curracurrong Falls is a scenic but slightly difficult hike. The creek splits into two streams, each flowing off into the ocean straight over the edge of the sandstone cliff – you can see a long horsetail display as it flows into the sea below.
9. Paddle along the the Hacking River
Make your ways to the Park's nerve centre Audley, once the heart of the park's Victorian 'pleasure gardens'. Here you'll find the main visitor centre, spacious lawns, an old-fashioned dance hall and a causeway. You can hire a canoe or rowing boat from the Audley boat shed and head upstream to picnic spots at Ironbark Flat or Wattle Forest.
Staying closer to home?
Getting back to nature is good for the soul, and the best thing is that you don't have to make yourself car-sick to do it. There are plenty of places a stone's throw from the CBD where you can lawfully pitch a tent.