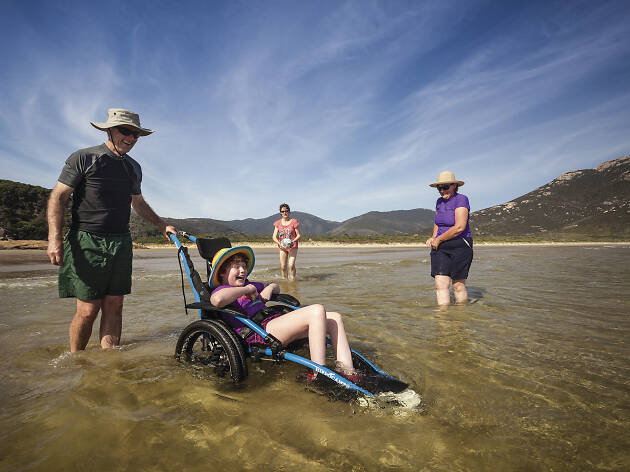 Accessible day trips from Melbourne
These national parks and gardens close to Melbourne are specially equipped to help those with mobility difficulties explore the great outdoors
There's nothing quite like getting out in nature and breathing in a big gulp of fresh mountain air. But for wheelchair users or those with crutches or other mobility aids, it's not always easy to see the natural wonders of our beautiful state. Stairs, rough terrain, sand and narrow paths can be insurmountable barriers. But Parks Victoria has implemented facilities in these popular tourist destinations in order for people of all abilities to enjoy the great outdoors.
Looking for more accessible Melbourne activities? Try these wheelchair-accessible bars and restaurants.
Wheelchair-accessible parks in Victoria
If you're headed east by the coast, make a pit stop at these hidden palatial limestone caves. The caves were formed 300 million years ago by underground rivers cutting through layers of limestone rock and feature striking formations of stalactites and stalagmites. A Stairclimber is available for wheelchair users or those with mobility issues, allowing them to traverse down the steep and narrow steps into the spectacular Fairy Cave. Parks Victoria recommends booking in advance to secure use of a Stairclimber.
Wilsons Prom is mainland Australia's southernmost point and lays claim to a rugged national park ripe with beaches, greenery and friendly wildlife. Accessible accommodation is available at Tidal River, where modified cabins are equipped with special equipment such as electric high/low beds as well as all-terrain wheelchairs for access to Norman Beach. Motorised TrailRiders are also available for longer walks around the park.
Just 35 clicks east of Melbourne, the Dandenong Ranges region boasts plenty of exquisite fauna and flora, sprawling gardens, artist studios, wineries and quaint villages. TrailRider all-terrain wheelchairs are available to collect at Grants on Sherbrooke Restaurant in Kallista. You can also book volunteer sherpas to guide you through the towering forest. Beginners can try the 30-minute return Margaret Lester Forest Walk or the more outdoorsy can attempt the Sherbrooke Loop Walk, which is a two-hour, four-kilometre circuit for true immersion in the wild.
This part of Boonwurrung country has some of the earliest European settlement in Victoria. You can explore it all (and spy some killer bay views) on coastal tracks that run past the old Quarantine Station and some World War II military buildings. All-terrain beach wheelchairs and one standard wheelchair are available to hire – best to book them in advance from the Point Nepean Information Centre.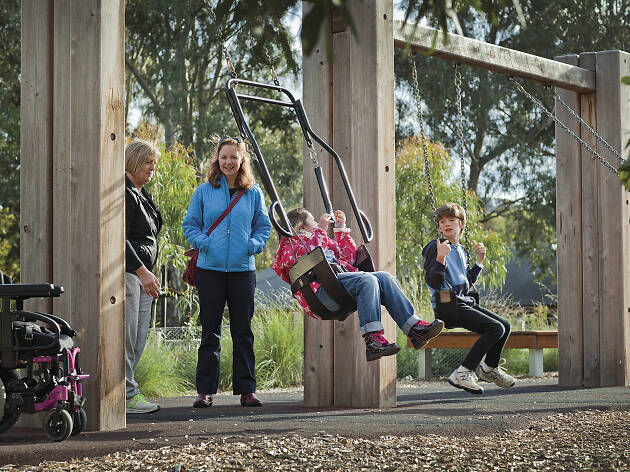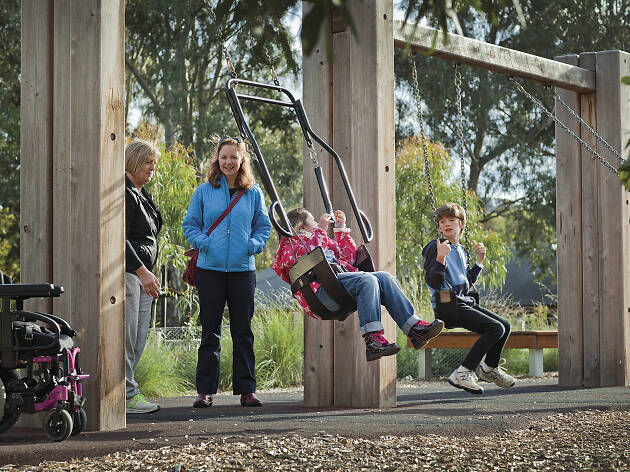 Photograph: Parks Victoria
Other parks with accessible walks and facilities
Werribee Park: Ten hectares of gardens and parkland to explore with level granite tracks throughout.
Brimbank Park: Traverse ten kilometres of walking trails, or visit the large accessible playscape.
Other accessible initiatives around Victoria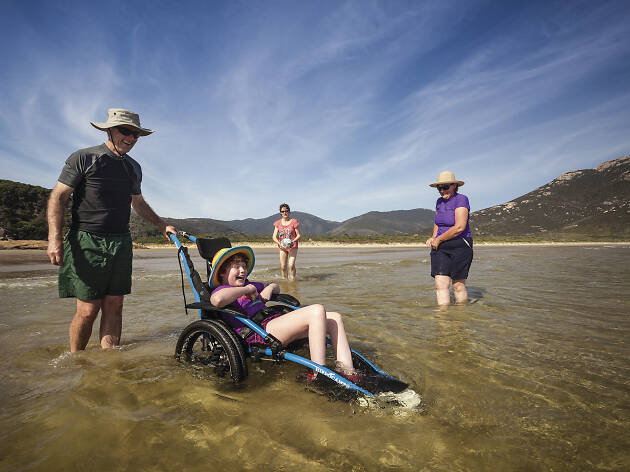 Photograph: Parks Victoria
Mobility-impaired visitors can hire beach wheelchairs at Wilsons Promontory National Park Information Centre, Cape Conran Coastal Park Cabins and Camping, Coolart Historic Area Park Office and Point Nepean National Park Information Centre. These chairs can be easily pushed over sand and can meet the needs of both adults and children who wish to explore beaches or especially sandy walking trails.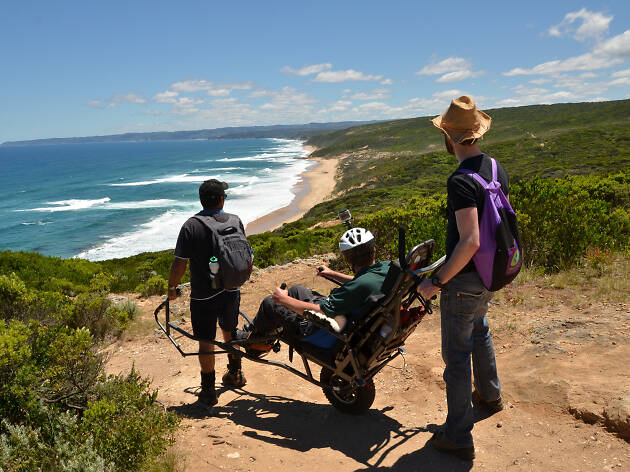 Photograph: Parks Victoria
TrailRiders and volunteer sherpas
Hop on these all-terrain wheelchairs in the Grampians and the Dandenong Ranges National Parks. They're free to use but need to be booked in advance as a minimum of two chair operators (also known as sherpas) are required to operate it. With the physical assistance of these volunteers, it makes traversing park trails a breeze.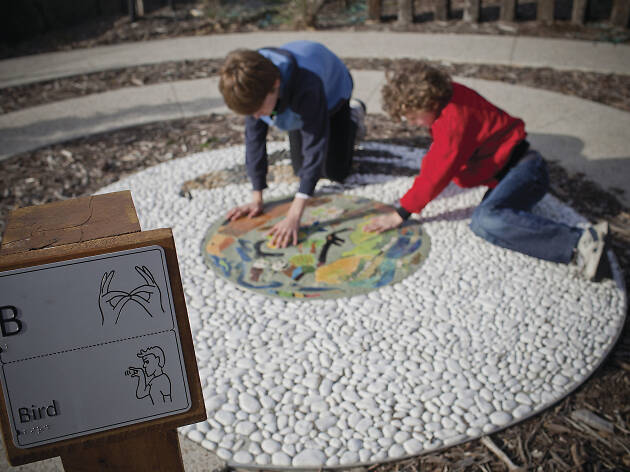 Photograph: Parks Victoria
Social script resources for children on the autism spectrum have been developed by Autism Victoria and are available for Brimbank Park, Buchan Caves, Jells Cave, Serendip Sanctuary and Wilsons Promontory National Park. These include photographs and simple text displays, which give children information on what they may see and experience on their park visit.