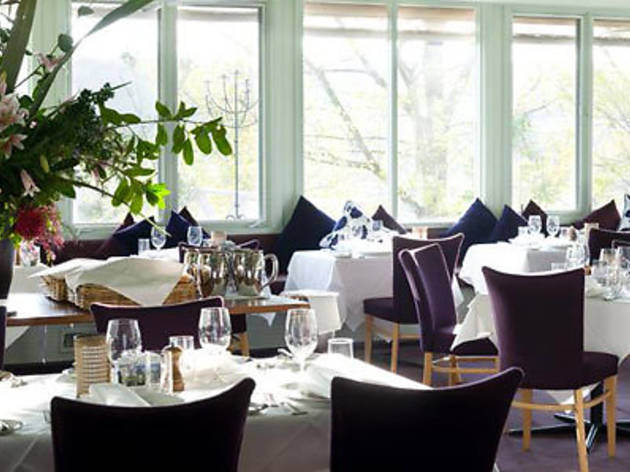 The Lake House holds the frontline when it comes to traditional big-ticket restaurant experiences
The Lake House in the heart of Daylesford is executive chef Alla Wolf-Tasker's place - she's been running it since 1984 and has been an outspoken champion of the region. It's very Luxury Hotel with a capital Luxe - it's that type of warm, fussy elegance that you find in a certain kind of grand European hotel. Bright, vivid still-life paintings dominate the walls and the show plates on each table - there's even a display at the reception where you can buy them. You could view it as a bit nanna, or simply comforting, depending on your perspective. Whether by dint of location or simply the cost, there's a skew on the night we visit to an older crowd in the dining room: lots of tables of two, not a whole lot of raucous laughter.
The menu is traditional country European cooking interspersed with Asian and molecular touches. One of those slow-cooked eggs sits in a bath of creamy whipped polenta with chopped-up wild slippery jack mushrooms. Next to it in a little glass is a mushroom consommé covered by a plate holding a single mushroom-covered crouton. Tasty as it is, it's also fiddly and slightly irritating to eat. It's the roast duck main course that's the real attention grabber. Here, the fat is perfectly rendered with a crisp skin and rosy meat. It's served with a pastry cigar of elderberry jam and a bed of carrot puree, caramelised baby witlof leaves and little ribbons of crisp pancetta. It's a straight-shooting dish, aimed true.
As much as we dig dessert - clumps of light honey cake resemble sweet little spiced sea sponges, joined by a quenelle of hazelnut ice cream, golden quince pieces and honeycomb shards - it leaves us wishing for more of that elegant, unfussy cooking we saw with the roast duck.
Lake House, along with Stefano's, has long been one of country Victoria's benchmark dining experiences. Now, stacked up against the envelope-pushing likes of Loam in Drysdale, Provenance in Beechworth and, of course, the mighty Royal Mail in the Western district - establishments that challenge the supremacy of city restaurants - LakeHouse seems a little out of step.
The wine list, however, is excellent. There's a great selection of half bottles and a by-the-glass list you could really have a fun time with, not to mention a pretty staggering large-format selection: magnums, jeroboams and other plus-size vinous fun. If you took a decent-sized group of (cashed-up) wine-digging compadres, you could really make a fist of it.
There's good cooking here, and brilliant service detail. It's the room, really, and the tables-of-two-who-prefer-to-sit-in-silence that make dining here a little snoozy. It's almost tempting to order a magnum of Champagne for the room, just to liven it up a bit. Waiter, forty glasses and a jeroboam of Ruinart please. Let's get this party started.
Venue name:
Lake House
Contact:
Address:
4 King St
Daylesford
3460

Price:
Up to $150