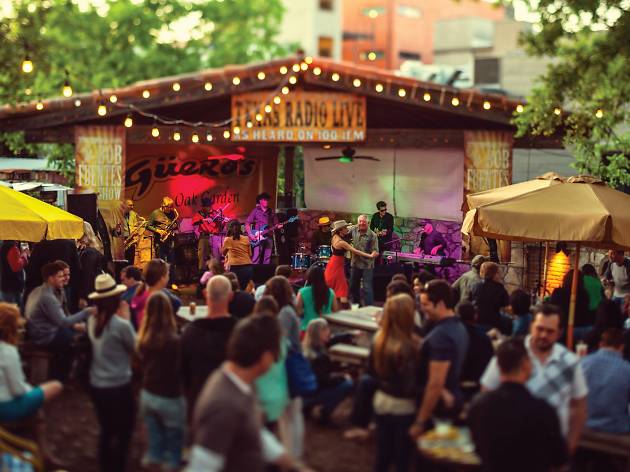 The essential guide to Austin, Texas
Famous for festivals, live music and barbecue, the cosmopolitan capital of Texas has plenty to recommend it all year round
Austin is well-known for its thriving festival scene. Music, film and interactive media festivalSouth by Southwest showcases 2,000 music acts a year and talks by some of the biggest names in Hollywood. The Austin City Limits Music Festival attracts hundreds of artists and thousands of visitors each year. Should you not find yourself in Austin for a festival, the city's ever-evolving music, film, arts, food and drink scenes are turning it into the southern United States' most happening destination.
Every week, Austin City Limits Live at the Moody Theater hosts big name acts and rising stars, from Iggy Pop to Widespread Panic, Foreigner and My Morning Jacket. The Austin City Limits TV show is filmed live here monthly.
Take a 1.5-hour tour around the city with AO Tours, uncovering more live music spots, as well as restaurants, local hangouts, historic monuments, shopping districts and green spaces (including picturesque Lady Bird Lake).
Learn about Lyndon Baines Johnson, the 36th President of the United States, who took control of the nation following the assassination of John F Kennedy, at the LBJ Presidential Library. Walk through exhibitions showcasing LBJ and JFK's campaigns and the tumultuous times of Johnson's tenure as President from 1963 to 1969.
At the Blanton Museum of Art at the University of Texas at Austin, find a permanent collection that includes over 17,000 works including European paintings, prints and drawings alongside American and Latin American art.
In the neighbourhood of South Congress, there's a range of shops from fashion boutiques to motorcycle showrooms, nail bars and antiques stores. Head to Sunroom (1603 S Congress Ave), a showcase for independent Austin fashion designers; and Uncommon Objects (1512 S Congress Ave) for antiques, taxidermy and memorabilia, including flags from the 1800s.
The trouble with James Franklin's ribs, brisket and pulled pork is they are too popular and by the time Franklin Barbecue opens at 11am, you're up for a several-hour wait and no guarantee of smoked goodness (the small shop, as seen in the Jon Favreau movie Chef, is only open until the food is sold out). But if you must try the best barbecue in Texas, then line up from 8am and order a pound of brisket, a pulled pork sandwich and a side of pinto beans.
Housed in a 1950s drugstore and complete with vintage cabinetry, Hillside Farmacy serves up farm-fresh sandwiches, salads, healthy breakfasts and charcuterie plates alongside homemade fountain sodas, craft brews, classic cocktails and a killer house punch.
Around the front of the hip new South Congress Hotel (see Stay), Café No Sé is the place for a well roasted and ground soy latte, a slice of Kouign-amann and fruit bowl for breakfast; a yogurt braised chicken thigh and chayote slaw salad for lunch; and braised rabbit pappardelle and grilled lamb ribs for dinner.
At Garage Bar, look for the parking station with a sign that says 'cocktails' instead of 'entrance'. It's under a carpark ramp that you'll find a small semi-circular bar with barkeeps who will load you up with small-batch Old Fashioneds for just $9 each alongside the city's best Corpse Reviver No2.
At Bangers Sausage House and Beer Garden, get 30 house-made sangers, more than 100 craft brews on tap and loads of pickled vegetables, best enjoyed in the back of the bungalow converted into a giant boozing hall Bangers on the list at the time of publication included the Drunk Chicken, Turducken (turkey, duck and chicken) and Jalapeno Cheddar Bratwurst.
You could be excused for thinking you're standing in someone's loungeroom at Half Step, where a dimly lit, top-notch back bar cranks out half a dozen classics on the regular list alongside Margaritas on tap and four beers on draft.
Rooms at the South Congress Hotel, which debuted in September 2015, have hardwood floors, custom-designed furniture, mini-bars stocked with local produce, large walk-in showers and balconies overlooking downtown Austin. There's also a rooftop pool, lobby bar, and Café No Sé for coffee, snacks and shared plates (see Eat and Drink).
Air New Zealand
recently launched direct flights to Houston from Auckland, offering a one-stop service from Melbourne to the heart of Texas. Austin is a 30-minute onwards domestic flight from there.
Try a Melbourne staycation
We all have different preferences when it comes to hotels – perhaps you're a fan of staying right in the middle of the action; maybe you're happy to chill out in a boutique hotel in a cute neighbourhood. Whatever kind of vacation (or staycation) you're after, we've got you covered.