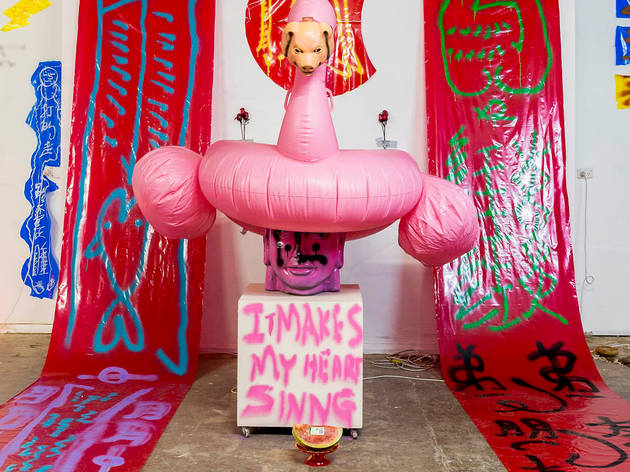 Underbelly Arts Lab and Festival
Sydney's alt-Biennale returns with a new venue and a return to its roots
In the ten years since it kicked off at Sydney's Carriageworks, Sydney's Underbelly Arts Lab and Festival has consistently pulled in visitors from across the country. Make the trip from Melbourne to Sydney and sink your teeth into the tenth iteration of Underbelly's festival of arts music and performance.
The biennial festival has established itself as a sort of alt-Biennale: smaller, local-focused, but consistently facilitating artists with large visions, and creating a festival that has always been immersive and interactive in its presentation of 'art'.
In 2017, under first-time Festival Director (and practising artist) Roslyn Helper, the Lab and Festival is moving from Cockatoo Island (where it held the 2011-2015 editions) back into the inner city: National Art School.
Underbelly Arts is also extending its Lab program this year, with tours of the artworks-in-progress over the two weeks (Sep 25-Oct 6) leading up to the weekend Festival (Oct 7 & 8). The opening night party, on Friday Oct 6, is the ticket you need if you like your art with bands + DJs + dancefloor.
The full line-up for Underbelly Arts Lab & Festival is: Shian Law, Harriet Gillies and Natalie Abbott, Ivey Wawn, House of Vnholy (Matthew Adey), Anonymous Migrant (Sudeep Lingamneni and Nikki Lam), Fugitive Moments (Barnaby Lewer and Tristan Derátz), Pony Express (Ian Sinclair and Loren Kronemyer), Amrita Hepi with Prue Stent and Honey Long, Siân McIntyre and Sophie Mallett, Make or Break (Rebecca Gallo and Connie Anthes), Marcus Whale and Eugene Choi with Polyphony, Shahmen Suku/Radha La Bia, and Angela Garrick with Nic Warnock and Yarran Gatsby, Laurence Rosier-Staines, Nana Bilusabaffy, Jason Phu, Josee Vesely-Manning, Boni Cairncross, Gwen Taualai, Alice Couttoupes, and Studio A artists Peter Dudding, Jeanette Scanes and Damian Showyin with painter and ceramicist Paul Williams.
Read more about the Underbelly Arts 2017 Festival & Lab.