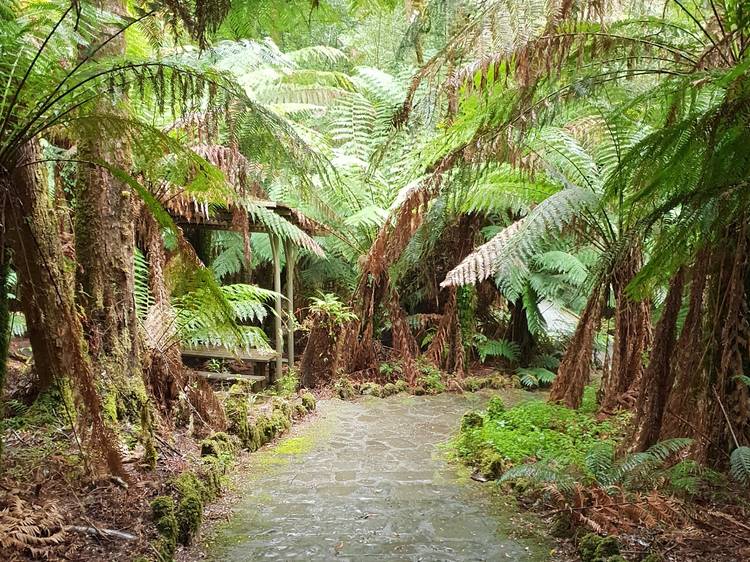 Photograph: Cass Knowlton
Stretch your legs after a three-hour drive from Melbourne in Tarra-Bulga National Park, a temperate rainforest in the heart of Central Gippsland. A loop track from the Tarra-Bulga Visitor Centre will take you along the wheelchair-accessible Lyrebird Ridge track, which lives up to its name and offers plenty of glimpses of the native bird. Once you leave the Lyrebird Ridge track, the new path takes you over Corrigan's suspension bridge and past trees that are hundreds of years old. If it's raining, as it was when we visited, their thick canopy will keep you comfortably dry. Even the heaviest deluge is scarcely felt on the forest floor.
For a mode of transport that traverses the fourth dimension as well as the physical three, consider a boat trip down the Sale Canal and Thomson River on the good ship the Rubeena, which was built in 1912. Skipper Alan runs Port of Sale Heritage Cruises and captains the boat, which makes the trip down the river at least once every day. Alan knows a lot about the history of the region and regales his passengers with tales of shipwrecks, remarkable feats of engineering and the Indigenous and modern history of the region. Snacks are provided onboard, and as you drift along you're likely to see galahs, eagles and maybe even a koala. The Rubeena will take you to the La Trobe Swing Bridge, which was opened in 1883 and was the first moveable bridge in Victoria. The trip takes about two hours and is a delightful way to learn more about the region.
Spend some time walking around the historical maritime village of Port Albert, which was Victoria's first established port. There are numerous seaside walks to be had in the area, including along the famous Ninety Mile Beach.