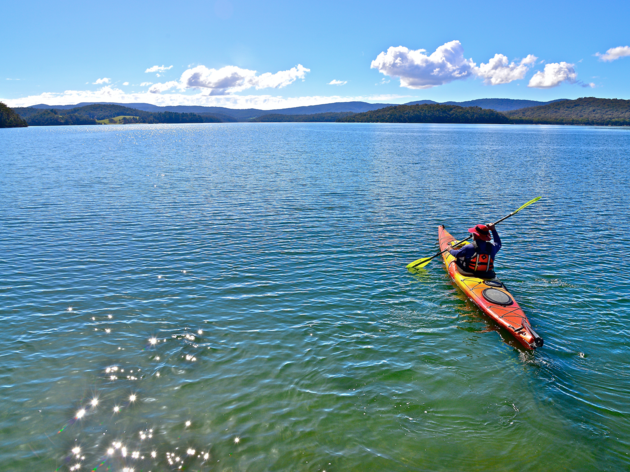 Weekend getaways: Mallacoota
Drive up to Mallacoota and enjoy all that this fishing town has to offer, from adventurous water sports to American barbecue and lawn bowls
Mallacoota is a small fishing town in East Gippsland that was near-devastated by the Black Summer bushfires in 2019/2020. Driving through you will pass blackened trees surrounded by bright green regrowth that is testament to the strength of the town and its community.
It's a town that's known for its abundance of seafood and exports tonnes of abalone to countries like China and Japan every year and hosts an annual seafood festival called the Wild Harvest Seafood Festival. Its population is just over 1,000 but this can reach up to 9,000 people in peak tourist season each year. It might be a quiet town, but there's something for everyone here and plenty to do come rain, hail or shine.
Looking for more weekend guides? These are Victoria's best getaways to try.
The best things to do in Mallacoota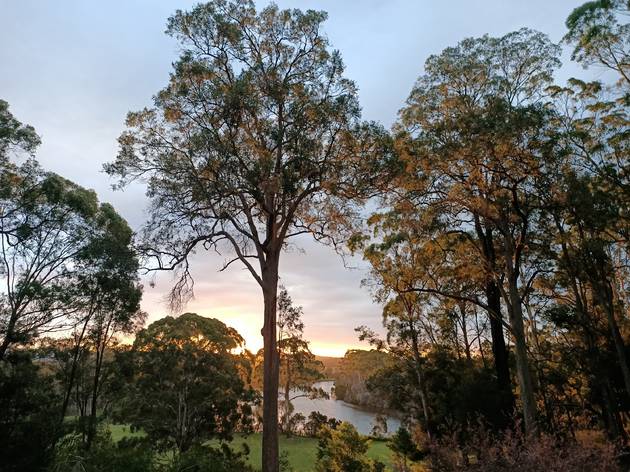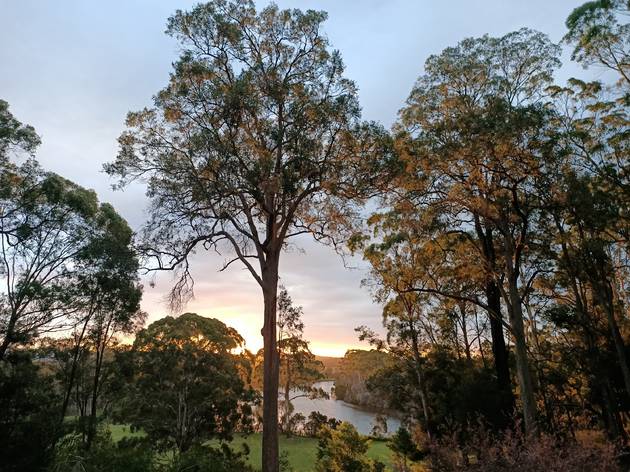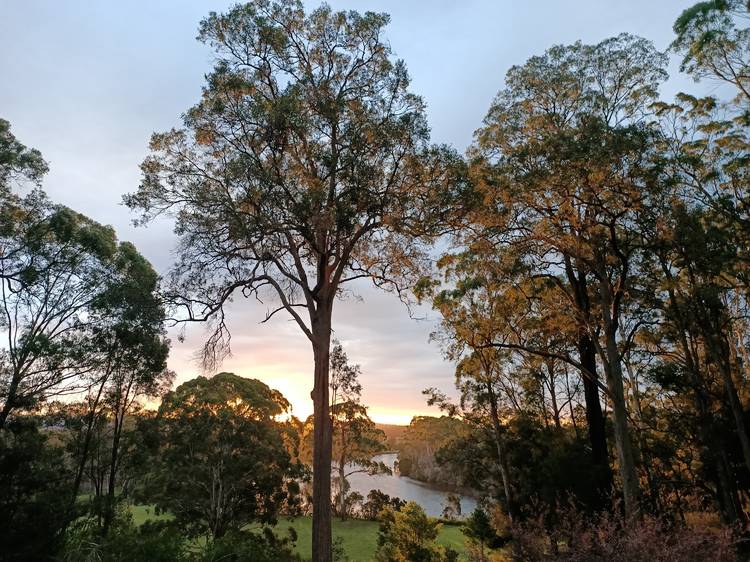 Photograph: Rushani Epa
When you arrive, you'll see that the town curves around Mallacoota inlet making it a haven for water sport enthusiasts and fishermen alike. Don your bathing suits, head to Mallacoota Hire Boats and hire a putt-putt boat (no boating licence required), kayak or paddleboat and cruise alongside pelicans through the lake and rivers. Boats are available for hire by the hour and you can try your hand at fishing if you hire a rod on-site too. Flathead, bream, whiting, salmon and more scour the lake and locals say it's almost impossible not to catch a fish. Remember to book your boat in advance or risk missing out.
If you'd like someone to do the steering for you, check out the pleasure cruise or twilight cruise hosted by Mallacoota Cruises. The two-hour cruise will take you around the inlet as the host talks you through Mallacoota's rich history. For those who are lucky you might be able to spot a sea eagle glide along in the distance. The company also hosts guided eco-tours of the expansive Croajingolong National Park that has you and a friendly local host navigating the terrain in a 4WD and stopping off at beaches, rivers or in the bush. Enquire about the addition of packed lunches by local caterer, Sweet And Savory Treats by Jess, that can include buttermilk cream macarons, wraps and seasonal fruit. The group can also organise bushwalk transfers that drop you off and collect you from certain parts of the area, or send you off to the remote and awe-inspiring Gabo Island.
If you're looking to get in the water make a beeline towards Betka Beach. Located close to town, the beach offers white sands and pristine turquoise waters. For the more adventurous there's a lookout, rock pools and a sand-lined walk on the other side of the beach near Bastion Point.
Shipwreck Creek Beach is where you can see a reddish creek meet the ocean. The tangerine tinge of the creek owes its colouring to the tannins from neighbouring trees and is perfectly safe to swim in, not to mention it's good for kids. The beach lies next to it and offers shelter from cliff faces nearby.
If swimming or bodies of water aren't your thing, go for a walk in the Narrows. Located between Buckland's Jetty Boat Hire (another boat hire store) and the Captain Creek jetty, the gravel trail takes you by the lake and throughout Croajingalong National Park. Spot discarded shells at Aboriginal middens, dragonflies whizzing by and the damage caused by the bushfires. It's a 3km walk (6km return) and is suited to all abilities. If you're looking for a more paved walk, head into town along the lake. The walk takes you from the Lakeside Drive fishing platforms to the wharf, Captain Stevenson's Point, Devlins Inlet to the Beach and onto Bastion Point, and is 4.7km one way.
If you're seeking a social, boozy activity, try your hand at lawn bowls at the Mallacoota Inlet Bowls Club. Open every day from 3pm (weather permitting) the expansive green backs onto a club that stocks a bar.
For those simply looking to sit back and relax, we advise you to watch a film at the town's pop-up cinema, Mallacoota Cinema, located in the community hall. It's only around during the school holiday season but offers a fully-stocked candy bar and airs films that suit all ages.
Spend some time admiring the art by local artists at the Mallacoota Arts Space. When we visited, in early 2021, a heavy bushfire-theme is dispersed throughout pieces, making it a very humbling and worthwhile experience. The art is also available for sale so you can take a piece of Mallacoota away with you. An impressive portrait by Catherine van Wilgenburg of local and author of Dark Emu, Bruce Pascoe, adorns one of the walls and is well worth seeing. It's made of grey box bark from Bruce's land in Yuin country and paperbark from the artist's own Altona street trees and was submitted to the 2019 Archibald Prize.
Get out into the bush and soldier on towards the World War Two bunker that doubles up as a museum. It's only open on Tuesdays and Sundays and is well worth a visit if you're in town.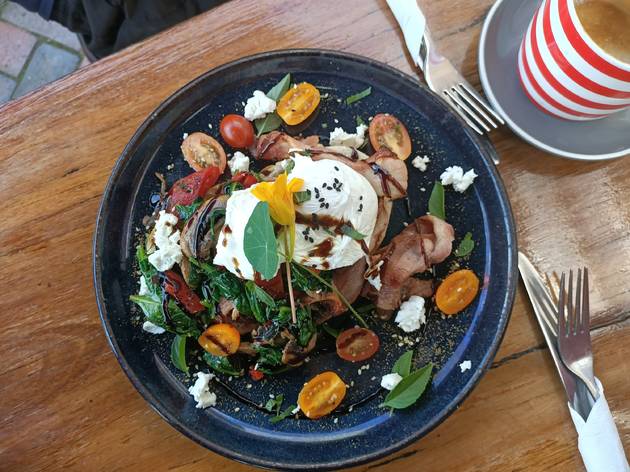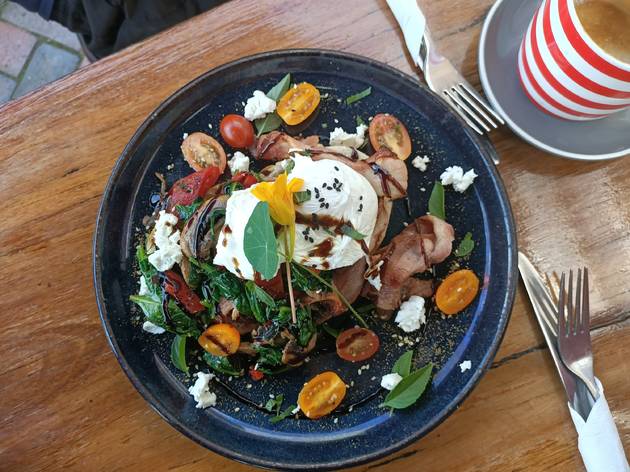 Photograph: Rushani Epa
If you're driving up to Mallacoota from Melbourne and cutting through the country, our hot tip is that you stopover in Cann River. There you will see the ever-popular Wild Rye's Bakery. Think curry beef pies with a rich, curried gravy and tender chunks of slow-cooked beef, velvety three cheese and spinach pasties, blueberry brûlée tarts whose blowtorched tops mimic a crème brûlée, or giant slabs of creamy, dense carrot cake. The bakery has its headquarters in Pambula, and freshly baked pies, roasted coffee and sourdough breads are delivered to its Cann River store every day. (But hot tip, there's no fresh bread available on Sundays.)
Croajingalong Café is situated across from the Mallacoota inlet and offers stunning views of the water with a vegan, vegetarian and gluten-free-friendly menu. Michelle, who owns the café, is currently running it alongside her first love Andrew. The two Kiwis know a thing about great food and outstanding service. Try Michelle's breakfast bruschetta that looks like it belongs in the Arts Space. A bed of sourdough toast is topped with fried rashers of bacon, sautéed mushrooms, fresh nasturtium, edible flowers, goat's cheese, perfectly poached eggs and balsamic vinegar – to name a few. There are also gourmet options available alongside the usual brunch suspects, and coffee served in a cup or a mug (you decide), fresh smoothies and juices.
Locals flock to Origami Coffee and you might have to wait up to 30 minutes for your morning fix – the coffee here really is that good. Takeshi, who currently manages the pop-up, seasonal café is a kind and eccentric Japanese man from Hokkaido who's lived in Mallacoota for 21 years. He sells handmade origami out of the shed, along with coffee (by Dukes Coffee Roasters, who he also thanks for their ongoing support and his glitzy coffee machine, Athena), matcha tea and lattes, hot chocolate, peach iced teas and his own offering, the espresso spider – a Japanese take on the kids beverage that includes coffee and a scoop of vanilla ice cream. The venue opens up every summer and the community won't soon forget how Takeshi provided coffees day-in, day-out to emergency responders during the Black Summer fires.
American barbecue in an old lawn bowls club? Something you might not think you'd stumble upon, but it's here in Mallacoota. The aesthetic itself will make you feel like you've stepped foot into a conference room from the '70s with its linoleum tables and office chairs, but it adds to the experience and quirky nature of the venue. The pop-up barbecue venture is called Coota Q and is by Luke Driscoll (Big Pig Canteen, Bluebonnet Barbecue) and his fiancée Angela Smith. While Luke smokes beef brisket, fries thick slices of chorizo and assembles creamy mac and cheese, Angela buzzes around the venue serving customers. It's always bustling and bookings are highly recommended. There are set feasts and an à la carte menu that promises slow-cooked beef chilli with nachos, popcorn chicken and equally rich desserts that will have you rolling out slower than a lawn bowl.
There's something to be said for Chinese food you try in the countryside – namely Cantonese-influenced but offering a wide mish-mash of cuisines. It might be the glistening Mongolian beef loaded with MSG, or it might be the eggy fried rice permeated with smoky flavours from the wok. At Lucy's, it's the handmade rice noodles (using rice she's ground herself) with locally-sourced abalone slices, thick, deveined prawns, sliced white onion and a cornstarch-loaded gravy. Or the grandmother's 'special dumplings' that are each the size of your palm and filled with minced vegetables in a delicate dumpling wrapper. Sweet chilli sauces wait patiently in plastic jars and outweigh the minced chilli and garlic jars, and the venue is always filled to the brim with locals. It's a Mallacoota institution that's acted as the go-to Chinese restaurant for years. It's actually been run by the same family for a while, with Lucy originally hailing from Nanning in Guangxi where she ran a restaurant.
For a romantic dinner with a view, make the trek to Gipsy Point Lodge. The venue also offers accommodation, and its restaurant overlooks the Genoa River. Sit outdoors on the deck and listen to the sounds of yellow-tailed black cockatoos, or sit indoors and peer out of the floor-to-ceiling glass windows. The owners also run Campbell's Farm in Eden where they source their steak from, and we recommend sitting down to an eye-fillet topped with garlic butter and a side of rosemary roasted potatoes and salad. Beers by local craft brewery Bullant Brewery are worth checking out, and so is the 2017 Mitchelton Shiraz with its pronounced flavours of red fruits. You'll want to stay for dessert made by the chef including cakes and slices like the dense orange and almond cake with vanilla ice cream.
Treat yourself to a wine tasting on the way back to Melbourne at Lightfoot and Sons Winery. Located in Bairnsdale, the cellar door overlooks the winery and its sweeping surrounds of neighbouring farmland. Sit either indoors or outdoors and sample the Myrtle Point Vineyard tasting or the mixed tasting and try wines served to you in mini beakers with comprehensive tasting notes provided for each. There are even notes included from varying staff members on each wine so you can determine the flavour profile of each. The 2020 Myrtle Point Vineyard Pinot Grigio will surprise you with its creaminess and notes of crisp green apple, and the award-winning 2018 Myrtle Point Vineyard Pinot Noir presents dark red fruits and high acidity. The Taste of East Gippsland Experience offers foods from local businesses like pork rillette by Northern Ground, pickles by the Long Paddock or housemade shiraz jam by Lightfoot and Sons, and the experience comes with three glasses of its single block wines, too.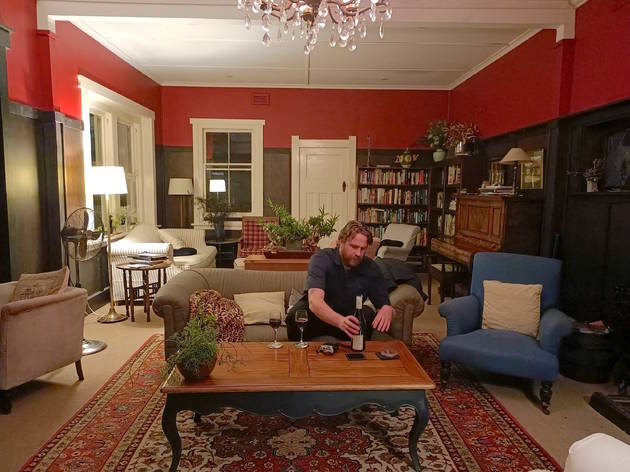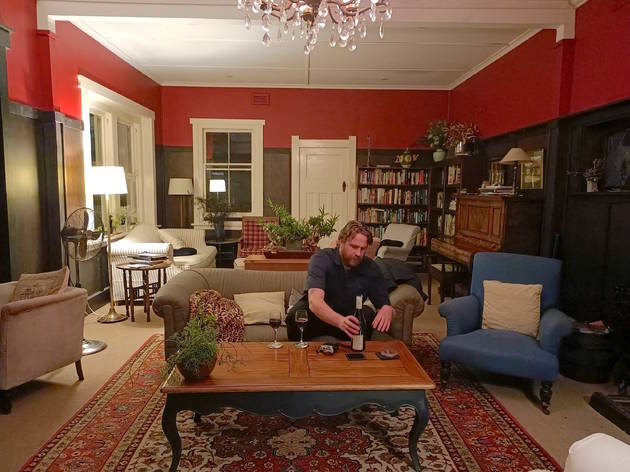 Photograph: Rushani Epa
Karbeethong Lodge is a longstanding lodge that's renowned in the area. So much so that Australian cartoonist Michael Leunig has made a cartoon of it, and Banjo Patterson (among many others) has stayed in the past.
The lodge was first opened in 1922 and it still stands today. Rooms are equipped with their own private bathrooms, a communal kitchen includes a fridge for each room, stoves, dishwashers and other amenities. The communal dining room boasts stunning views of the inlet and large pine trees, the shared lounge has a fireplace and piano with plenty of chairs, dark wooden features, bookshelves and a cosy little window seat. But the verandah might be the highlight with sofas and tables dotted along it so you can soak in the sprawling views and the sunshine.
Owners Jennifer and Graeme are highly accommodating and live on-site and will ensure your every happiness. Jennifer continues the tradition of making stewed, spiced fruit for the morning's continental breakfast and the venue epitomises the word cosy.
Rushani Epa travelled courtesy of Visit Victoria.
Check out what the rest of East Gippsland has to offer
If Melbourne's market-fresh produce and overcrowded wine cellars aren't quite authentic enough for you, a trip to East Gippsland should satisfy your cravings. A long weekend in this coastal region is just enough time to take in some of the best food, wine and sights that Victoria's coast has to offer.