The 20 best bars in Miami you have to try right now
Navigate our fair city's fantastic cocktail scene with our guide to the best bars in Miami
December 2019: We're closing out the year with a refreshed list of our favorite bars in Miami. We've kept the standbys, including happy hour hot spots like Gramps in Wynwood and Lost Boy in Downtown. But we've also snuck in a few newcomers that we think you'll enjoy. Swizzle and Esotico made the cut, in part because tiki is having a major moment in Miami. It's the holidays, and you look like you could use a drink. Consider our list of best bars in Miami our gift to you.
This city loves to drink, which means the best bars in Miami hold a special place in our heart. We go to them in times of need, celebration and when traffic is horrendous and we need a place to hide out. We couldn't say enough great things about the best museums in Miami and, of course, the best beaches in Miami but—if we're being really, really honest—we just couldn't live without these 20 bars. They're where we go for first dates and right after work ends every Friday, and to sip slowly on the best piña colada in the world. We know it's going to take a while but if you consider yourself a bar connoisseur, you've really got to check out all of these spots. Take a look below. You'll see what we're talking about.
Drank somewhere on this list and loved it? Share it with the hashtag #TimeOutDrinkList. You can also find out more about how Time Out makes recommendations and reviews bars here.
Best of the city under one roof
What is it? The main bar at Time Out Market Miami is where the city's top bartenders, tastiest drinks and coolest folk come together to collectively make up one of the best drinking spots around town.
Why go? Our editors collaborated with the likes of Café La Trova and Sweet Liberty to curate a menu of delicious drinks that hover just above $10. It's not just a convenient way to drink from the city's best bars, it's also the cheapest.
Hungry yet?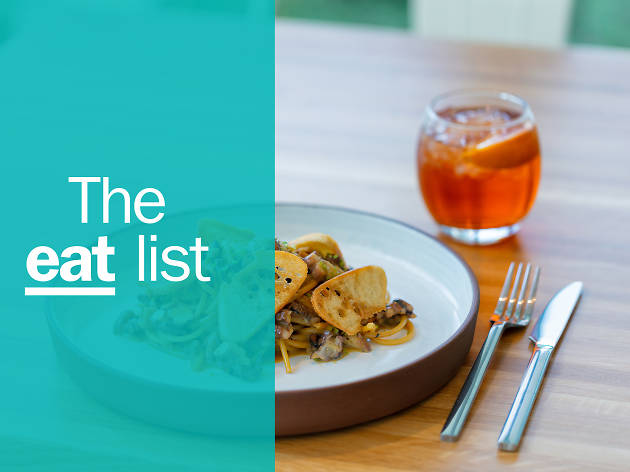 No kitchen is doing it better than these folks.