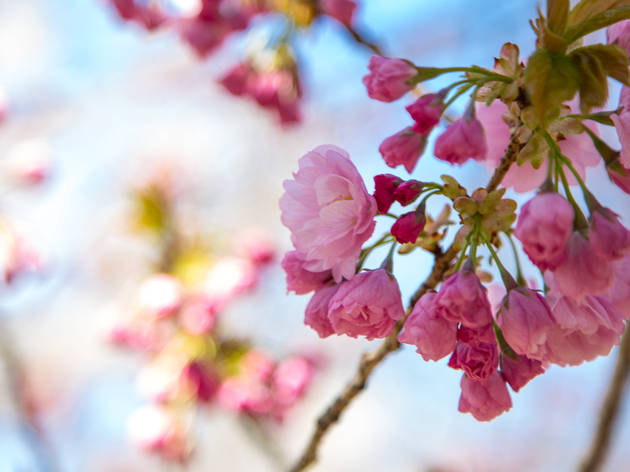 Four ways to enjoy cherry blossom season in NYC
Posted: Tuesday March 10 2020, 12:30pm
It seems Punxsutawney Phil's predictions of an early spring are coming to fruition. After experiencing a record-warm day in NYC, we're already mapping out seasonal activities and tracking the highly-anticipated cherry blossom trees.
Perhaps we're getting ahead of ourselves—the pink flowers typically don't appear until the end of April—but we can't help but wait for them to bloom. Their arrival is the unofficial start of the outdoor season, and that's certainly worth celebrating.
Here are four ways you can enjoy the gorgeous trees in NYC this year.
Take a tour
Another reason to love your local green space? It turns into one of the most Instagrammable places in NYC once the cherry blossoms arrive. Snap a few pics while enjoying a walking tour. You can visit the NYC Parks Department online to see when and where they are taking place.
Set up shop
Grab a picnic basket and dine al fresco in the park next to the gorgeous blooms. Some of our favorite places to see cherry blossoms in NYC? Riverside Park and Randall's Island. Why not enjoy that PB&J while surrounded by beautiful pink trees?
Head to a festival
Embrace Japanese culture with annual festivals. Sakura Matsuri will take place at Brooklyn Botanic Garden on April 25 and 26 from 11am–6pm, and it includes activities, crafts, tea ceremonies, and of course, gorgeous scenery. Flushing Meadows Corona Park typically hosts a festival of its own with drum performances, Japanese folk dances and other activities, though a 2020 schedule has yet to be confirmed. Keep your eye on the NYC Parks Department website for updates.
Take a class
Celebrate all-things pink by unleashing your creativity. The Pink-delicious Cupcakes Class at TasteBuds Kitchen (April 26 at 9am, $45) is a wonderfully delicious way to do so!
Sign up to receive great Time Out New York Kids deals in your inbox each day.
Share the story