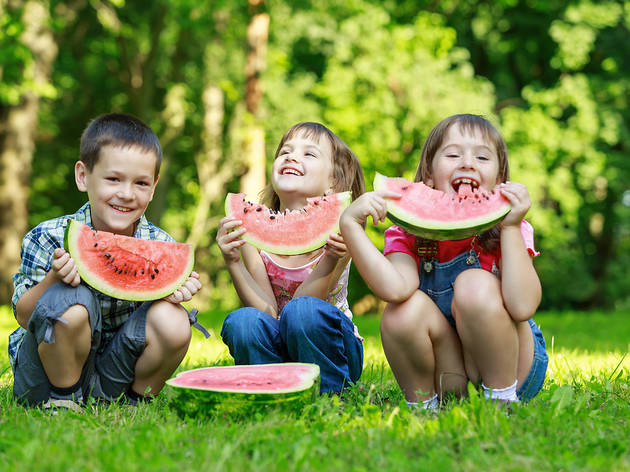 The best picnic spots in NYC for families
Venture to these picnic spots in NYC when the warm weather swoops in. Don't forget to pack a basket!
No restaurant, no problem. Our favorite picnic spots in NYC are great places to refuel (and take in gorgeous scenes to boot).
Grab your favorite snacks, set up your blanket in a cozy spot and get ready to chow down! Locations such as Central Park and Prospect Park, offer striking distance from the best kids' playgrounds NYC has to offer, so you can pack in a ton of outdoor activities for kids in one afternoon!
No list of things to do in spring is complete without an outdoor dinner! Happy picnicking!
Best picnic spots
Open-air dining enthusiasts can grab a seat on a bench along the East River between the Robert F. Kennedy and Hell Gate Bridges, or nab a more panoramic vantage point on the central Great Lawn. (You'll also find a few nice brown-bag–worthy patches alongside the Hell Gate—but be warned that they suffer slightly from the noise of train traffic overhead.) Once the kids are well-fed, they'll be ready to tackle the jungle gyms and hopscotch at Charybdis Playground or brave the nearby skate park.
People seeking a waterfront eat-and-nap shouldn't overlook this beautiful space on Staten Island. And pit masters, take note: The shoreline BBQ area (near the southeast corner of the lake) doesn't require permits for parties of four or fewer. Nongrillers ought to venture to the daffodil-surrounded middle lawn by the field house or relax under a cherry tree by one of the walkways. Need something sweet for your spread? Pick up fresh bread, pastries and baked goods (and some java for you) from the local Beans & Leaves Coffee and Tea Cafe.
This seven-acre expanse sits flush against the river, offering stunning views of Manhattan's skyline. Aside from the barbecue platform and children's playground, it's a mostly wide-open lawn dotted with picnic tables, making it a perfect locale to set up blankets and chow down on tasty eats from nearby eateries such as Rosarito Fish Shack. On Saturdays, the epicurean mecca Smorgasburg brings hundreds of food vendors to the park, but beware: You won't find much room to spread out with your delicious artisanal popsicles or Asia Dogs.
With sweeping views of the Hudson River, lush greenery and its position as the highest point in Manhattan, this park may just be the most beautiful 67 acres on the island. And because it's more than a hundred blocks north of midtown, few tourists know about it. Pack your own grub and set up shop in a spot with a view of the Cloisters, a re-created medieval monastery that holds 5,000 pieces of art from the Met Museum's collection, or sit near Anne Loftus Playground so the kids can swing to their hearts' content after lunch.
With endless kid-friendly attractions like the Hammock Grove, a space with 50 red lounge-ready slings; the Play Lawn, home to two natural-turf ball fields; and the art-filled Liggett Terrace, this urban escape will keep young family occupied before and after you plop down for a picnic. Don't worry if you forgot to pack your lunch for the ferry ride; Liggett Terrace Food Court sells yummies all week long, while several trucks including Best Burger Surf N' Turf and Blue Marble Ice Cream and set up shop on King Avenue on weekends.
This park in the Flatiron District is the perfect place for an afternoon break, an easily accessible if you're running errands in the area. Purchase a to-go cheese plate, melt or salad from Beecher's Handmade Cheese or gather a few gourmet items from Eataly before you snag a spot on the lawn near one of the temporary public art displays—there's plenty of shade to be found if it's a scorcher! The park is also home to Shake Shack, a summer for burgers, fries and, of course, shakes, but better to try this on weekdays to avoid shockingly long lines. During the summer months, come by before lunchtime to get in on creative workshops during Art in the Yard (Saturdays at 9am), kid-friendly concerts (Thursdays at 10:30am) and read alouds with the Reading Rangers (Tuesdays and Fridays at 10am).
Brooklyn's big oasis of greenery boasts some of the city's finest shaded knolls. You can't beat the finely manicured and tree-encircled Long Meadow, which never seems to run out of available slopes. Be aware that the hotspot is home to Smorgasburg on Sundays, so plan your food outing wisely!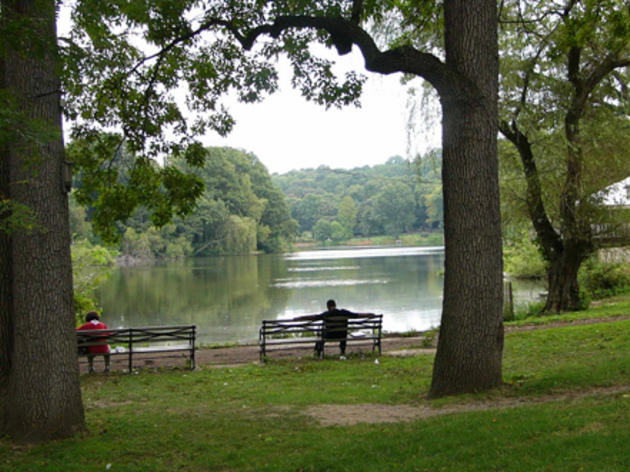 Photograph: courtesy www.flickr.com/Marjorie Lipan
You can approach a leisurely lunch at this massive (and more than 60 percent wooded) north Bronx site in one of two ways. You can vie for table and lawn space at the Allen Shandler Recreation Area, which is easy to access via public transportation and close to grills, baseball fields and playgrounds. Or if you're craving a more off-the-beaten-path experience, disappear into the Northwest Forest's 188 acres of massive oaks and wildflowers—or, just west of there, Croton Woods, a 158-acre area with gentle streams, plenty of quietude, and hummingbirds and red-tailed hawks. Just don't let the birds snatch your sandwich.
Stretching 1.3 miles along the East River, this beautiful revamped waterfront is proof that an idyllic slice of nature can exist right in the city. Pier 2 is tricked out with recreation facilities for basketball, handball, bocce, shuffleboard and roller skating, all of which will get little bellies rumbling. At Pier 3, post up with a blanket and snack to refuel, then take a peaceful stroll minus traffic noise thanks to Sound Attenuating Hill. Continue walking south and you'll come across one of the prettiest walks in NYC, the Brooklyn Heights Promenade. Add clean bathrooms, a food court, spots for fishing and the mutli-purpose sports fields at Pier 5 and there's not much room for improvement—especially when views of downtown Manhattan and New York Harbor are the backdrop.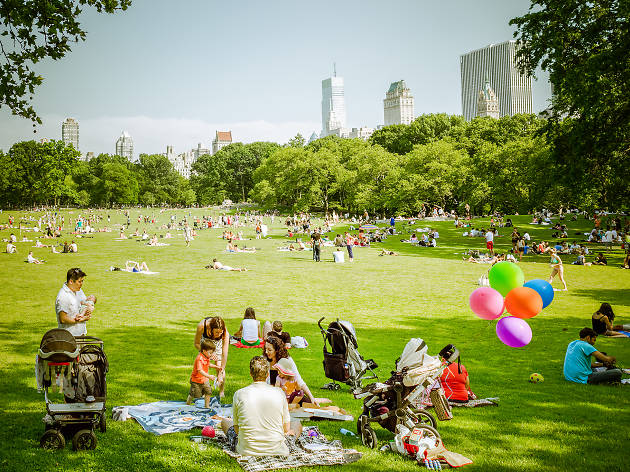 Photograph: Courtesy CC/Flickr/ep_jhu
Central Park's bucolic Sheep Meadow is a 15-acre field located along the southwestern edge of the park. Its designation as the park's first Quiet Zone—organized sports, alcohol, pets and loud music aren't allowed. All of this has helped lure the crowds, making the Meadow one of the park's most popular spots for relaxing and picnicking.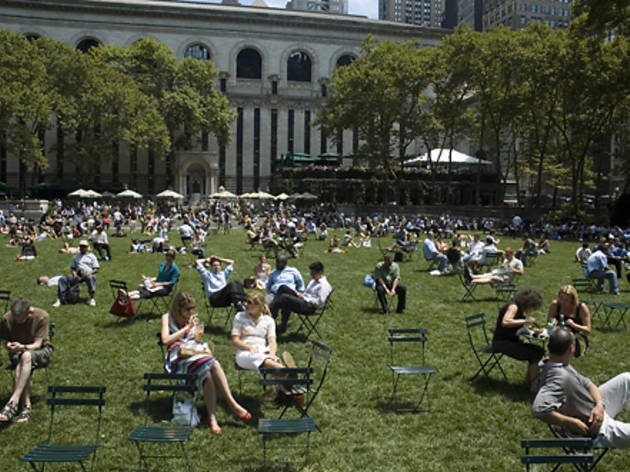 Situated behind the New York Public Library is Bryant Park, a well-cultivated retreat that hosts a dizzying schedule of free entertainment, including outdoor movies, performances and readings. You'll love relaxing with a treat in the Midtown hotspot, which boasts plenty of kiosks where you can grab a bite. Once little bellies are full, make the most out of kid-friendly programming such as storytime in the Reading Room, game socials in the 40th Street Plaza and Le Carrousel, which features 14 different animals.
More fun for kids