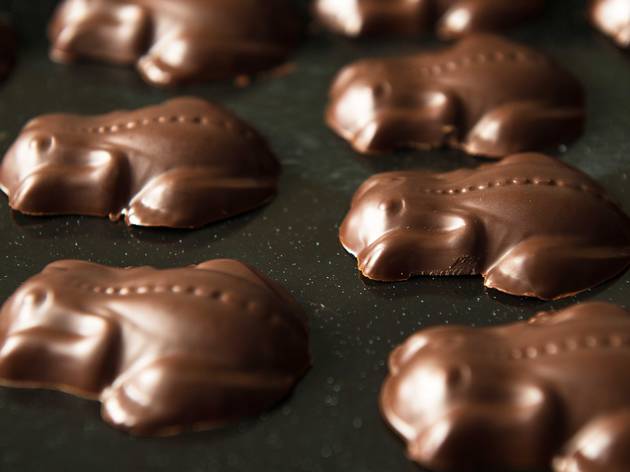 Leaping chocolate frogs! This Harry Potter-themed candy care package is magical
It's as if Honeydukes of Hogsmeade opened in NYC!
Posted: Wednesday June 3 2020, 3:35pm
Hold on to your butterbeers! This Harry Potter-themed "Wizard's Candy Pack" from Fferins of Brooklyn will pick up the spirits of any young Hogwarts homeschooler.
The care package includes Bertie Bott's Every Flavor Beans, a milk chocolate wand, a chocolate frog, Stockley's Lemon Sherbets (Dumbledore's favorite), jelly slugs, a bottle of Flying Cauldron Butterscotch Beer and so much more—it's as if Honeydukes of Hogsmeade opened a second location in the five boroughs. The care package costs $45.95, and is available for delivery or curbside pickup. (Act fast: There are only a few left!)
These treats are the fuel your little ones need as they watch Daniel Radcliffe, Olivia Colman and others read Harry Potter and the Sorcerer's Stone chapter by chapter, navigate a Harry Potter-themed escape room, take classes at Hogwarts or see the real-life magical objects and texts in "Harry Potter: A History of Magic" from the British Library.
This care package could be just the treat your little readers will enjoy when they devour chapters from the Ickabog, the unpublished book J.K. Rowling is releasing one part at a time on the internet—and that she wants to be illustrated by kids between the ages of 7 and 12.
Most popular on Time Out
- Disney's free drawing classes teach you how to sketch your favorite princesses
- Tour the real-life locations of Harry Potter's world with Google Earth
- Celebrate the 100th birthday of Deno's Wonder Wheel with a free coloring book
- New York's kiddie salons share advice on how to cut your child's hair at home
- Best family restaurants in NYC doing delivery
Sign up to receive great Time Out New York Kids deals in your inbox each day.
Share the story