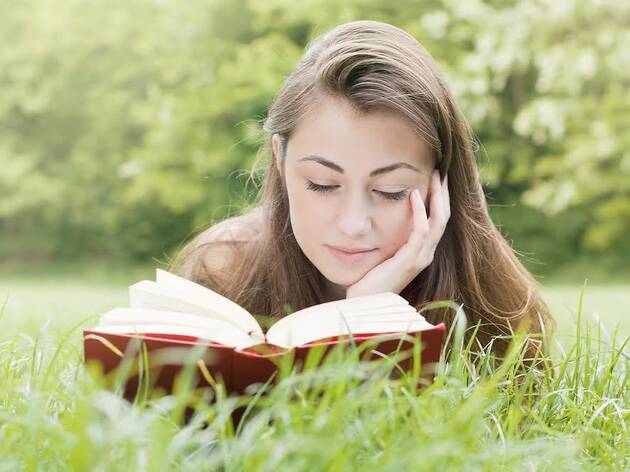 The New York Public Library's Summer Reading Challenge is back—and out of this world
Posted: Wednesday June 5 2019, 11:50am
Don your best astronaut outfit and launch your little readers into a universe of stories and adventure! Instead of the Milky way, let New York City's libraries serve as a scene for exploration to avoid the dreaded "summer slide."
New York Public Library's annual Summer Reading Challenge, titled Blast Off! Discover a Universe of Stories, has officially taken off. The scholastic festivities kick off at Tompkins Square Library on Thursday, June 6 from 10:30am–3:30pm with a variety of events. Children are invited to join Jessica Love, author of Julián is a Mermaid, and Drag Queen Story Hour's Rev. Yolanda in a storytime for kids focused on diversity and tolerance. If your little likes to move and groove, there will be a performance by hip-hop dance company LEGACY. Even Big Bird is going to fly through the galaxy for a Sesame-themed workshop!
Sounds like a great way to welcome the summer, if you ask us. Thanks to this seasonal program, youngsters can discover the best children's books on the Library's lists. To prompt youngsters to awaken their inner literary passion, the Library has designed a fun and interactive guide that can be accessed online or at any of the kids' library branches. It features a "Read for the Stars" game board and a "Build Your Own Reading Rocket" for kids to assemble.
There's no doubt that readers' curiosity of new books will transport them to new worlds, but if they need a little extra push, the Library will reward completed online activities with perks such as swag bags, stickers and pencils. And if lil' bookworms are seeking even more exploration, join one of the many events hosted this summer, such as "Stories with a Scientists." To top it off, those who want to display their writing skills may participate in the Library's annual essay contest; the winner will be announced on the Yankee stadium field and be invited to meet one of the players. Talk about a home run!
The Bklyn Public Library will join the solar system excitement with its own summer reading challenge titled "A Universe of Stories," which began on June 1. After participating in the out-of-this-world program—featuring free events and great reads—little bibliophiles can ask a librarian for instructions on how to claim a voucher for two tickets to an upcoming event at Barclays Center. To add to the excitement, there will also be an opportunity to win an iPad!
The Queens Public Library is also participating in the intergalactic literary bonanza. It will host an assortment of 17 space-themed programs catered to all ages and abilities. The lineup includes the NASA Challenge, which allows kids to engineer solutions to problems an astronaut would face in space. Then there's Alien Invasion in a Box, where aliens are created from materials in a box of space junk. Teens can participate in the Battle of the Books, which allows them to vote on their favorite read of the year and complete different reading and social media challenges.
There is certainly something for everyone to enjoy and explore. Let the summer reading begin!
Sign up to receive great Time Out New York Kids deals in your inbox each day.
Share the story