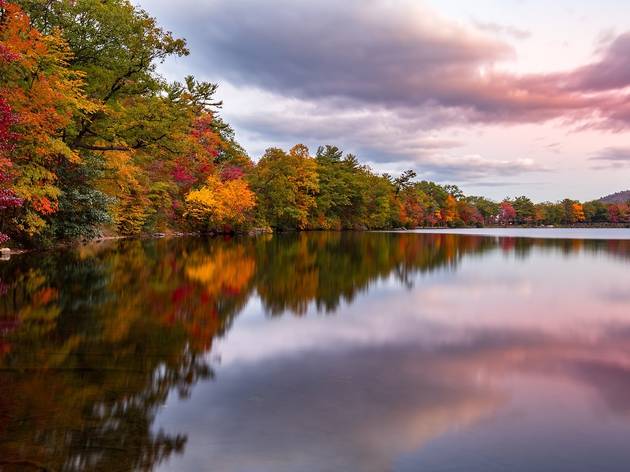 Best scenic drives for fall near NYC
Take the family on these scenic drives for fall to peep the prettiest autumn foliage our region has to offer
Right along with cravings for warm apple cider, pies of all types and super cozy sweaters is the wish to see how the landscape turns into gorgeous shades of red, orange and gold. These amazing scenic drives for fall will guide the family along pretty country roads lined with falling autumn leaves, lakes, hills and jaw-dropping vistas. Don't forget to bring the camera!
RECOMMENDED: Full guide to the best family vacations from NYC
If you're looking for more autumn adventures, check out the best apple picking near NYC, the best things to do in the fall and the best fall activities for kids.
Best scenic drives for fall near NYC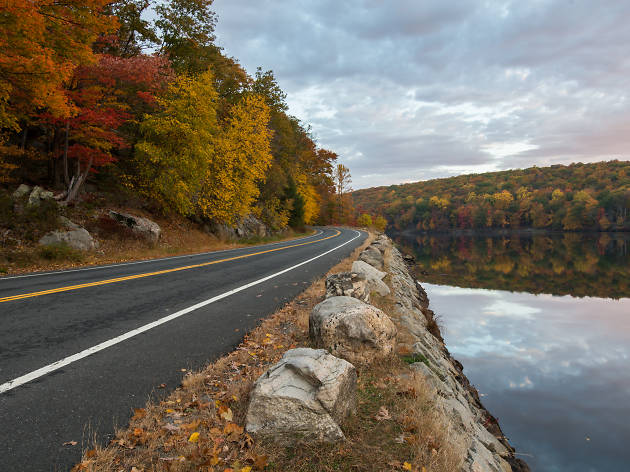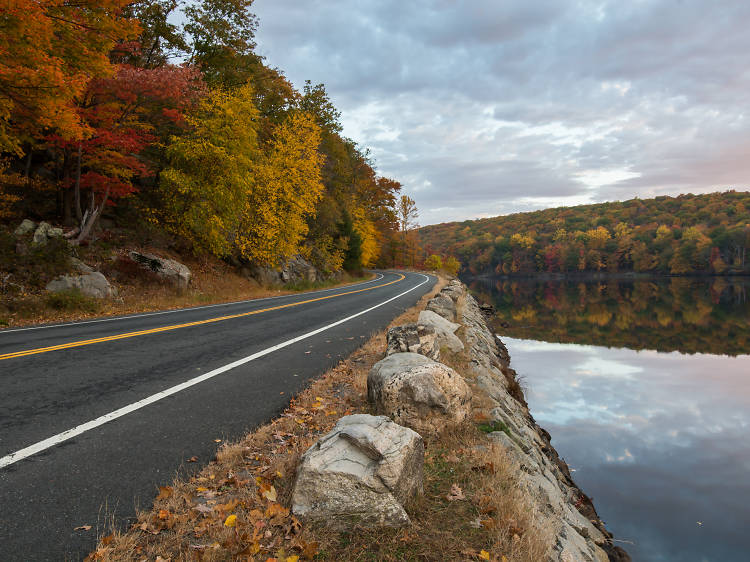 Photograph: Courtesy Wikimedia Commons
By car to scenic drive: 1.5 hrs
Named for the seven lakes this road passes at various points on its 18 mile stretch—Lake Sebago, Lake Kanawauke, Lake Skannatati, Lake Askoti, Lake Tiorati, Silver Mine Lake and Queensboro Lake—this drive is perfect for leaf peeping in the fall. To get there, make your way to the George Washington Bridge/I-95 S. Stay on the upper level on the bridge and use the right two lanes to take exit 74 toward Palisades Parkway. In 27 miles, take exit 14 for Willow Grove Rd toward Letchworth Vill. Turn left onto Willow Grove Rd and merge onto Kanawauke Rd. At the traffic circle, take the 1st exit onto Seven Lakes Drive and enjoy the beautiful scene. You'll be right in the middle of 47,527-acre Harriman State Park and near Bear Mountain, both of which offer up nature trails should you want a more immersive experience.
Shawangunk Hudson Wine Trail
By car to scenic drive: 2.5 hrs
Discover the vineyards in the Shawangunk region in fall and not only will you be treated to beautiful scenery, but learn more about New York State's own wine offerings. Pick from the 15 located in Ulster County and enjoy the landscape dressed in autumnal colors. The trail starts just 60 miles north of NYC with Demarest Hill Winery (81 Pine Island Turnpike, Warwick, NY, 8450986-4723, demaresthillwinery.com) as one of the closest ones. Take I-87 N/NY-17 N toward Albany and take exit 15A for NY-17 toward NY-59. Turn left onto NY-17 N and then take the exit toward NY-17A W. Drive to Pine Island Turnpike in Warwick until you reach Demarest Hill Winery. From there, meander to other nearby vineyards, including Warwick Valley Winery (114 Little York Rd, Warwick, NY, 845-258-4858, wvwinery.com), Applewood Orchards (82 4 Corners Rd, Warwick, NY, 845-986-1684, applewoodorchards.com) and Clearview Vineyard (35 Clearview Ln, Warwick, NY, 845-651-2838, clearviewvineyard.com). Just make sure you have a designated driver, or grab a few bottles to enjoy back home.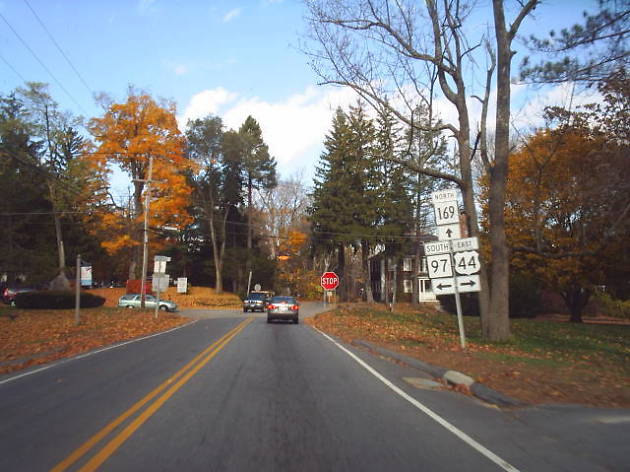 Photograph: Courtesy Flickr/Doug Kerr
By car to scenic drive: 4 hrs
If you'd like to include fall foliage views in a weekend getaway, head toward Connecticut Route 169, which has been designated a National Scenic Byway because of its historic and natural features. Take I-95 N to I-395 N and follow signs for I-395 N/Norwich/Plainfield. Take exit 19 for CT-169 toward Lisbon and turn left onto CT-169 N. Passengers, ready your cameras: This area is one of the last unspoiled areas in the region and the road guides travelers through colonial homesteads, old churches, stone walls and New England towns with eateries, shops and museums.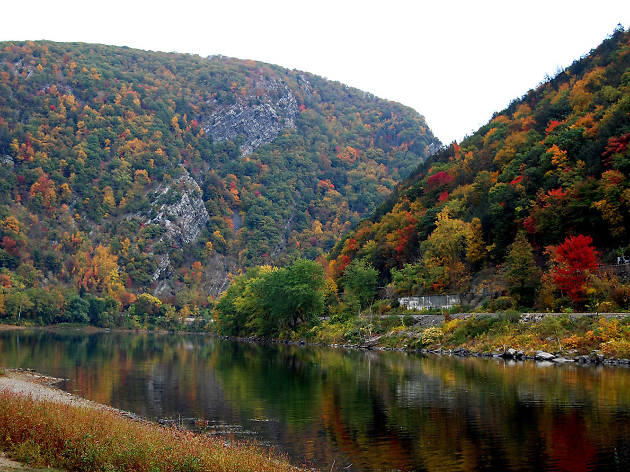 Photograph: Courtesy Tech. Sgt. Scott T. Sturkol
Upper Delaware Scenic Byway
By car to scenic drive: 2 hrs
The byway, also known as New York State Route 97, takes drivers on a lovely tour between the border of New York and Pennsylvania. Along the way, you'll encounter hamlets, rocky landscapes, hills and valleys displaying a sea of reds, oranges and golden yellows. The southernmost point on the trail is in Port of Jervis, which you can reach by driving I-87 N/NY-17 N toward Albany and taking exit 16 for NY-17 W toward U.S. 6/Harriman. Once on NY-17 W, get off at 121W for I-84W toward Port Jervis. Drive 20 miles and take exit 53 for US-6/US-209 toward Matamoras. Then follow US-209 N/US-6 E to Port Jervis. The scenic byway travels north along 70 miles of the Delaware River to the village of Hancock in Delaware County.
By car to scenic drive: 40 mins
Once you enter Long Island, Northern Boulevard—or New York State Route 25A—will take you through scenic towns along the northern edge of the island, including Roslyn, Cold Spring Harbor, Brookville and Fort Salonga. Stop in any of these town for snack breaks or to make your way closer to the Long Island Sound. The route is easy and straightforward, which is perfect if you have fussy little ones who constantly ask, "Are we there yet?"
Best selling Time Out Offers